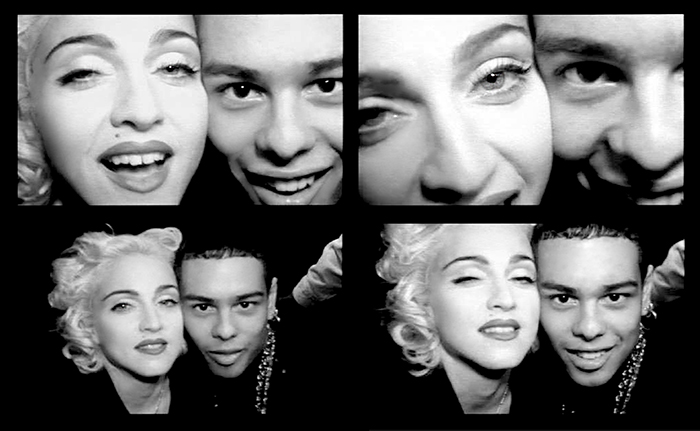 Dancer Luis Camacho, who appeared in Madonna's Truth or Dare documentary, at Outfest screening on July 13.
BY PAULO MURILLO
The 2015 Outfest Los Angeles LGBT Film Festival will bring Madonna's Truth or Dare documentary back to the big screen on July 13, as part of the Legacy Project 10th Anniversary Series.
For those of you living under a proverbial rock, Truth or Dare offers an intimate backstage pass inside Madonna's notorious 1990 "Blond Ambition World Tour," where the big M is threatened to be arrested for simulating masturbation on stage in Toronto, pisses off the Pope in Rome, and she disses celebrities in Hollywood, to list only a few iconic moments in the film.
The documentary also includes footage of M's backup dancers and crew members. Among them is a young and openly gay choreographer and dancer Luis Camacho, who was born in lower Manhattan to Puerto Rican parents. He influenced a lot of Madonna's dance moves of that moment (he basically taught Madonna how to vogue) and had the life-changing opportunity to strike a pose all over the globe.
"I wish I could say it was weird having cameras follows us around, but it was everything I dreamed about," he tells THE FIGHT about the making of the film.  "I loved it. Even after the tour ended, I remember I would go visit Madonna at her house. We would go down to a magazine store and kind of hang out, and we were followed by paparazzi. I liked all of it. I liked acting annoyed by it."
Camacho will join Truth or Dare director Alek Keshishian and others for an interview after the Outfest screening. It's been about a year since he last saw the documentary in its entirety, but he still remembers the first time he saw the film.  
"I remember I wished there was more of me in the film," he said, "My ego at the time wouldn't let me be alright with what was shown [laughs], but today, it makes me feel very nostalgic. 95 percent were good memories, but I don't like looking at it too often—especially with friends, because it turns into a Q&A session afterwards."
The film shows a flamboyant Camacho dancing and prancing in his underwear backstage and queening out at a pride parade in New York City during a time when it was harder for LGBT youth to come out of the closet, but he says he did not set out to be a role model.
"We were just having a good time and we were just doing us," he said of his interactions with the other dancers, who he still keeps in contact with to this day. "The best thing that I took away from the whole experience was this impact it had on other people—not only gay guys that were coming out, but women would come up to us to say, 'My brother was afraid to come out to our parents and we all saw this film together and my family really bonded…' that was the biggest takeaway and the gift that this whole experience has given me."
When Camacho looks back at the world tour experience, he marvels at how determined he was to take it all in.
"I was really focused on getting as much out of it as I could and to be in the moment. Whether I was being naughty off stage, or being fantastic on stage—I wanted to see everything, I wanted to taste everything, I wanted to experience it all," he said, "If there was an excursion going on, I had to be on it, no matter how tired or hungover I was.  I would be damned if I wasn't going to go on a boat ride in Amsterdam, see the canals in Italy and if there was a Mercedes ride in Paris at dawn with Madonna, you know I was there.  I was real hungry—not just for the performances and the dancing, but to see it all in that world."
The film also features live color performances from the tour.
"The 'Like a Virgin' number was special to me," he said. "It was just me Jose and Madonna on stage and even though we were in front of 30 to 50 thousand people, it was like we were in this bell jar. It was so intimate."
"I also loved the ballet sequence in 'Papa Don't Preach,'" he added. "We were voguers, and we were street dancers, but she didn't really know that we had classical, ballet, and modern training. That performance solidified why she chose us."
Regarding deleted scenes, there is one moment he wishes had made the film.
"Oh my God, there was a part when we were in Spain when she met Antonio Banderas," he revealed. "I did a drag show for them. I remember we were in London and they got my wig. It was called the Isadora Duncan Wig. Vidal Sassoon cut the wig themselves. It was jet black and just amazing. I was like, oh child, I've arrived. It was fantastic."
The film is almost 25-years-old, but Camacho considers the Truth or Dare documentary legendary and ahead of its time–kind of like its creator.  
"All the stars were aligned on this project," he said. "It's still a benchmark for all concert documentaries that have followed it. Others have not been able to match those intimate moments—not even her own follow-up documentary ['I'm Going to Tell You a Secret']. She caught lightning in a bottle. Everybody gagged. It was the ultimate backstage pass."
---
To purchase tickets for the Truth or Dare screening, visit outfest.org
.