Photographer Eric Schwabel's new photo exhibit with model Alex Minsky. Absurdity, insecurities, addiction and art.
BY MARK ARIEL
Former marine Alex Minsky, who lost his leg in Afghanistan and became a successful underwear model after his recovery, is the muse for Eric Schwabel's upcoming photo exhibit "Don't Laugh:  Schwabel vs. Minsky."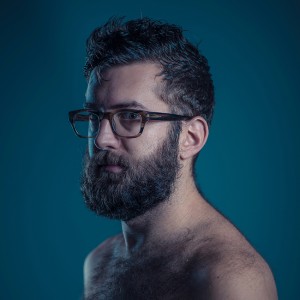 "We've worked together on a number of shoots over the past few years, and it just felt like it was time to show them as a collection," reveals popular LA based photographer Eric Schwabel in an interview with THE FIGHT.
The title of the exhibit, "Don't Laugh,"—is a reference to the tattoo Minsky has over his crotch, explains Schwabel.
"The absurdity of that tattoo was doubly-revealed when an irked former lover of his released some naughty pics of Alex on the net (nothing laughable there).  Where the show is concerned, it references insecurities in general: from the absurdity of a career in photo-making, the insecurities that a man who lost his leg in a war and then struggled with addiction must have in putting himself out there as a model, and even some of the subject matter we create in the work.  It's also just a fun show.  You have a gay photographer collaborating with a straight marine on art pieces… it's an odd combination but what we've created with that is, I think, really beautiful."
---
Opening night is Friday, March 27 at 7pm at WNDO, 361 Vernon Ave., in Venice. The exhibit runs for 5 days through April 1. Alex Minsky will be at the opening. For more info visit SchwabelStudio.com.