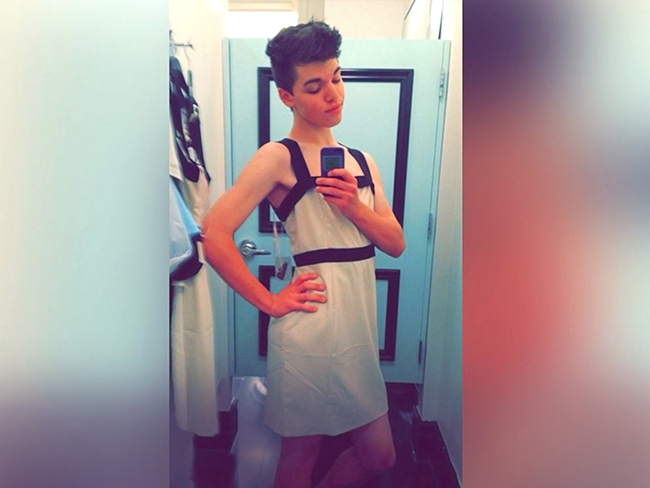 Transgender organization's crisis hotline shot up from 60 a day to nearly 150 immediately after reports of Leelah Alcorn's death began spreading.
BY ORLY LYONNE
After winning the Golden Globe award for best TV series, comedy or musical last month, Jill Soloway, creator of the show "Transparent," took the stage and announced that "this award is dedicated to Leelah Alcorn and to many trans people who die too young."
Alcorn was a transgender teen who committed suicide last December after documenting her parents' emotional abuse, sparking outrage and sympathy from the public.
"Transparent," a show that is about a Los Angeles family discovering that their father is transgender, is a series that literally would not be possible without the existence and support of transgender community—something Soloway respectfully acknowledged during her speech.
The story of Leelah Alcorn, named Joshua Alcorn at birth, gained worldwide attention after messages on her social media account documented her struggles.
Leelah killed herself by stepping onto a busy road in Ohio, in the early hours of December 28. In her final message on her Tumblr blog, she pleaded: "My death needs to mean something. … Fix society. Please."
ONLINE PETITIONS
From the parking lot of her former suburban high school to London's Trafalgar Square, thousands have attended vigils in memory of the transgender teen. Tens of thousands have discussed her on social media or signed online petitions in support of transgender people.
Alcorn's selfies and poignant messages hit home among many transgender people who say they have faced disapproving families, discrimination or violence.
Alcorn complained of depression and isolation on her Tumblr blog, lamented that her life would only get worse, and expressed frustration that her parents wanted her to be "their perfect little straight Christian boy." She said she was taken to  "Christian therapists" who were  "very biased."
Studies have found extraordinarily high suicide and attempted suicide rates among transgender youth. A 2010 survey found 41 percent of transgender people responding said they had tried to kill themselves, reports The Associated Press.
COPYCAT SUICIDES
While there's concern among experts and transgender leaders that the immense attention to Alcorn's death could lead to copycat suicides, some say it has belatedly pushed important issues into the spotlight.
"I think this had to happen at some point," said Greta Martela, founder of San Francisco-based Trans Lifeline.  "I think that we have to have a discussion about this as a society."
Martela said calls to her organization's crisis hotline shot up from 60 a day to nearly 150 immediately after reports about the death began spreading.
Trans Lifeline is the first U.S. suicide hotline dedicated to transgender people. Its founders hope that the "by trans people, for trans people" approach will help address the staggering overrepresentation of trans people within suicide rate statistics.
---
Transgender people in crisis can call the Trans Lifeline at 877-565-8860 or The Trevor Project's 24/7 Lifeline at 866-4-U-TREVOR (866-488-7386). For general transgender resources in Los Angeles visit the LA LGBT Center at www.lalgbtcenter.org.