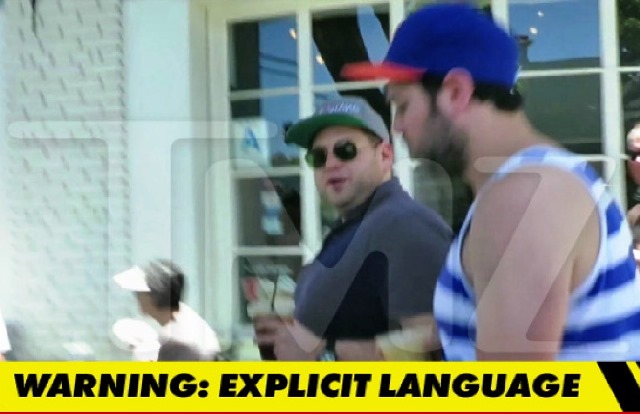 BY PAULO MURILLO
Jonah Hill is on the talk circuit to promote his new movie 22 Jump Street and to apologize for dropping a homophobic "F" bomb over this past weekend after TMZ released a video where he tells a paparazzo to suck his you-know-what and then straight up called him a "faggot."
HEART IS BROKEN
"My heart's broken, and I genuinely am deeply sorry to anyone who's been affected by that term in their life. I'm sorry, and I don't deserve or expect your forgiveness," he told Jimmy Fallon at The Tonight Show on Tuesday, June 3.
"Unfortunately, this isn't a joke," he added and then explained that the paparazzo had been calling him names and following him all day. "In response, I wanted to hurt him back, and I said the most hurtful word that I could think of at that moment.  Words have weight and meaning, and the word I chose was grotesque. And no one deserves to say or hear words like that."
He added that language like that only "adds more ugliness to the world."
And then he went on to promote his new movie 22 Jump Street which opens June 13.
MY BEST FRIENDS ARE GAY
Hill can also be heard apologizing on air with Howard Stern earlier that Tuesday morning.
"I'm upset because from the day I was born, and publicly, I've been a gay-rights activist. Now, this person, you saw a 40-second video. This person had been following me around – just to give it some context, not excusing what I said in any way – this person had been following me around all day, had been saying hurtful things about my family, really hurtful things about me personally, and I played into exactly what he wanted and lost my cool."
"In that moment I said a disgusting word that does not at all reflect how I feel about any group of people," he added. "I grew up with gay family members. I'm leaving here to go spend the day with one of my closest co-workers and best friend who is gay, who's getting married, who I'm going to stand at his wedding. You know? I'm not at all defending my choice of words but I am happy to be the poster boy for thinking about what you say and how those words, even if you don't intend them and how they mean, they are rooted in hate, and that's bulls—. I shouldn't have said that." 

Hill has been a vocal proponent of gay rights in the past, including speaking out against Russia's anti-gay laws prior to the Sochi Olympics. 

And now remember to buy your movie tickets for "22 Jump Street."  The sequel to "21 Jump Street" opens June 13.