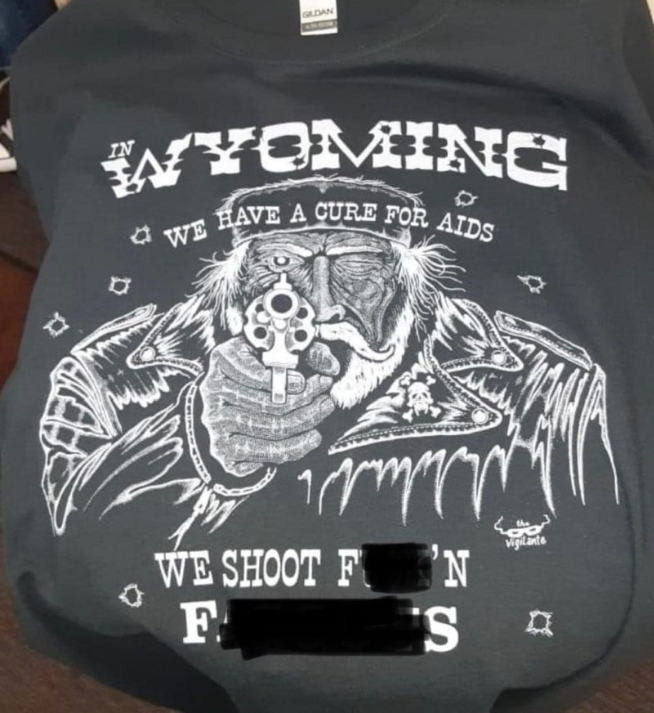 A bar in Wyoming is selling a shirt that says "We have a cure for AIDS." The supposed "cure" is, according to the shirt, "We shoot fuck'n faggots," reports LGBTQ Nation.
The words are written around a drawing of a man, wearing a biker jacket with a skull on the lapel, pointing a revolver. The shirt's design has a mark on the bottom right that reads "The Vigilante."
The Cowboy State Daily reported that the bar in question is the Eagle's Nest in Cheyenne, the biggest city in the state.
The LGBTQ organization Wyoming Equality wrote on Facebook that they "failed to convince a local bar to pull these shirts from circulation."
The Movement Acceptance Project (MAP) ranks Wyoming as one of the lowest states in pro-LGBTQ policy.
The town of Laramie in Wyoming was the site where 21-year-old college student Matthew Shepard was beaten, robbed, and tortured, before being left for dead in October 1998.
READ MORE HERE:
https://www.lgbtqnation.com/2021/07/bar-proudly-sells-shirt-says-shooting-gay-people-cure-aids/