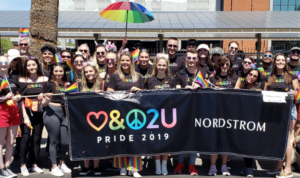 As part of Pride month, Nordstrom announced yesterday it will be providing a grant to the Trans Lifeline x FOLX Hormone Replacement Therapy (HRT) Care Fund, to support transgender, nonbinary and gender nonconforming individuals.
For anyone struggling to access hormone care, this fund will underwrite their choice of Hormone Replacement Therapy (HRT) care through FOLX, with 75% of funds reserved for Black and Indigenous people, and people of color (BIPOC)
Additionally, Trans Lifeline is the giveback partner for our BP. Be Proud brand with 10% of net sales being donated towards the peer support and crisis hotline, and microgrants providing financial resources directly to transgender people across the U.S. and Canada. Between these efforts, Nordstrom hopes to give $350,000 in support of the Transgender community.
"We've long believed that we're all made better by the diversity that exists both within our communities and our workforce. Our values are centered on the notion of creating a place where every customer and employee is welcome, respected, appreciated and able to be their authentic selves," said Farrell Redwine, senior vice president of human resources, Nordstrom, Inc. "This year, we are honored to partner with Trans Lifeline to extend those values and support the transgender community in accessing resources that make their lives easier." 
The next set of microgrant applications open on June 1. You can sign up on the FOLX x Trans Lifeline HRT Care Fund website to be notified when the process opens. Twenty-nine applicants will be chosen for this round of funding.