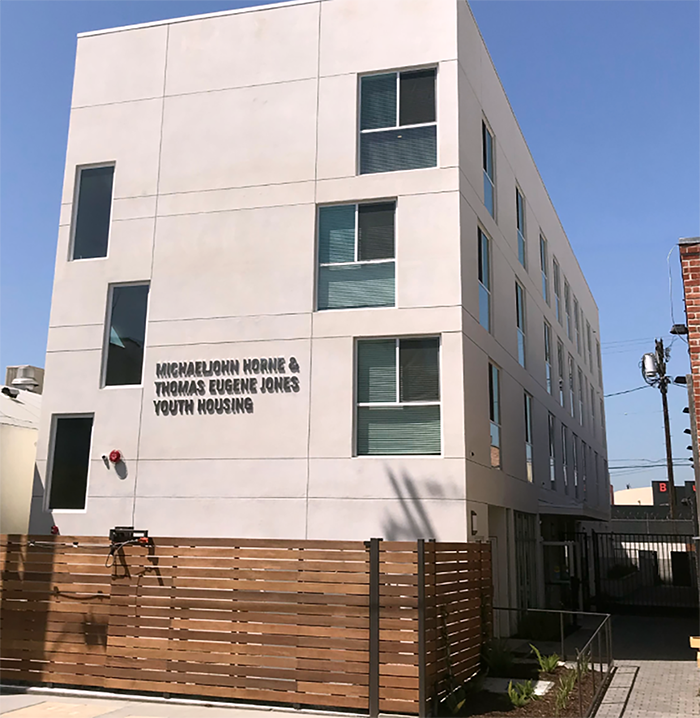 LOS ANGELES
LGBT CENTER CELEBRATES OPENING OF NEW YOUTH HOUSING
Two years after opening its flagship Anita May Rosenstein Campus, the Los Angeles LGBT Center celebrated the grand opening of its newest building: the Michaeljohn Horne & Thomas Eugene Jones Youth Housing, last month.
Located directly across the street from the revolutionary Campus and next door to the Center's Village at Ed Gould Plaza, the nearly 13,000-square-foot, four-story structure includes 25 supportive housing apartments for youth ages 24 and under; a community space with desktop computers, a television, and seating; a case management office; a well-designed outdoor space with landscaped areas and pathways; laundry facilities; and more.
LONG BEACH
RAINBOW LIFE TOWER TO BE REPLACED BY MID-MAY
The Long Beach Fire Department announced that the rainbow-colored life tower which was burned down last March, should be replaced some time in mid-May. The tower, which was painted by lifeguards in honor of Pride month last year, burned down in the early morning hours. The incident is currently under investigation by the Long Beach Fire Department, which hasn't yet determined what caused the blaze. Many people, including Long Beach Mayor Robert Garcia, believe the fire was a targeted attack on the LGBTQ community. The new rainbow lifeguard is slated to be completed before the virtual Pride celebration in Long Beach, taking place on May 16. 
For more info visit: www.longbeachpride.com.
PALM SPRINGS
WHITE PARTY RESCHEDULED AGAIN
White Party Palm Springs founder Jeffrey Sanker announced that the legendary circuit party has been pushed back yet again, this time to take place during Halloween 2021. The multi-party weekend, originally set for September has been rescheduled to begin October 29 and conclude the morning of November 1. "DJ Lineup and Tickets on sale very soon," reads the White Party website. "Our goal is to bring back a fresh new GRAND White Party Experience, so we are thrilled to introduce an all-new 3 day White Party Halloween Festival." 
For more info visit: www.jeffreysanker.com.
SAN DIEGO 
SDPD LAUNCHES PROGRAM TO HELP HATE CRIME VICTIMS
The San Diego Police Department introduced a new program that identifies local businesses as a safe space for the LGBTQ+ community and a refuge to call for help in case of any harassment or hate crimes. The new Safe Place Program will give stickers to participating businesses to display on their front windows or in any highly visible area so residents can know those locations are safe spaces for victims of a hate crime. Authorities said the stickers will have a QR code that can help victims and allies. "The stickers, you can see, contain a QR code and when scanned, will take you to the Safe Place website where you can find information on what is and what is not a hate crime, how to report a crime or suspicious activity, and resources for persons often targeted by acts of hate," SDPD Chief David Nisleit told NBC San Diego News. 
LOS ANGELES
LA GALAXY'S SEBASTIAN LLETGET SUSPENDED FOR HOMOPHOBIC SLUR
Los Angeles Galaxy midfielder Sebastian Lletget has been suspended two games and fined an undisclosed amount for use of a homophobic slur earlier this month, Major League Soccer announced last month, reports Sportsnaut.
Lletget missed last month's game against the New York Red Bulls and a May 2 match against the Seattle Sounders. The 28-year-old will also be required to attend diversity, equity and inclusion training.
Lletget used the slur in a video he posted to his Instagram account. He later deleted the post and issued an apology.