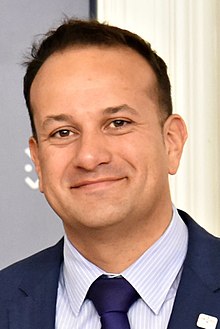 (Photo: PM Leo Varadkar)
Thousands of supporters of Northern Ireland's LGBT community took to the streets of Belfast on Saturday in Pride celebrations buoyed by the promise that same-sex marriage could soon be legal here, reports France 24.
An armored police vehicle was decked out in rainbow colors and rainbow flags peppered the crowd, while a sound system blared out hit anthem It's Raining Men in defiance of the summer showers.
Leo Varadkar, the gay prime minister of the Republic of Ireland to the south, was near the front of the parade, which was filled with exuberant participants and families.
Organizers hope that Belfast Pride will exceed the crowd of 55,000 they say turned out last year.
The event comes just weeks after the British parliament voted to extend same-sex marriage and abortion rights to Northern Ireland, which lags behind the rest of the country on equality issues.
The law would be changed unless the devolved government in Belfast, which has been suspended since January 2017, is reinstated by October 21.
READ MORE HERE:
https://www.france24.com/en/20190803-belfast-pride-buoyed-gay-marriage-breakthrough