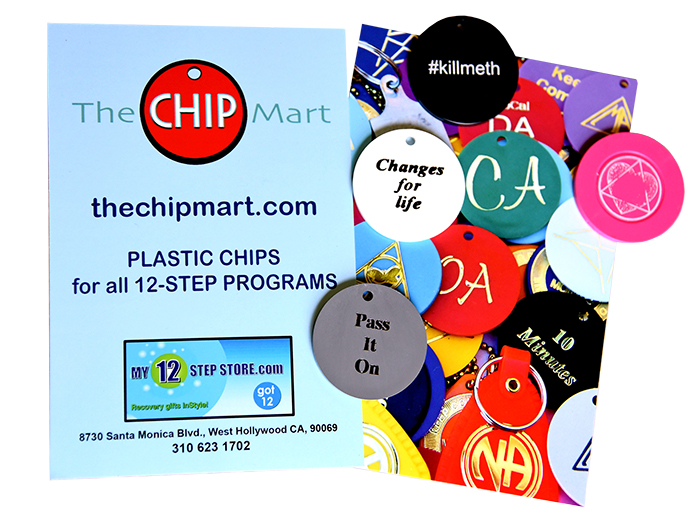 My 12 Step Store offers custom chips for all recovery programs.
BY PAULO MURILLO
Chip Mart–a division of the My 12 store, the recovery gift store located at 8730 Santa Monica Boulevard, is coming up on one year of providing inspirational custom chips for all 12-step programs of recovery. 
Chip Mart specializes in chips that come in a variety of colors and styles, including seasonal, holidays, and specialty chips that can be used as symbols that commemorate various milestones in the journey of recovery.
The latest additions to Chip Mart are the #killmeth chip which is in collaboration with the #killmeth campaign. Also new to the collection are the HOPE chip and the Anytime chip, with words on the flip side like "welcome" and inspirational quotes like "my heart's in recovery."
"Our base in Los Angeles that made custom chips did not have chips available for all recovery programs and the colors were limited," My 12 Step Store founder RJ Holguin told THE FIGHT. "We wanted to offer custom made chips for any and all 12 step programs. We wanted to offer a variety of colors that were not available before, and we wanted to make the traditional recovery chip fun and offer something different and inspirational."
Currently, recovery programs utilize chips to mark important milestones during their path of sober living. Their significance often helps to strengthen a person's commitment and connection to the 12 step recovery process.
---
To purchase inspirational custom made chips from Chip Mart, visit the My 12 Step Store in West Hollywood, or buy online at my12stepstore.com.