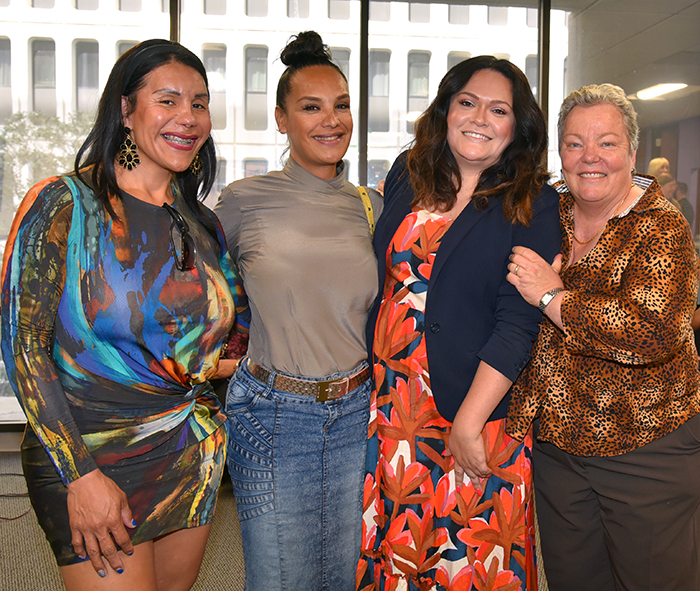 (L-R) April Saravia, Leslie Monroy, Marianna Marroquin, Lori L Jean.
Photo by Paulo Murillo.
Trans
Wellness
Center
Providing hormone therapy, transition resources, occupational training, housing and legal services and more.
BY PAULO MURILLO
Transgender and non-binary people will now get comprehensive services and support under one roof at the nation's first-of-its-kind Trans Wellness Center (TWC), which opened last month in Los Angeles.
The 3,000-square-foot "one-stop shop" will provide hormone therapy and transition resources; HIV testing and care; mental and sexual health services and education; occupational training; and housing and legal services, to name a few.
The pioneering Trans Wellness Center was funded by a grant from the Los Angeles County Department of Public Health. The development and opening of TWC is 10 years in the making. It is the result of a collaboration of the following six local community organizations: APAIT (Asian Pacific AIDS Intervention Team), Bienestar, Children's Hospital of Los Angeles (CHLA), Friends Community Center, Translatin@ Coalition, and the Los Angeles LGBT Center, which is leading the management and operations support for TWC.
"I am honored to be part of this new and exciting effort to empower the transgender and non-binary communities—no matter how challenging life may be for some of us. Let's fight for our rights and a better future!" said TWC Program Manager Mariana Marroquin.
The TWC is located near the Koreatown and Wilshire Center neighborhoods, at 3055 Wilshire Boulevard in Los Angeles. Hours of operation are Monday through Friday from 10 a.m. to 4 p.m. 
---
To learn more, visit mytranswellness.org.