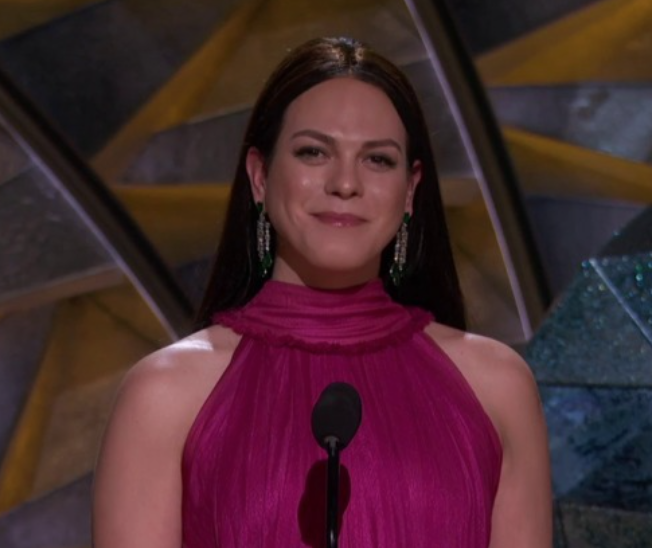 (Photo: Daniela Vega)
LGBTQ Nation reports on LGBTQ highlights at the Oscars:
"A Fantastic Woman" wins Best Foreign Language Film
A story about a transgender woman, the role of Marina is played by Daniela Vega, who is transgender herself.
Daniela Vega became the first transgender person to present an Oscar
Vega presented the award for Best Original Song.
A gay writer wins Best Adapted Screenplay for a gay movie
Out writer James Ivory, who is the oldest person to win an Oscar at age 89, wins for Call Me by Your Name.
Director Yance Ford became the first openly trans director to receive a nomination.
The nod was for Ford's documentary Strong Island, about the 1992 murder of his brother.
Jimmy Kimmel jokes about Mike Pence's homophobia
When talking about the film Call Me by Your Name, which didn't make a lot of money at the box office, Kimmel said, "We don't make movies like 'Call Me By Your Name' for money. We make them to upset Mike Pence."
The first out woman nominated for Best Cinematography shoots an ad with an out director
Rachel Morrison was nominated for Best Cinematography for her work on Mudbound, becoming the first woman and the first lesbian nominated in that category.

Working with director Dee Rees, she shot a Samsung Galaxy ad that aired during the broadcast last night. The ad shows two women hanging out in bed and looking at their devices, and Rees and Morrison appear together towards the end, eating popcorn at the movies.
READ MORE HERE:  https://www.lgbtqnation.com/2018/03/8-amazingly-queer-moments-oscars/