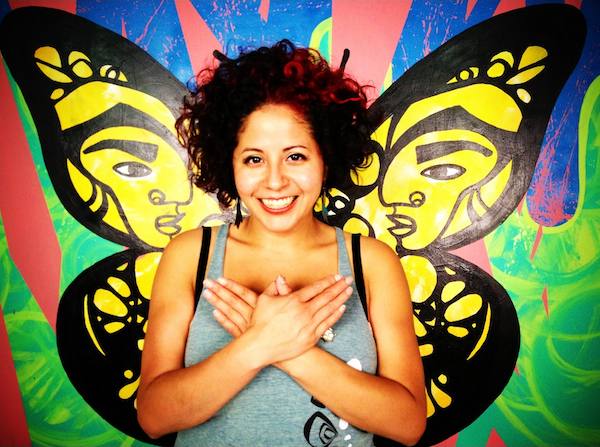 (Photo: Favianna Rodriguez)
From immigrant rights to the LGBTQ pride movement, art has been central to the Bay Area's long history of activism. With the click of a mouse, movement artists are engaging audiences on a whole new set of platforms. As the world faces its new set of challenges, protest art is experiencing a renaissance in the Bay Area. The San Francisco Foundation, partnered with some of the Bay Area's most renowned "artivists," will discuss the role of art in today's social justice movements.
 Hiroshi Kashiwagi is a writer and actor. Hiroshi was incarcerated at Tule Lake Segregation Center during World War II for refusing to answer the loyalty questions. He has been speaking since 1975 about his incarceration experience. His past works include the poem "A Meeting at Tule Lake," which is seen as a seminal piece for Nikkei concentration camp survivors. Kashiwagi's other works include American Book Award winner, Swimming in the American: A Memoir and Selected Writing, Shoe Box Plays, Ocean Beach: Poems, and Starting from Loomis and Other Stories. His acting credits include the play The Walsh, and the films Hito Hata: Raise the Banner, Black Rain, Rabbit in the Moon, and Infinity and Chashu Ramen. Kashiwagi graduated with a BA in Oriental Languages from UCLA in 1952 and an MLS from UC Berkeley in 1966.
Favianna Rodriguez is an interdisciplinary artist, cultural organizer, and political activist based in Oakland, California.  She is also the Executive Director of CultureStrike—an organization that engages a network of artists to create work that supports and embraces immigrants and the immigrant experience. Her artwork brings attention to issues surrounding, race, environmental justice, immigration, gender equality, and social justice. She is a co-founder of Presente.org, a national online organizing network with aims to empower Latino communities, and a member of the Justseeds Cooperative, which distributes prints and publications about social and environmental movements. Rodriguez lectures and leads workshops around the world.
Organizer and activist Cat Brooks is the founder of the Anti- Police Terror Project. She is co-chair of the ONYX Organizing Committee, and a member of Black Lives Matter Bay Area. Brooks previously served as interim director for the San Francisco Bay Area Chapter of the National Lawyers Guild, interim executive director at Youth Together in Oakland, and as director of communications and advocacy at Coaching Corps.
José Navarrete is curator and producer of the Live Arts in Resistance (LAIR) initiative at Eastside Arts Alliance in East Oakland, which provides resources and opportunities for artists of color. He has taught dance and performance at many Bay Area schools including Berkeley High School, Cal State East Bay, Yerba Buena Center for the Arts, and Marin Academy. Navarrete studied dance at the National Institute of Fine Arts in Mexico. He received his B.A. in Anthropology from UC Berkeley and an M.F.A. in Dance from Mills College.  
 Mina Kim is an anchor and host on KQED. Previously, she worked as a health reporter for The California Report and as an assignment reporter with Pacific Time.  Kim received her undergraduate degree from the University of Michigan in Women's Studies.
EVENT INFO:
| | |
| --- | --- |
| TITLE: | The Art of Resistance In the Bay Area |
| DATE: | Wednesday, March 28, 2018 |
| TIME: | 5:30 p.m. check-in, 6:30 p.m. program |
| PLACE: | 110 The Embarcadero, Taube Family Auditorium, San Francisco, 94105 |
| PRICE: | Members Free, Nonmembers $10, Students $5 (with valid I.D.) |