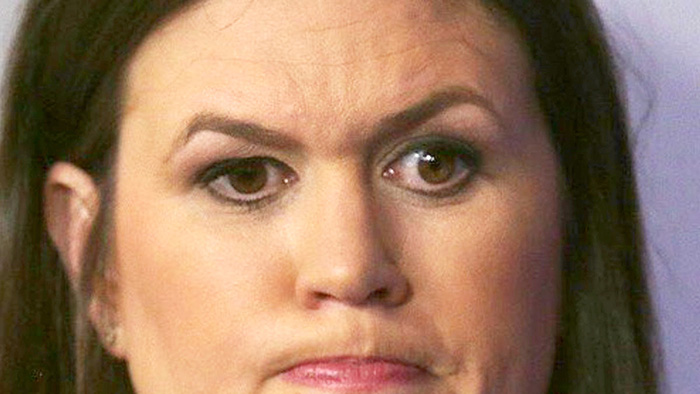 Sarah Huckabee Sanders
I can't stand listening to Sarah Huckabee Sanders. I just can't stand it. Will you scream with me once or twice before we get started here? … And what's with the weird eye shadow? That's how we applied our makeup for prom night when we were fifteen.
Bye Bye Bad Bills?
I can't stand listening to Sarah Huckabee Sanders. I just can't stand it. Will you scream with me once or twice before we get started here? (She's on TV with the sound off as I write to you.) And what's with the weird eye shadow? That's how we applied our makeup for prom night when we were fifteen.
Okay then. As another year begins, so does another set of legislative sessions around the country. Usually we suck it up and gird ourselves for battle once January rolls around, but it looks as if right wing lawmakers might be a little less aggressive this year. As the Gray Lady put it in a recent headline: "Wary, Weary Or Both, Southern Lawmakers Tone Down Culture Wars." Of the 1,300 bills already introduced in Virginia's new legislature, for example, you won't find a bathroom bill or a religious freedom measure.
One reason for the trend is political. Obviously, Virginia just became a lot more blue last November, and other places in the country are moving in the same direction.
Then there's the "weary" part of the picture; many of these GOP legislatures have trotted out divisive proposals to no avail year after year and everyone is getting tired of it.
Next, there's the business aspect. Fortune 500 corporations have been some of the unsung heroes in the fight for GLBT civil rights. From signing on to Friend of the Court briefs in major cases, to lobbying state and federal government, the vast majority of America's top businesses have advocated for equal treatment and fought discrimination for years. Look at the competition for Amazon's second headquarters. Do you think Amazon is going to settle down in a city or a state that encourages discrimination? Do you see any Mississippi cities on the HQ2 short list? No! These economic activists for equality are a crucial flank in our strategic configuration, and it seems that politicians on the right are starting to think twice about their states' antigay reputations.
(Sidebar: The High Court decided not to accept review of Mississippi's antigay religious "freedom" law, most likely due to the fact that no one has yet been ensnared in its insidious grip.)
Finally, a lot of people are waiting to see how the High Court rules on Masterpiece Cakeshop, the lawsuit that asks whether the First Amendment allows a citizen to ignore civil rights law based on religion or artistic freedom. If the answer is no, many of the Republicans' worst legislative notions will be dead on arrival.
Party Hearty
I was just checking for additional interesting Supreme Court news bits to share with you when I stumbled on the case of District of Columbia v. Wesby, a question of whether or not D.C. police had the right to arrest partygoers at an abandoned house. According to the files, neighbors complained about the goings on, which included lap dances, strippers, marijuana, booze, sex, and who knows what. Participants were unable to identify the host of the affair when asked, with some claiming that the revelry was, in fact, a bachelor party, even though no one could name the bachelor. Others admitted that a woman named Peaches was in charge, and although Peaches said she had permission to use the empty house, that was later determined to be a lie.
After all the hoopla, a bunch of the fun lovers sued the police. Lower courts ruled that the cops did not have probable cause for the arrests, because the guests could not have known for sure that the hostess lacked permission to use the premises. On January 22, the High Court disagreed in an opinion authored by party pooper Clarence Thomas. Thomas, alleged fan of Long Dong Silver, dismissively called the event a "bacchanal," arguing that any reasonable person would recognize that they were trespassing at the empty house and that the entire scene taken as a whole justified the police action. He was joined by six other justices, while two others agreed on the outcome for different reasons.
It's odd what attracts the attention of the nine justices, n'est-ce pas? I assume the case clarified some ambiguous nuance of federal procedure. The soiree sounds like a blast, except for the fact that there was no furniture. I think I went to a party like that after the prom when I was fifteen and had on lots of heavy eye shadow.
Oh. So I did not get any more SCOTUS dirt, but I did enjoy a catty Slate article about Justice Gorsuch's pretentiously bad writing style. If you dislike Gorsuch as much as I do, google "Neil Gorsuch is a terrible writer."
Family Values
Two binational couples are separately suing the federal government after red tape kept their kids from becoming citizens of the United States. In one case, Andrew and Elad Dvash-Banks got married in Canada in 2010, and conceived twins using a mystery mixture of both men's sperm. As an American and a parent, Andrew should have been allowed to register both his sons as citizens at birth. Instead, the State Department obliged the men to conduct DNA tests (which they had not wanted to do). After the tests, our trusty bureaucrats determined that one of the boys was genetically linked to Elad, an Israeli, and promptly denied him citizenship.
It's true that U.S. law only provides automatic citizenship to the biological kids of Americans. If an American man fathers a child out of wedlock with a non-citizen, for example, he must jump through hoops to prove his paternity, and rightly so. But it's also true that U.S. law provides citizenship to the biological children of married couples with one American parent. Is the marriage determinative, or is it the biology? That's what the courts will have to determine.
The other case is similar. American Allison Blixt married her Italian wife in London in 2009. The women have two sons, one of whom is American and another who is not recognized by our government. According to Immigration Equality, the U.S. considers the unwelcome son born out of wedlock. I gather Allison could adopt her own son or apply for a green card as his "stepmother," but she found both options repellent. "The principle of that is just a bit too hard to swallow," she said. "I'm not his stepmother. I'm his mother."
As The World Turns
There have been a number of important international LGBT rulings of late, including a marriage equality ruling from the Inter-American Court of Human Rights that could force marriage recognition throughout Central and South America. That court also ruled that transgender men and women should be able to change their names legally without undergoing surgery.
Also, India's highest court ordered a reconsideration of the country's sodomy law, four years after two judges managed to reinstate a ban on gay sex. The cumbersome judicial process took its time, but it seems the sodomy ban is on its way out, and this time there won't be a path for its return.
Finally, the European Court of Justice has ruled that a member state of the EU must recognize the same-sex marriage of one of its citizens to a non-EU spouse, even if that country does not allow same-sex marriages itself. The decision came in the case of a Romanian national who married an American man in Belgium. And although most EU countries recognize and support gay unions, quite a few of the former Soviet states do not.
Speaking of other parts of the world, did you read that tourism to the U.S. has plummeted over the last year?
I blame Sarah Huckabee Sanders.
---
Ann Rostow can be reached at arostow@aol.com.