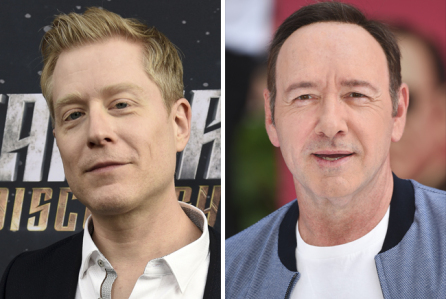 (Photo: Anthony Rapp, Kevin Spacey)
Kevin Spacey is being criticized for "hiding under the rainbow" after he came out in the same statement in which he apologized for alleged unwanted sexual advances towards actor Anthony Rapp when Rapp was just 14, reports people.com.
In an interview with BuzzFeed published Sunday, Rapp, now 46, alleged then-26-year-old Spacey invited him to his Manhattan apartment for a party in 1986. (They were both starring in hit Broadway plays at the time.) Rapp says he was the only teen at the party and spent most of the evening in a bedroom watching television. After the party ended, he said, Spacey came into the room, picked him up and laid "down on top of me…he was trying to seduce me"
After apologizing for the alleged incident — "if I did behave as he describes, I owe him the sincerest apology for what would have been deeply inappropriate drunken behavior," Spacey, 58, wrote — the House of Cards star came out as gay.
Spacey also tweeted: "As those closest to me know, in my life, I have had relationships with both men and women. I have loved and had romantic relationships with men throughout my life, and I choose now to live as a gay man…"
However, many celebrities were critical of the statement.
READ MORE HERE: