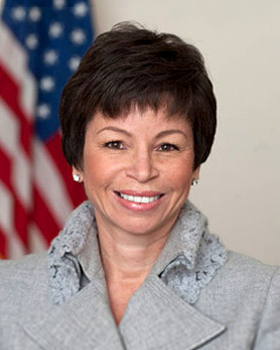 (Photo: Valerie Jarrett)
The Los Angeles LGBT Center honored Co-CEO of WME | IMG Ariel Emanuel, and former Senior Advisor to President Obama, Valerie Jarrett, at their 48th Anniversary Gala Vanguard Awards, which took place on Saturday, September 23 at the Beverly Hilton.
Host Jimmy Kimmel was greeted by thunderous applause when he stepped onstage to kick off the evening's program. He praised the Center's work and had a hilarious Trump dig: "Obviously they're relying on you for help because we don't necessarily get it from our government. The president, of course is an advocate for traditional marriage, which is the union of one wealthy man and one terrified Slovenian [woman] — it's what Jesus intended."
LA Galaxy soccer player Robbie Rogers introduced the Center's CEO Lorri L. Jean, who captivated the audience with her powerful message about the importance of fighting for the change you want to see, noting that "change happens because we make it happen."
For the latest event news and information, follow @lalgbtcenter on social media and join the conversation using #VanguardAwards.