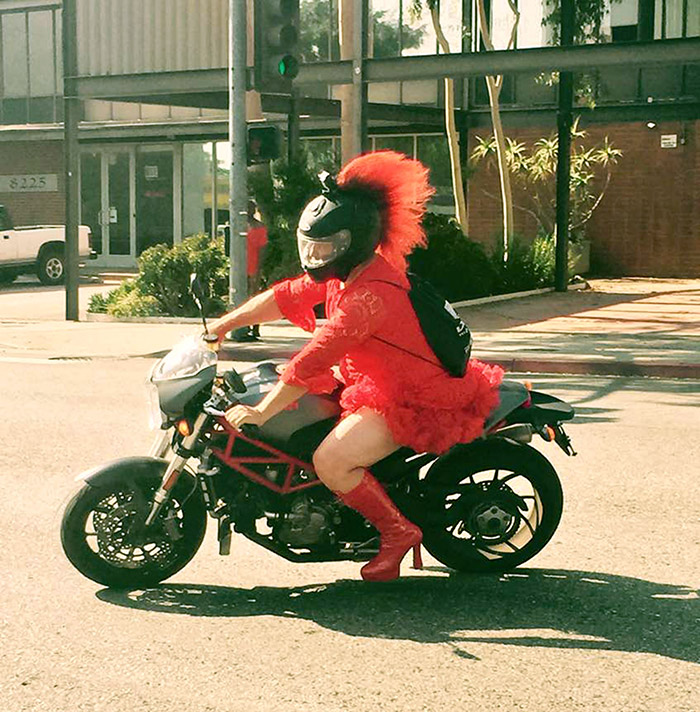 Arriving at Gold Coast's Red Dress Party in WeHo. 
LOS ANGELES
RESIST MARCH FOUNDER MAY RUN FOR OFFICE
Brian Pendleton, the gay philanthropist who spearheaded LA Pride's ResistMarch, may be considering a run for California State Treasurer, reports WEHOville's gaylifela.com.
Chad Goldman, Pendleton's friend and former partner, has reached out to people asking if they would be willing to fund Pendleton's election campaign, reported WEHOville. Neither Pendleton nor Goldman have responded to several requests for comment.
Pendleton was recently awarded a spot in the David Bohnett Foundation's Leadership program. The program hones skills and furthers the leadership potential of accomplished individuals from across the United States.
When asked if participation in the program signals a future in politics, Pendleton told THE FIGHT last month: "It's possible but it's a bit too early for me to think about that … Obviously a whole new world has opened up to me personally—and I am grateful for that—however—at the end of the day—I just want to give back to my community and be of service."
LONG BEACH
MAYOR GARCIA GETS ENGAGED
Long Beach Mayor Robert Garcia announced his engagement to his longtime partner Matt Mendez last month. Garcia proposed to Mendez on the Queen Mary on the 4th of July, 9 years to the day that they met, reports LA Daily News.
Garcia—the city's youngest, first Latino and first openly gay mayor—and Mendez have been dating since 2008.
Mendez is a professor of political science at Cal State Channel Islands and a published researcher. His past work focused on American politics and parliamentary governments, including political representation, immigration and state legislatures.
ORANGE COUNTY
HRC ORANGE COUNTY GARDEN PARTY
The Human Rights Campaign's Orange County Garden Party, taking place this month on Saturday, August 5, brings together more than 300 HRC members, friends, families and allies for an afternoon of celebration and inspiration featuring an open cocktail reception, an extensive silent auction and thought-provoking speakers, special celebrity guests and honorees, and live entertainment.
The Human Rights Campaign (HRC) fights for LGBT equality in California alongside state and local groups and lawmakers. For more than 30 years, HRC has played a pivotal role in advancing LGBT equality in The Golden State.
HRC is the largest national lesbian, gay, bisexual and transgender advocacy organization, with more than 1.5 million members throughout the country.
---
For more info visit hrcorangecounty.org.
WEST HOLLYWOOD
GOLD COAST'S ANNUAL RED DRESS PARTY
The Gold Coast Bar in West Hollywood held its 21st Annual Red Dress Party last month. The bar pitched a tent in their parking lot to accommodate a large crowd of men who stuffed themselves into ill-fitting red dresses. The first Red Dress Party was held in the summer of 1997. The event began as a vow between two Gold Coast bartenders suffering from HIV. The promised each other that one who outlives the other had to wear a red dress to the deceased's funeral. The event is now an annual West Hollywood event, that draws a variety of guys—all wearing a red dress.
PALM SPRINGS
TOP LGBTQ-FRIENDLY CITY
The City of Palm Springs has been included in Expedia.com's list of "15 Exciting LGBTQ-Friendly Cities Around the World." Expedia made their list based on a city's history of activism, law protection, LGBTQ-friendly establishments, districts, business practices, and their ability to get down and party.
According to Expedia's viewfinder Travel Blog, "Palm Springs is not the most populous city on our list, but that gives it double points in our book. In some big cities, gay culture sticks to specific neighborhoods and enclaves, but in this city, LGBTQ is the culture."