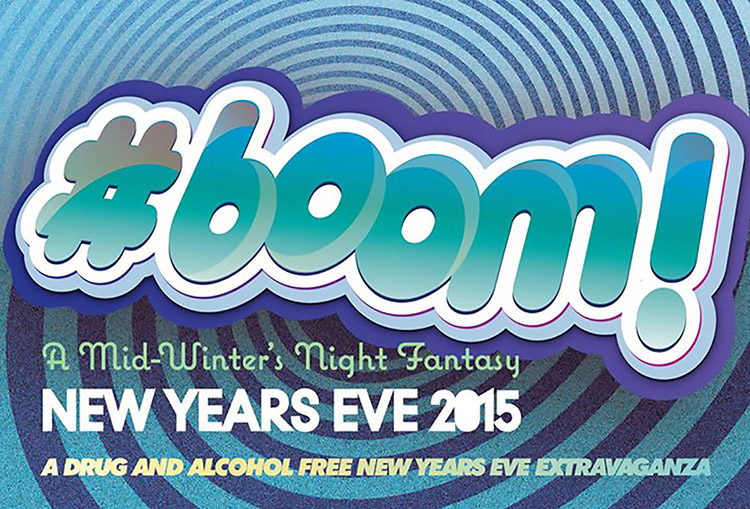 SEE THURSDAY, DECEMBER 31
SUNDAY, DECEMBER 13
ONYX SOCAL/SOUTHWEST JINGLE BALLS
Eagle LA, 4219 Santa Monica Blvd., LA, 4pm–8pm.
ONYX SoCal/Southwest Leather Men Of Color monthly beer bust.
---
MONDAY, DECEMBER 14
Exposure Drag
Offbeat Bar, 6316 York Blvd., Los Angeles, 10pm–2pm, for more info: offbeatbar.com
Every Monday Night. No Cover, Drink Specials!
21+. Featuring the fabulous talents of New Queens, Seasoned Queens, Queens from Rupaul's Drag Race and everything in between.
---
WEDNESDAY, DECEMBER 16
AUNTIE MAME
Egyptian Theatre, 6712 Hollywood Blvd, 6:15. For tickets, visit americancinemathequecalendar.com/content/auntie-mame-5.
"Live! Life's a banquet and most poor suckers are starving to death!" Special screening. Rosalind Russell is in fine form as the jet-setting, Park Avenue aunt who suddenly becomes guardian to her young nephew.
---
 THURSDAY, DECEMBER 17
12th Annual Holiday Groove @Sound Nightclub
Sound Nightclub, 1642 N Las Palmas.  9:05pm–3am. Visit WeSimplyRule.com for more information.
ONE NIGHT ONLY! Massive Year End DJ Celebration with over 40 Celebrity DJs Performing & Surprise Guestsat Sound Nightclub. Bring an unwrapped Toy valued at $20 or make a cash donation for admission, benefiting The "Spark of Love" Toy Drive
---
FRIDAY, DECEMBER 18
Lightsaber Battle LA 2015
Downtown Los Angeles, 532 S Olive St., 8pm–11pm in Los Angeles. Reservations can be made at: newmindspace-tour.myshopify.com.
Join a massive battle of Jedi vs. Sith in Los Angeles on Star Wars Episode VII opening weekend. Pick a side of the force and use that venerable, ancient, glowing tool: the lightsaber, in the ultimate nocturnal showdown. 
---
SATURDAY, DECEMBER 19
STUFFED! Hosted By BearsLA
Eagle LA, 4219 Santa Monica Blvd., 9pm. Visit eaglela.com for more info.
Join the Annual Christmas silent auction at EagleLA bar. $5 at the door. Portion of the proceeds will go to Project Angel Food. Come stuff your stocking with hot bears, leather, fur and beards.
A Night at The PARADISE GARAGE
The Hollywood Palladium, 6215 W Sunset Blvd 9pm–4am. Purchase tickets at concerts.livenation.com/event/09004F4DD70A990B.
This very special event is to raise awareness for the GMHC through the up coming PARADISE GARAGE: INSPIRATIONS 12" compilation that will be released in 2016 on Good For You Records.
Ms. Bullet Leather 2016
The Bullet Bar, 10522 Burbank Blvd, 10pm. For more info, visit BulletBarLA.com.
Join the fun at the Ms. Bullet Leather 2016 feeder contest. If intrested in running for Ms Bullet Leather, please contact Michael Lara @ MLBullet@aol.com.
GMCLA's Holiday Spectacular

Alex Theatre, Glendale, 3pm and 8pm. Sun., Dec 20 at 3pm. For moire info and tickets go to: gmcla.org.
From classical repertoire to reinvented holiday classics.
---
MONDAY, DECEMBER 21
COURTNEY ACT: Head To MistletoeRockwell

1714 N Vermont Ave, 8:00pm in Los Angeles. For tickets, visit rockwell-la.inticketing.com.
This is not a show about oral fellatio or poisonous holiday garlands. Join Aussie enchantress Courtney Act for an evening of festive cheer as she regales you with stories of Christmas in Australia and Christmas around the world.
---
THURSDAY, DECEMBER 31
#BOOM—ALCOHOL & DRUG FREE NEW YEARS EXTRAVAGANZA
West Hollywood Park Auditorium, 647 San Vicente Blvd., 8pm–2am. Visit, BOOM2016.EVENTBRITE.COM for reservations.
Now in its third year, #BOOM! brings over 700 party-goers under one roof, complete with a DJ, dancing, food, games and #BOOM! Pageant. #BOOM! is a blast, but its purpose is important—to create a safe space for the West Hollywood community to celebrate New Year's Eve, where alcohol and drugs aren't the focus.
Masterbeat 2016: New Year's Eve
The Mayan, 1038 S Hill St. Los Angeles, 9pm–6am, Powered by Scruff.
The largest and longest running New Year's Eve event in the world returns to Los Angeles at The Mayan for the 16th edition of Masterbeat's signature event. Special surprises, performances and Masterbeat's signature production combined with superstar DJ's Joe Gauthreaux and Micky Friedmann will have you ringing in the new year with thousands of the hottest men from around the world.