Unique items for a particular group of people on your holiday shopping list.
BY PAULO MURILLO
Some like to give, others would rather receive. For those who prefer to be on the gift-giving end, the process can be overwhelming.
For example, what do you give that health nut who lives on kale and the latest digestive cleanse? What does one buy for that Madonna fanatic who has every M promo eBay has to offer? Where does a guy go to shop for that particular friend who won't let you forget he's clean and sober? How do you bring a touch of luxury to that friend who has a fetish for leather?
And for the ultimate gift, where does one shop for that special ring that says I love you—or better yet, a ring that says I want to love you for the rest of my life?
Below are some gift guide ideas for a particular group of people on your holiday shopping list.
THE O SO JUICY GIFT
For that oh so health conscious friend in your life consider buying the O So Juicy gift of wellbeing. Located on 99 La Cienega Blvd., Suite 108, in Beverly Hills, Oh-So Juicy is family-owned and offers an array of organic ingredients to create cold-pressed exciting juices that combine flavor and health inside every juicy bottle. O So Juicy sticks oh-so funny labels on their products with names like the Just Beet It juice, Turn the Beet Around, Orange You Glad, Citrus Kisses, and Sweet Greens Are Made of These, to name of few fun drinks. The Alka-Green juice is a tasty favorite. They also offer a cleanse program that can start a New Year, all shiny and new with the O So Juicy Cleanse and The Green Cleanse regimen. One to ten-day packages are available for pickup and they also deliver.
To learn more, visit osojuicyorganic.com
THE SHADY GIFT
And speaking of shiny and new…for the Madonna fan who has it all, or is looking for a whole new shady way to express his (or her) love for the big M, it doesn't get better than a Cunt[tee]. The gay-owned and fan made Cunt[tees] t-shirt line makes hilarious shirts with shady messages.  Messages include, "You Had Me at Madonna," "Madonna Made Me Gay," and the shirt that started it all "Cunty Madonna Shade," to mention only a few of many funny-if not bitchy phrases. No snarky Madonna fan is complete without throwing some shade at Lady Gaga, so Cunt[tees] offers shirts with messages like, "Lady Who?" "Not a Monster" and "Reductive Resistance." The shade comes in tote bags and stickers as well. Gift cards are also available.
For more information, visit whatsthetee.net
GIFT OF SOBRIETY
Shadiness aside, some of us have that certain friend or loved one who cashed in the chips and is now sober…and they won't let us forget it. For that sober somebody in your life, there's always My 12 Step Store, located on 8730 Santa Monica Boulevard in the heart of WeHo.  This is the go to recovery shop for sobriety chips, medallions, books, greeting cards, apparel, and the store also offers recovery jewelry in both silver and 14K gold. Give the gift of talking to the big G.O.D. with a luxurious wooden God Box, which come in various selections and price points.  The store specializes in all 12-step recovery programs-no matter the poison of choice-be it meth, sex, food, pills, gambling, or love. If there's a program for it, you'll find the perfect gift at My 12 Step Store.
You can order online at my12stepstore.com
A KINKY SURPRISE
Gifting a pair of leather chaps, a leather harness or anything that needs to be stuck onto or into that certain kinky friend or kinky couple in your life, can seem, to some, a little inappropriate. Luckily there's Twisted DNA 46 XY—a company that offers high quality full grain Italian leather goods  and uses edgy leather man elements such as armbands, harnesses and bandannas to create and accessorize throw pillows, duvet and apparel.  Twisted DNA was conceived in 2011, by founder David McGrath, who channels Tom of Finland, and the Ralph Lauren Home Collection to create awesome leather accessories for the leather inspired home. Best sellers include the Armband Euro Square Pillow, Leather Armband Pillow and the leather armband throw. Twisted DNA is also launching a new line of scented candles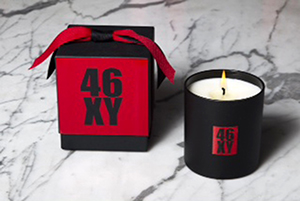 geared towards a man's sensibilities, in five different fragrances: Leather Bound, Testosterone, Cathedral, Pomegranate & Basil, and Fig.
For more information, visit twisteddna46xy.com
THE GIFT OF FOREVER
Pledge your love and commitment till death do you part to that special life partner, or give yourself a gift as a token of self-appreciation with Proposition Love Jewelry. Every purchase made is a pledge to support the equal rights for everyone. Prop Love was created by jewelry designers Sam Street and Jonathan Tack after they were married in California just a few days before Prop 8 was voted into law.  Their jewelry line incorporates a triangle into all their designs as a symbol of the gay rights movement throughout history.  They also design fashion rings, pendants, bracelets and their trademark EnGAYgement Rings(tm). Their Love is Love collection is a real standout. Ten percent of the profits go to organizations that support Marriage Equality, Gay Rights, LGBT Youth, Anti Bullying, and HIV / AIDS activism. Prop Love jewelry is available in sterling silver, 14K rose gold, 14K white gold, and 14K yellow gold.  The Eternity Stack Ring in 14K Yellow Gold Diamond is the stuff that gay wedded bliss is made of.
Find the love at propositionlove.com