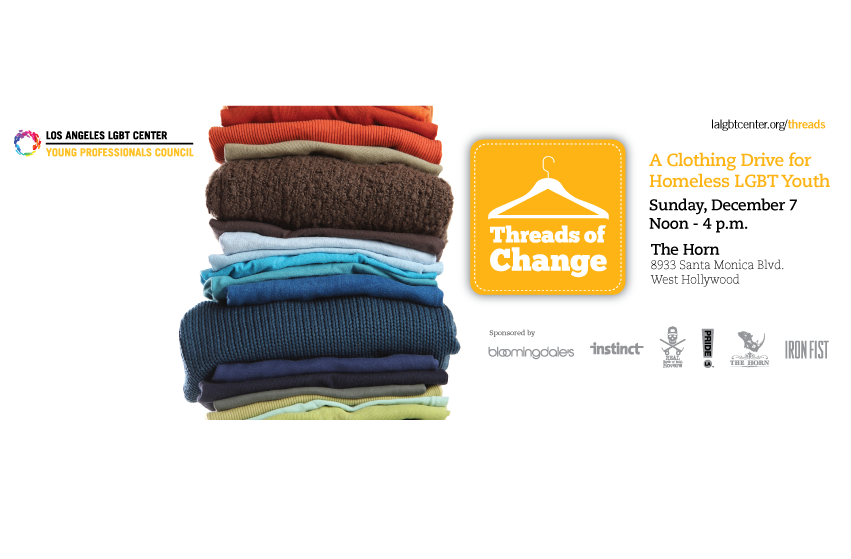 The Los Angeles LGBT Center is hosting the 8th Annual Threads of Change clothing drive on Sunday, December 7, from 12pm to 4pm at The Horn in West Hollywood.
Help the Center's Young Professionals Council meet the growing the demand for clothes to benefit homeless youth served the LA LGBT Center. Admission to the clothing drive party is free. Guests who donate a bag of gently used clothes will receive a complementary mimosa.
The donated clothes will help stock the closet at the Center's Youth Center on Highland in Hollywood where staff distribute an average of 1,200 clothing items each month to homeless lesbian, gay, bisexual and transgender (LGBT) youth.
Items of apparel in greatest demand for men and women are:
·      Gently used casual clothes (of all adult sizes)
·      Gently used professional attire for job interviews
·      Gently used winter coats, sweaters and hoodies
·      Shoes in excellent condition
·      New socks, underwear and bras
Come Out of the Closet
"It's time to clear out your closets for a worthy cause, YPC Chair Jorge Mellado stated in a press release. "On any given night, there are 6,500 homeless youth under the age of 24 on the streets of Los Angles, and 40-percent of them are LGBT. Many of them have nowhere to turn but the Center. Help the Center continue to transform and save the lives of its youth clients, especially during the holiday season—a time for joy and celebration."
Those unable to attend the clothing drive and party can drop off donations at the Youth Center, 1220 N. Highland Ave., any day between 9 a.m. – 4 p.m.
 About the Youth Center On Highland
The Youth Center on Highland provides young people with three meals a day, a place to shower, do laundry, prepare for the GED exam, stay overnight and get support from the Youth Employment Program, which helps job-seekers polish their skills and find employment.
The Youth Center closet also provides clothes for youth who have found a home within the Center's 24-bed Transitional Living Program. Young people ages 18-24 stay with the Transitional Living Program for as long as 18 months while working or attending school and developing the skills and resources to live independently.
Threads of Change sponsors include Bloomingdale's, The Horn, Instinct Magazine, Iron Fist Clothing, LA PRIDE / Christopher Street West, and REAL Rock'n'Roll.
For more information about Threads of Change, visit lalgbtcenter.org/threads. For more information about the YPC, visit facebook.com/centerypc. For more information about the Center's Youth Services, visit lalgbtcenter.org/youth_services.