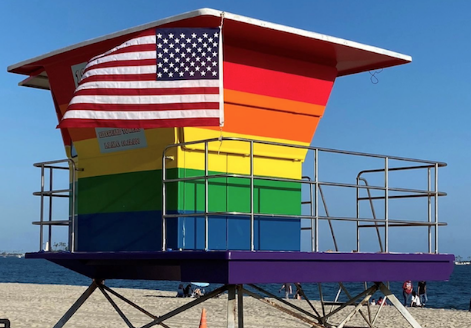 Long Beach on Thursday will unveil a new rainbow-colored lifeguard tower to replace one that burned down on the beach where it served as a symbol of LGBTQ+ pride, reports Long Beach Post News.
The tower, which will be dedicated at a 5 p.m. ceremony on the beach near 12th Place, will be painted by the city's lifeguards, just like the last one was.
"I'm very proud to see our lifeguard tower back as a symbol of inclusion and love," Mayor Robert Garcia, the city's first openly gay mayor, said in a statement.
Garcia was quick to denounce the March blaze as an "act of hate." Since then, investigators have determined the fire was arson, but any motive remains under investigation, according to the Long Beach Fire Department.
READ MORE HERE:
UPDATE: City to unveil new rainbow lifeguard tower; blaze at original tower was arson, LBFD says