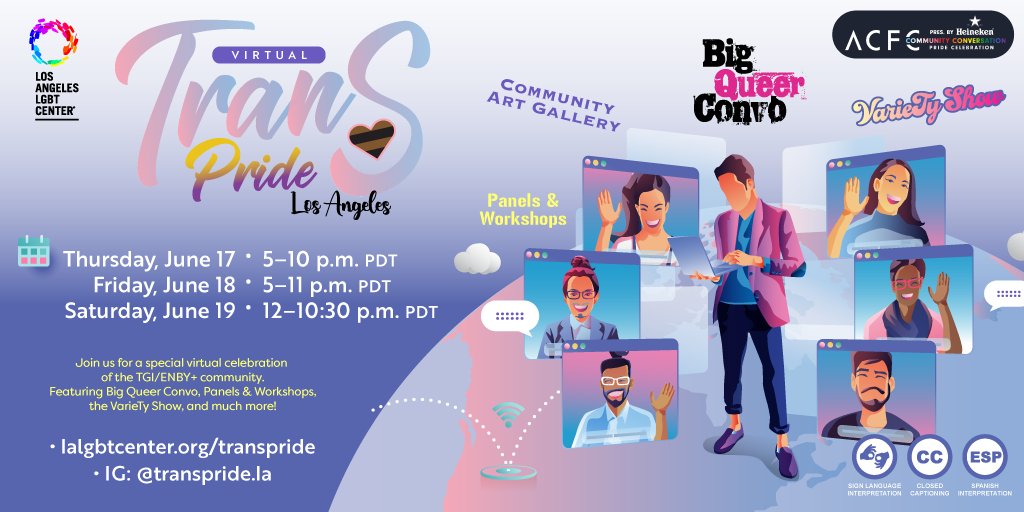 This year's Trans Pride L.A. (TPLA) will be streamed live for the second consecutive year, expanded from two to three days, on Thursday, Friday and Saturday, June 17–19.
TPLA is one of the nation's oldest and largest celebrations of the vibrant Trans, Gender Non-Conforming, Intersex, Non-Binary (TGI/ENBY+) community with virtual workshops, panel discussions, Trans Pride Community Gallery, the always highly-anticipated VarieTy Show, and a Big Queer Convo with special guest ACLU Deputy Director for Transgender Justice Chase Strangio.

The full schedule of Trans Pride L.A. is posted online at lalgbtcenter.org/transpride.
 
"During this extraordinary time while we are still unable to meet in person, we are determined to bring our community together once again," said TPLA organizer and the Center's Manager of Trans Lounge & Education Empowerment Programs Gina Bigham (she/her). "Trans Pride L.A. has always felt like an annual family reunion—and we want to make that reunion happen. The strength and resilience of our TGI/ENBY+ community in the face of the ongoing pandemic, the continued violence against us, and the transphobic legislation being enacted nationwide—these things only strengthen our commitment to provide a platform to celebrate our true selves."

Heading into its 22nd year, Trans Pride L.A. kicks off on Thursday, June 17, with a live panel discussion showcasing the underrepresented Intersex community. The discussion will be followed by a special Zoom dance party hosted by award-winning DJ Shane Ivan Nash (he/him). Beginning now and leading up to the three-day TPLA festivities, community members can share their artwork within the Community Gallery, which will be featured on the TPLA website and Instagram by using the hashtag #TPLA21.
The program for Friday, June 18, begins with a special Spanish-language panel discussion entitled Somos Familias Trans for families with trans loved ones. The discussion will be followed by the Center's community forum series Big Queer Convo with this year's special guest, ACLU Deputy Director for Transgender Justice Chase Strangio (he/they). Strangio is the first trans individual to argue—and win—a case (Bostock v. Clayton County) before the U.S. Supreme Court. Lauded in 2020 as one of the 100 most influential people in the world by TIME, Strangio will discuss the state of the struggle for TGI/ENBY+ rights and share inspiring stories of his ongoing efforts on behalf of his community. He will be interviewed by Los Angeles LGBT Center's Director of Advocacy and Mobilization Joey Hernández (they/them).

Immediately following Big Queer Convo will be a live, online community talkback session to share thoughts and perspectives.

On Saturday, June 19, TPLA honors Juneteenth with two exciting events highlighting the Black TGI/ENBY+ community. At Noon, Mirror Memoirs presents a "storytelling as advocacy" workshop centering the narratives, healing, and leadership of LGBTQ survivors of color in the movement to end child sexual abuse. At 3 p.m. a powerful panel discussion entitled Black Liberation Through Mutual Aid will explore how the Black TGI/ENBY+ community has taken charge of liberation on its own terms.

Saturday will culminate with the 7th Annual VarieTy Show, a fully-produced concert to be streamed live on the TPLA website. Hosted by Abdullah Hall (they/them) (Artistic Director, Trans Chorus of Los Angeles), this year's edition will include new performances by Pink Foxx (she/her), Jaden Fields (he/him), Ty Deran (they/she), Abdullah Hall, Amir Levi (all pronouns), Coretta Simo Love Monk (she/her), Louis Reyes Chavez(he/they) and Samuel Petre (he/him), Gio Bravo (he/him), Dorian Wood (they/them), the Trans Chorus of Los Angeles.

To accommodate guests from around the world, the Intersex, Somos Familias Trans, Black Liberation Through Mutual Aid panel discussions as well as Big Queer Convo and VarieTy Show will be streamed live on the TPLA website and on the Center's Facebook and YouTube Channel. Closed Captioning is available in English for all events, and ASL and Spanish interpretation is available for select events (see TPLA website for details).

Presenting Sponsors of Trans Pride L.A. are Angel City FC and Heineken; Official Sponsor is the Happy Hippie Foundation; Supporting Sponsor is Gilead Sciences; and Media Sponsor is The FIGHT Magazine.

For more information and updates about Trans Pride L.A., visit lalgbtcenter.org/transpride