We asked these fine community members what Pride means to them
BY DARSEEN | PHOTO BY DUSTI CUNNINGHAM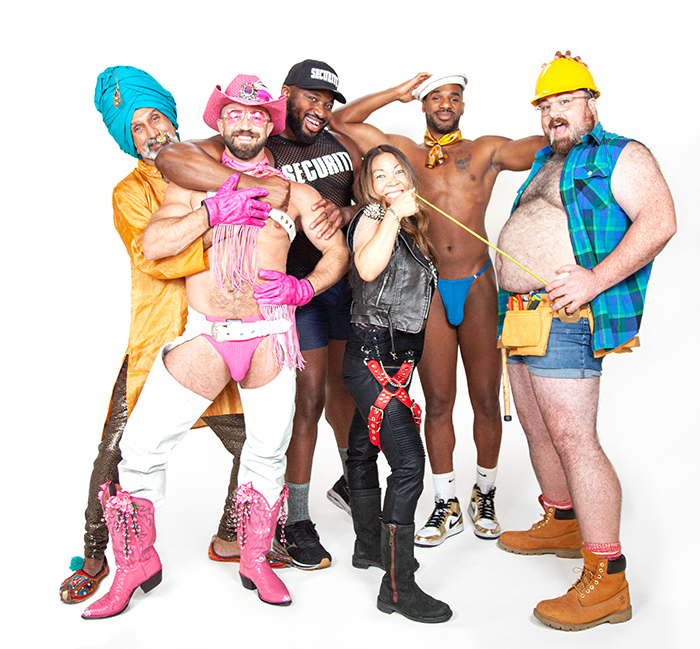 Indian
SANJ GREWAL
An eye surgeon practicing in Palm Springs, Sanj lives with his husband of 12 years, Brad Ward, and their three dogs, Baxter, Samson & Lola.
"To me, Pride means authentically loving and celebrating oneself, other people, and truth."
Cowboy
ANDREW HERRING
Instagram @ARH.83
Instagram @symmetrypilatesla
Originally from San Diego, Andrew is a dancer/ choreographer, TV producer, and the owner of Symmetry Pilates.      
"When I think of Pride , I try to keep the spirit of fighting for equality for gay, trans people, and POC in my heart and my intentions."
Security
RYAN OJI
Instagram @AnimusRyan
Ryan is a QA engineer by day, and an actor/model/adventurer when time allows.
"To me Pride is about living in a way that is authentic to yourself. When I finally came out at 25, that also came with a promise to myself not to lie to myself or to others about myself. It is about living in truth for all the moments we have in life, not just the big event of coming out in the first place."
Leatherwomen
TRAY IGNACIO
Instagram @Traytrayrock
Born in East LA, Trey's true passions are photography, traveling, DIY projects, her two adorable wiener dogs, and her Ducati! 
"Pride is a movement for the equality of all people no matter race, sex, color, shape—it's all about LOVE and LOVE knows no boundaries."
Sailor
TOKEYO
Instagram @tokesbadd
YouTube https://m.youtube.com > videosTokeyo—YouTube
"Trendsetting Hip-Hop artist TOKEYO is an explosive performing creative, who has commanded attention throughout the world of Queer nightlife. 
"We are currently in the middle of more change. So it's important for Pride to signify UNITY. For me that stands for a roofless amount of love, inclusivity, and embracing the things that make us all different."
Construction Worker
BIG DIPPER
Instagram @bigdipperjelly
YouTube @bigdipperjelly
A recording artist, podcast host, and producer, Big Dipper makes music videos (Lookin, LaCroix Boi, Back Up Off Me) and has performed his live music shows all over the world to promote body and sex positivity, and a feel-good party vibe. 
"Pride is a time to be super visible, to celebrate queerness and the existence of LGBTQ people all over the world, Pride feels like a moment to take a breath and celebrate each other. To lift up the amazing contributions queer folks have made to art, culture, activism, politics, science and technology. Queer people are everywhere and capable of greatness."