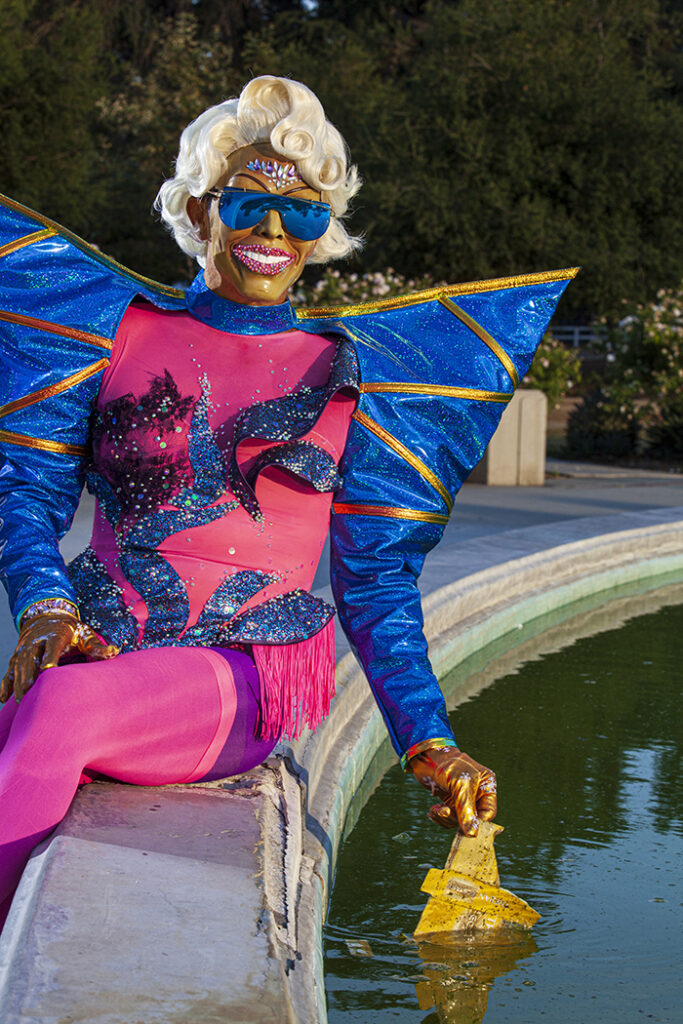 Kiki Xtravaganza on drawing inspiration from gender-bending performance artists, the ballroom and voguing scene and finding a support network
BY VICTOR MELAMED | PHOTO BY DUSTI CUNNINGHAM
Kiki Xtravaganza is an icon in LA nightlife. As with other club fixtures and performance artists, however, her history is shrouded in a fair degree of mystery. 
Behind the mask she is a longtime member of the legendary House of Xtravaganza (prominently featured in the seminal documentary Paris Is Burning); yet it was not until 2007 that she officially transformed herself into Kiki, christened on the set of the Fergilicious video shoot by none other than Fergie herself.
While her look draws inspiration from gender-bending Australian performance artist Leigh Bowery (who Kiki cites as a primary influence on her own progressive take on conventional drag), the roots of her dancing skills were honed whilst under the tutelage of the black girls she grew up with in public school. The combination of these and other disparate influences is part of what makes Kiki such a fixture in the club scene, where she has gone on to attain residencies and perform countless gigs at DTLA's Mustache Mondays; Micky's, Penthouse, Metropolitan in West Hollywood; Fubar and MJ's in Silverlake; and Executive Suites in Long Beach, among others. When the sun rises, the mask is put aside in favor of Kiki's other passion as a successful wardrobe stylist, for which she recently completed work on Netflix's original series The Ropes (co-produced & directed by Vin Diesel and Zoe Salanda).
Although originally signed-on as strictly a stylist, producers for the show were so impressed by Kiki that they actually chose to write her into the script, giving Kiki her first speaking role in front of the camera. Still, Kiki is no stranger to the lens, having worked a number of video shoots, most recently filming a key roles in Jennifer Hudson's I Still Love You and in Lex Lu's video for the single Weirdo.
"Growing up with my mother was like every gay kid's Auntie Mame fantasy. My mother made custom wigs for many of the biggest and most iconic celebrities in Hollywood, and she exuded a sense of glamour herself."
Clubbers who go to see Kiki know they can always count on seeing a lot of vogueing and working the runway, perhaps even a bit of twerking… and always serving a ghetto-fabulous vibe that speaks to her origins as a performer. Aside from the now-legendary mask, Kiki is known for her colorful, neon-driven fashion sense, as well as delivering multiple costume changes at every performance—sometimes even switching outfits as many as five times per night. It is this love of the nightlife and dedication to the art that drives Kiki, who says all the work becomes immediately worth it when she sees the countless smiles in the audience that are matched only by her own.
In an interview with THE FIGHT Kiki reveals that her mother was a big influence on her life.
"Growing up with my mother was like every gay kid's Auntie Mame fantasy. My mother made custom wigs for many of the biggest and most iconic celebrities in Hollywood, and she exuded a sense of glamour herself. As a kid growing up, lots of film and music stars would come to our house to see my mother. How could that not have an impact on me? I wanted to be like them, and because they were real people to me, and not just pictures on television or album covers, that dream didn't seem so far off. Also, because my mother was very creative and helped people to achieve an image they wanted to project, I instinctually learned that I could also create my own persona… or a few! I would not be who I am today without my mother, and Kiki would never have come into existence if not for her. It has been several years since my mother passed, but I think of her every day, and she is always with me when Kiki is getting into character."
"Everyone needs a support network," says Kiki. "I was fortunate to have my mother. I was also lucky to be embraced by the West Hollywood nightlife scene. However, my primary support and source of inspiration come from the ballroom and voguing scene. I have been associated with the House of Xtravaganza since the early 1990s. I am always talking on the phone or online with my House brothers and sisters, those here in LA and many in NYC. We've lived together, we've celebrated together, and we've cried together. No matter what, I know they are there for me. They are my chosen family—my spiritual home—my rock."