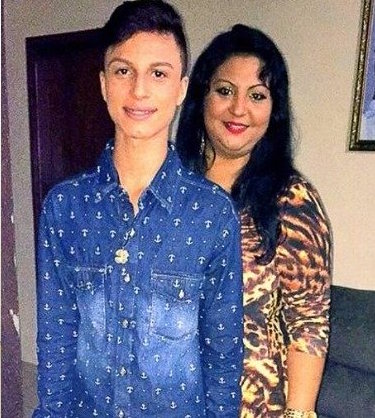 (Photo: Itaberlq Lozano, RIP, and his mother)
Tatiana Ferreira Lozano Pereira has been sentenced to 25 years and eight months in prison by a jury in Brazil  for killing her 17-year-old son, Itaberlq Lozano, reports Out magazine.
According to prosecutors, Pereira never accepted her son after he came out and in December of 2016, they had a fight that resulted in Lozano moving in with his grandmother.
Following that argument, Pereira is said to have lured Lozano back to the family house by claiming to want a reconciliation. An investigation found she had actually hired hitmen to kill Lozano upon his return.
When Lozano came back, prosecutors said, the hitmen beat the boy but refused to kill him. At that point, Pereira took up a knife and stabbed her son herself, reports Out magazine.
Then Pereira and her husband, Alex Pereira, took the body to a cane field and set it on fire. The remains were found a week later, and required a forensic investigation to identify.
Speaking to police, Lozano's uncle Dario Rosa said, "He had a job, he was very polite, [and] he never quarreled with anyone. He only had problems with his mother, who did not accept that he was a homosexual."
READ MORE HERE:
https://www.out.com/crime/2019/11/29/brazilian-woman-sentenced-25-years-killing-gay-son