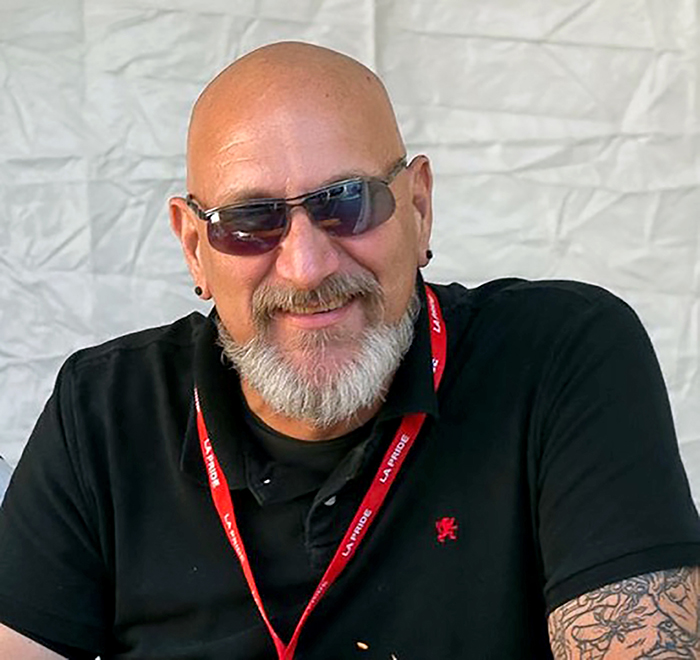 A "Celebration of Life" for Steve Ganzell will take place this month at Eagle LA and at Plummer Park in West Hollywood.
BY MARK ARIEL
We are extremely saddened to report that Steve Ganzell, a beloved community leader, ex co-chair of Christopher Street West and a long-time contributor to THE FIGHT, passed away last month of a heart attack.
Ganzell, a clinical psychologist, served as the clinical director of the mental health program for Being Alive, the West Hollywood based HIV service organization.
Ganzell had also worked for the U.S. Department of Veterans Affairs.
Among the many Facebook posts reacting to Ganzell's passing—Being Alive's Gary Bowie wrote:
"It is with great sadness that we lost a great friend and Clinical Director of our Mental Health program here at Being Alive. His last day was spent at a World AIDS Day event here in WeHo…
We will deeply miss his straight-shooting talks on mental health and how we were able to advance our program here. With his help and leadership we were able to add 6 new universities to our Mental Health training program for therapists and develop a great team.
I personally miss him as a friend, our weekly meetings and other fun times. The staff and therapists at Being Alive are devastated … Steve Ganzell was one of a kind! RIP our friend."
Joseph Carl Lee Knight wrote on Facebook:
"In the City of Angels, he was my first ever friend. I made the mistake of locking eyes with Steve Ganzell at Pride 2014 where he saw me sitting alone at Erotic City. He then made the mistake of walking straight over to me where he promptly plopped down in the chair right next to me, and I almost shit my fucking pants. Who was this loud, giant man?! He offered me a clove with a smile and a boisterous laugh, and I was immediately disarmed. The rest was history! Steve was always quick with the good banter, and always cheered me up in only the way that Steve could—in a way that his memory cheers me up even now. He seemed to always have the perfect witticism for me no matter what. I am very thankful that he took me under his wing to help me run for a leather contest. Not to be prosaic, but he taught me more about my identity as a Leatherman than I ever thought possible, a deed for which I am ever thankful. He was kind, crass and a complete pervert—I do dearly love him and he is terribly missed."
Tom Pardoe, one of his closest friends, wrote:
"Brother Steve, Brother Tom. That's how every phone call began. My heart is heavy but it's full as well. As you know, your legacy is resonating throughout FB and the streets and back alleys of this world. You saw my Zeus and called it forward. I will do my best. Fuck you for leaving so abruptly AND I love you for exiting so swiftly, just as you always wanted it to go…"
---
A "Celebration of Life" for Steve will take place Sunday January 5, 2020, 12pm to 3pm at Eagle LA, as well as the "City Wide Celebration of Life of Steve Ganzell" taking place on Sunday, January 26, 2020, 11:30am to 2:30pm at Great Hall, Plummer Park in West Hollywood.