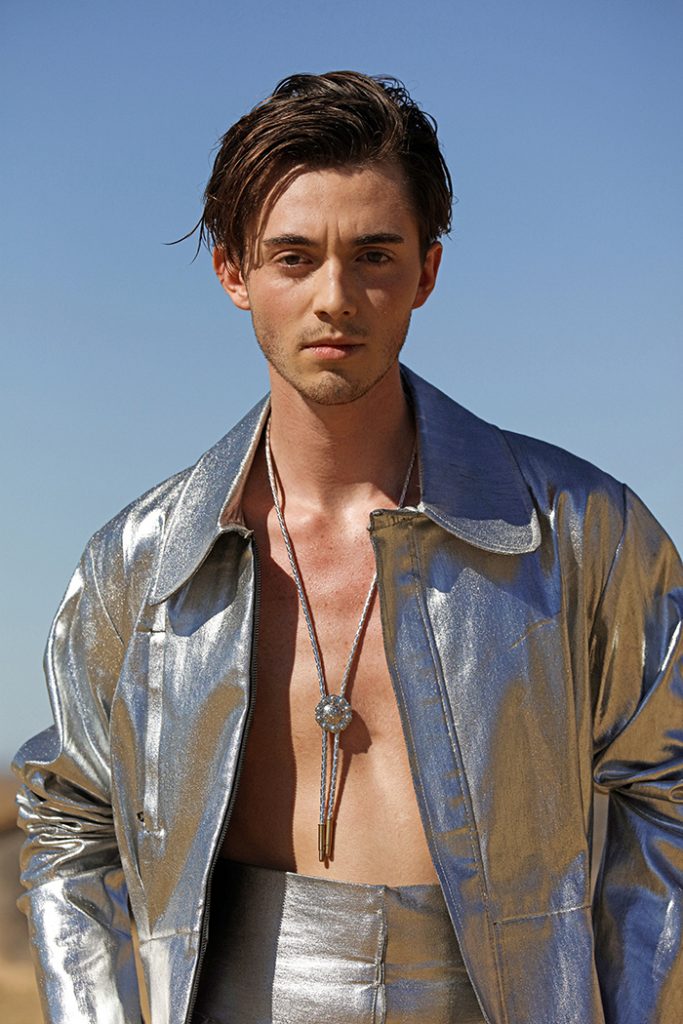 Greyson Chance: "If the industry wants LGBTQ+ artists to keep on delivering the art that we deliver, good treatment cannot be exclusive to only a few of the letters." 
BY MARK ARIEL | PHOTO BY BRODERICK BAUMANN

Singer, songwriter and performer Greyson Chance released his new single, Boots (Arista Records) with an accompanying music video last month. The video was shot in a desert outside of Los Angeles and was co-directed by Chance and frequent collaborator, Bobby Hanaford.  
"Boots at its core, is a narrative addressing pop culture's current usage of Western imagery," says Chance. "When I was writing the song, I found myself imagining what Johnny Cash would be like if he were around and making music in 2019… Boots is truly just an observation of what I see in pop culture currently, and what I think about it."
Chance rose to prominence in 2010 with his performance of Lady Gaga's Paparazzi at a sixth-grade music festival which became a viral success on YouTube, gaining over 65 million views.
In an interview with THE FIGHT Chance says he is not bothered when fans reference his childhood success.
"That cover is how everything started for me, so when I look back on it, I feel an immense sense of pride and accomplishment," says Chance. "It does bother me, however, when people yell out at shows asking for me to play it, because I never will play it live again. Gaga told me to stop performing it a few years back; she said I needed to show people that I am much more than just a cover. I agree."
Chance came out as a gay man in 2017. "I came to fully recognize that I was gay when I was sixteen. I decided not to publicize my sexuality largely due to a matter of privacy, as I was still trying to find comfort and confidence within my own skin," he said at the time. "While this message is most definitely overdue, I encourage anyone who is navigating their sexuality to devote as much time as they need to the process of finding self-confidence, self-acceptance, and self-love."
When asked if being gay has hindered his career in any way—Chance replies: "No, I truly don't feel like it has. That being said, I am also a white male, which comes with a whole host of privilege. My friends of color, my female friends, and my trans friends will tell me horror stories of how they are treated in the industry. That's where the fight currently is and that's where it has to be. If the industry wants LGBTQ+ artists to keep on delivering the art that we deliver, good treatment cannot be exclusive to only a few of the letters."
---
Find out more about Greyson Chance's music, his new album portraits and upcoming tour dates at: greysonchancemusic.com.