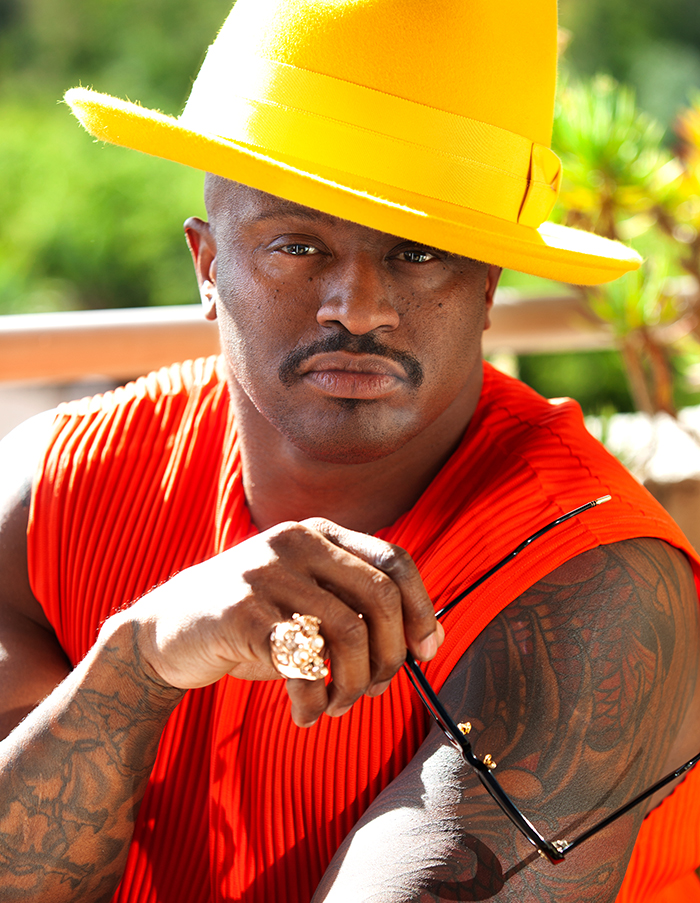 An interview with Father Trey Saint Laurent: Community Leader. Activist. Chef. Muse. Icon.
BY KOLBY KEENE  |  PHOTO BY DUSTI CUNNINGHAM
At the close of this past decade I had the pleasure of interviewing Father Trey Saint Laurent. He's a hot Black chef who has cooked up quite an abundance of positive revelations, meaningful relationships and community progressions. Additionally he is the recipient of an Icon award.
The Icon award honors some of the ballroom culture's most inspiring mothers, fathers and legends. The well-deserved recipients have contributed a great deal of love, time, teaching and motivation both in and out of the ballroom. 10s are just not enough for these Queens and Kings who have graced the ballroom scene.
(The ballroom community originated in 1920s New York, in which people "walk"—compete—for trophies, prizes, and glory at events known as balls. Ball participants are mainly young members of the LGBTQ community. Attendees dance, vogue, walk, pose, and support one another in one or more of the numerous drag and performance competition categories. Categories are designed to simultaneously epitomize and satirize various genders and social classes, while also offering an escape from reality. The culture extends beyond the extravagant formal events as many participants in ball culture also belong to groups known as "houses," where chosen families of friends live in households together, forming relationships and community to replace families of origin from which they may be estranged.)
In an interview with THE FIGHT Father Trey talks about how far we've come as a community and creating a better future.
---
Unity stems from powerful communities coming together, standing as one—living as equal.
---
Pose has made a major impact bringing the ballroom scene to the mainstream. In your opinion, how has this shift impacted your role as a Father of a legendary house?
I was once a house father and currently, standing father to Hailie Sahar (who plays LuLu on Pose). I have watched her grow and inspire others around her. I am so proud and extremely thrilled with the path she has taken. Being a father to Hailie and to all my house kids, it moves me to know that they are all succeeding and following their dreams… Watch out world, because my kids are ready to storm!
Having recently been honored with the Icon Award, what is next for you, Trey? Life in ballroom?
Before receiving this humbling award, I was overall father of the House of Rodeo, a house that groomed and supported me on my journey to where I am today. I will never forget the love and gratitude they have shown me. They are my family! As far as what's next—we'll see, I have a couple of things in the works. Stay tuned!
Looking at life now versus life in the 70s, what do you think we've gotten right since then and what do you think we as a community still need to improve?
The passing of Gay marriage is by far a big "right" and the awareness to fight for equality continues in the right direction. The fight is so close to being over, however, we still have many opportunities. What we still have "wrong" is not enough protection for the people, more specifically equality for the transgender community. I have faith that this will change in this decade. It has to happen! there is no other way… Unity stems from powerful communities coming together, standing as one—living as equal. Today, there are moments whereas a community, we are separated, unaligned and misunderstood. It often feels like there are too many cooks in the kitchen—but it makes me so happy to know that there are great representatives of the community. So much hope for a progressive and prevailing FUTURE.
A father is often compared to/seen as a hero or role model. Many times, the designated father is not present. You have been quite a nurturing and standing father. What advice would you give to younger members of the LGBTQ+ community who are struggling with self-love and identity.
I know we've heard it before, and it is my job to keep repeating it. It really does get better! That's the truth! Hang in there! Listen to the universe! Find your chosen family. These are the people that will love you and give you the support system that you need. It will happen I promise you. It happened for me.
You are a respected leader of the community. So many people look up to you. How do you keep yourself humble?
I spend a lot of time at Agape Spiritual Center reflecting and staying connected with myself and God. I never forget where I am from or where I am going. My dear mother and best friend, Brenda Haines, who passed in 2004, taught me that in order to have a great journey in life, I must keep my faith, be patient, and stay prayed up. She was a phenomenal woman. A Minister! I can hear her now saying "Stand boldly with God." I miss that beautiful black woman.
You are so amazingly beautiful. I have enjoyed listening to your story and I am so honored to share it on this platform. How do you want the world to remember you?
A loving friend, brother, father, icon.