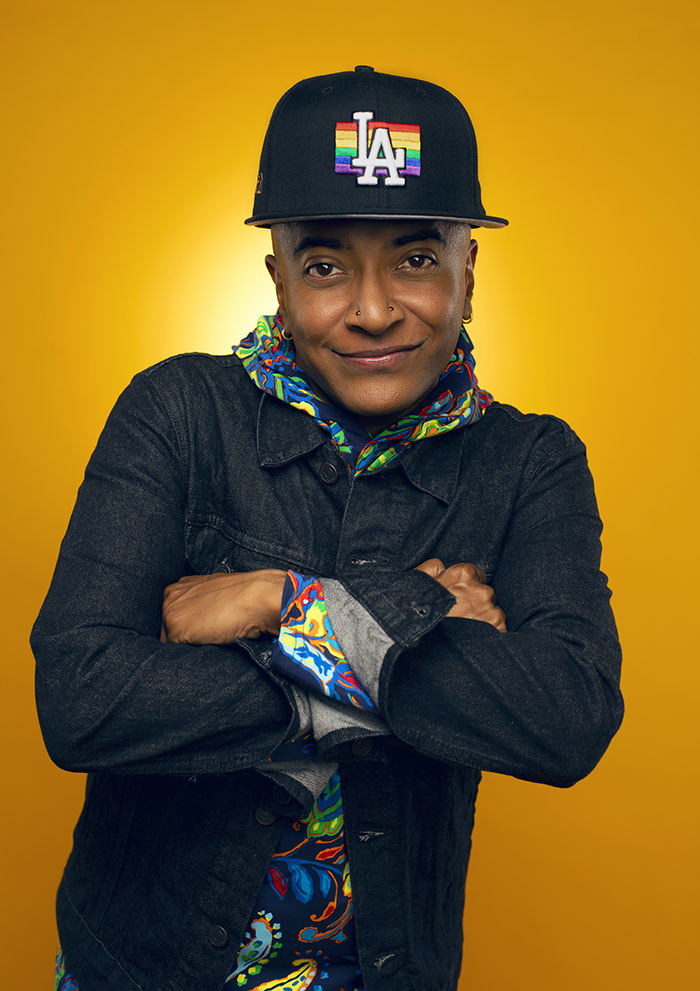 D'Lo, the acclaimed queer/transgender Tamil-Sri Lankan-American actor/writer/comedian, on his new solo show, opening this month.
BY MARK ARIEL
The Los Angeles LGBT Center's Lily Tomlin/Jane Wagner Cultural Arts Center has announced the LA premiere of a new solo show, To T, or Not to T, written and performed by D'Lo, the acclaimed queer/transgender Tamil-Sri Lankan-American actor/writer/comedian. 
Directed by award-winning director/author/actress Adelina Anthony, the show will run through October 27 in the Davidson/Valentini Theatre.
Tickets may be obtained online at www.lalgbtcenter.org/theatre or by calling (323) 860-7300.
In an interview with THE FIGHT D'Lo talks about his career path, messing with people's heads and their assumptions and why it is important to be creative.
What type of obstacles have you faced in the entertainment world?
On one hand I want to say that the obstacles I've faced have been similar to many people from marginalized communities, trying to get their stories out into the world via the industry/Hollywood. But on the other hand I do believe that the world has changed in how stories get created, which is good in some ways because there are more opportunities for queer and trans people of color to get their stories heard—even though it might only happen if you have a certain amount of followers on whatever social media platform.
For me personally, being that I have been doing solo comedic work and stand up for over 15 years, I wish the industry was more qtpoc friendly when I was younger. I feel like I spent many many years on the road sewing together something of an artist salary because there were no opportunities as an actor of trans* experience. And while I did good for myself, basing one's career off of doing live shows on the road, sometimes doesn't translate to how your career path moves.
And while the obstacles are still many, I feel grateful that the world has changed enough for young queer trans people to have an opportunity early on in their lives to create career paths for themselves.
What are the most common misconceptions—if any—people have about you—when they first meet you?
I think that sometimes because of how I look, people make judgments off of what my material is going to be like. I love messing with people's heads and their assumptions, I love topping folks expectations of what a transmasculine actor or comic has to offer. I also think that there are many people who assume that I'm not as smart as I am, I just take notes while I hear the most outlandish things in conversations with strangers, and include all their ignorance in my stand-up.
Reflecting on your experiences transitioning—what advice would you give to a trans person starting out on their journey?
I would say to anyone who is starting out on their trans journey, especially if it involves medical procedures, to seek support—either group therapy or individual therapy. Yes—our communities can hold us up and create space for us, but sometimes if you can afford it, doing a little bit of therapy can go a long way. And this is also to say that therapy does not have to be expensive, the LGBT Center provides a safe space for Trans people as do other organizations throughout Southern California.
Many of us believe that once we are in a body that fits us best, that everything suddenly becomes better. And while things do become better in a lot of ways, some traumas are so deeply embedded in our bodies that we need to do deeper reflective spiritual work to walk lighter and truly be more free.
Because of this, I would also say, that it is equally important to be creative. That art is a lifeline. No matter what profession, I challenge everybody to make art a regular practice. Creativity is the only tool the world cannot take away from you. When we exercise our creativity, we learn more about ourselves, and sometimes we even like ourselves better!
What motivated you to create To T, or Not to T?
Much of my work for the majority of my artistic career has revolved around my personal story and the lessons I learned along the way. Because I wonder about the world, and about people, about our society, and the rules and the politics, and the ignorance, my work tends to feel soaked in a deep love and understanding for people's contradictions and insecurities. This world, and specifically our society, and even more specifically our government right now, is very intolerant towards communities that are not white and cisgender and male. Because I didn't grow up with, nor do I see much of transmasculine representation in the media or in the arts, I wanted to share the decision-making behind taking testosterone. I always want to push myself to share from the most vulnerable places in the most vulnerable ways I can as a performing artist.
I want my work to both allow certain communities to gain insight about other communities, and I want my own trans and queer communities to see their stories reflected back in parts of mine. Art is the most powerful thing we can create or engage in as a community. This is my offering for my community and on behalf of my community.
Is there anything else you would like to share with our readers?
I have been fortunate to be a working actor in Hollywood, gotten some TV and films under my belt, but I would say that doing solo work and stand up/storytelling is what I truly love. There's nothing like live performance! I really do hope to share this piece with the world. If you are not entertained, and if you don't laugh, I'll walk your dog.
---
For more about D'LO—visit www.dlocokid.com.