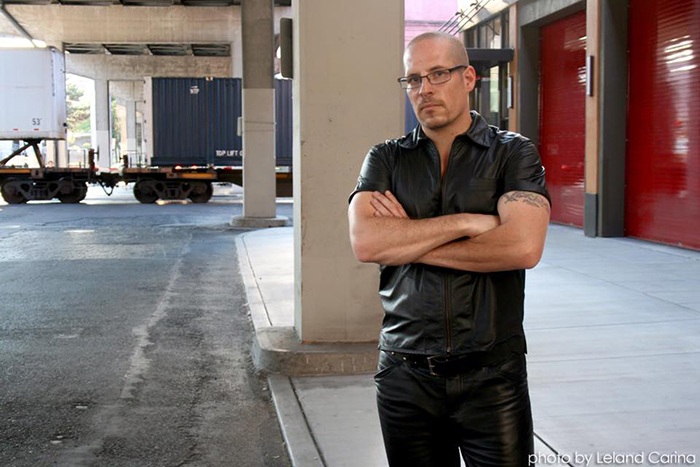 A letter from Dominic Chevalier, President of Palm Springs Leather Order of the Desert
How does one measure success? This is a question that I asked myself when I started writing this open letter. Then a thought occurred to me, every year that passes we have written a chapter in the book that details the history of Palm Springs Leather Order of the Desert. This book, bound in leather, is a living breathing entity that is continually filled with stories and memories, which causes it to expand in size, enriching the storyline. This book is comprised of chapters written by countless authors, and as of yet, has no end.
One could argue that existing for a quarter-century, in and of itself, is a measure of success. I cannot disagree, but I think it is crucial to point out why PSLOD is celebrating this very special anniversary. We are able to celebrate because of the countless hours of dedication, involvement, volunteering, acts of selflessness and love, yes love, that made this anniversary possible. 25 years of community involvement is nothing short of remarkable, but absent of the memories and stories contained in each chapter, it is simply a measurement of time.
Since my time as President I have witnessed minor miracles performed at the hands of our club members and volunteers; trust me when I say that producing Palm Springs Leather Pride is no small feat. When the inevitable storms seem to break during our preparation, we all pull together making the impossible quite possible. We stress, we run low on rest, we rush from one end of Palm Springs to the other and back, but we get the job done. Our rejoicing doesn't take place until the weekend has ended and we know the attendees have had an amazing time. As a result of this collective effort, we have donated hundreds of thousands of dollars to charity, contributed to the preservation of our history through the Leather Archives and Museum and the Tom of Finland Foundation, provided education to the community on numerous topics, provided scholarships to LGBTQI youth, assisted with the homeless population in the Coachella Valley and many more over the course of the years.
Our love of leather and the freedom of sexual expression are the ties that bind us, yet in our currently sociopolitical climate it may be easy to forget these ties exist. Ironically these are the very times where it is crucial to remember that we are better together, that we still have work to do. Why? Because our fight to simply exist is still being fought for on the daily. PSLOD has shown me that even in the face of adversity, together we can accomplish anything and I am excited to see what another 25 years will bring.
In closing I have to say thank you to my Executive Board Skip Mlaker, Matt Drouin, Thomas Oliva, our Pride Chairman Randy Carmenaty and our club members for everything they have done over the past year. They are all some of the most amazing people I have had the good fortune to know. To the attendees of Palm Springs Leather Pride, this celebration belongs to all of you! We have an incredible weekend of pool parties, education, dances and of course, our contest where the new Mr. Palm Springs Leather will be chosen planned. So please play hard, laugh, make memories and then share your stories adding another chapter to the book that is the history of PSLOD. My time as President has been relatively short, but what an incredible journey it has been. However, I can see the indelible marks that PSLOD has left on our community and to be part of an organization that has accomplished so much is a great source of pride to me.
In leather solidarity,
Dominic Chevalier
President of Palm Springs 
Leather Order of the Desert
---