Seven good men competing for the title of Mr. Palm Springs Leather 2020.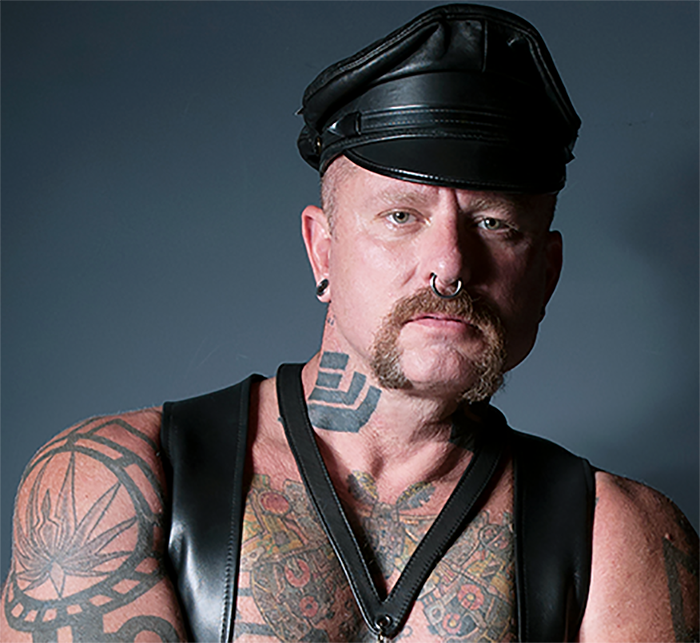 CHARLIE HARDING
Mr. Hunters Leather 2020
I'm the guy next door that everyone wants to hang out with. I'm a single weatherman living in Palm Springs going on 2 years. In addition to my obsession with jocks, locker rooms, steam rooms, and group showers, I share my fisting fetish through the Facebook group I created called "Palm Springs FFun." I spend most of my time singing with my band Probe 7, producing and hosting a travel show, "Gay Sex Underground" for HERE! TV. I enjoy throwing parties and events as well as painting abstract art. As Mr. Palm Springs Leather, I hope to further issues important to such as sex positivity, mental health support, and gender diversity.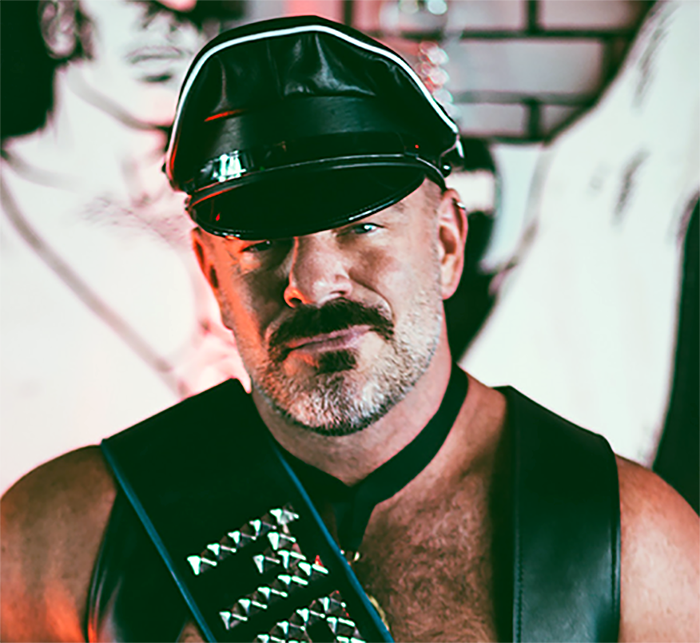 JACK DYER
Mr. Toolshed Leather 2020
Husband, father, entrepreneur, working porn actor, activist, and philanthropist. On the left, my colors are: black, grey, dark blue, red, light pink, dark pink, yellow, beige, Kelly, and Hunter. On my right: Light blue, dark blue, light pink, dark pink, beige, mustard (don't judge). I stay very active in physical fitness and am a former physique competitor. (Gogo is excellent cardio.) Other hobbies generally involve helping others further their goals. I am in pursuit of the Mr. Palm Springs Leather 2020 title because it will provide a larger platform for charity and service. I come from contribution, first, in all things. I am currently developing a podcast called "Jack On: A Beginners Guide to Gay Porn" to debunk the myths and stigma of the sex work industry. I'm hardly an expert, but, my ass does have it's own Twitter account.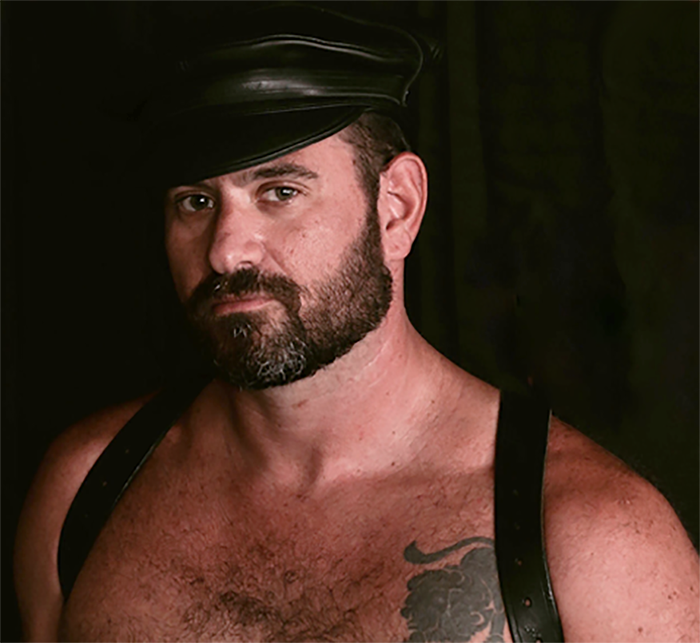 MARC BAUMANN
Mr. Leather Indulgence 2020
I live on the West Coast but I still have an East Coast mentality. I'm originally from NYC but recently made Palm Springs my home. I am a self-proclaimed "DaddyHunter" and you will always see me flagging hunter green on my right. Depending upon my mood or partner at that time, light blue, navy, yellow, and orange may make an appearance on either side as well. I'm an avid self-explorer whether it's by myself, with a partner, or in a group especially is way hot (both in and out of bed). Spontaneity and being able to seize the moment are two major aspects of my life. Becoming Mr. Palm Springs Leather 2020 would afford me a way to help ensure the growth and survival of not only the leather community here in Palm Springs but the entire LGBTQ community as well. We need to start bridging this growing gap between the new and the old. I believe that we must commit to continuing to help newer generations understand the vast struggles and triumphs which the older generations have triumphed over while helping the older generation understand that technology is not the enemy. Our past is what ultimately binds us together not only as a community but also as family.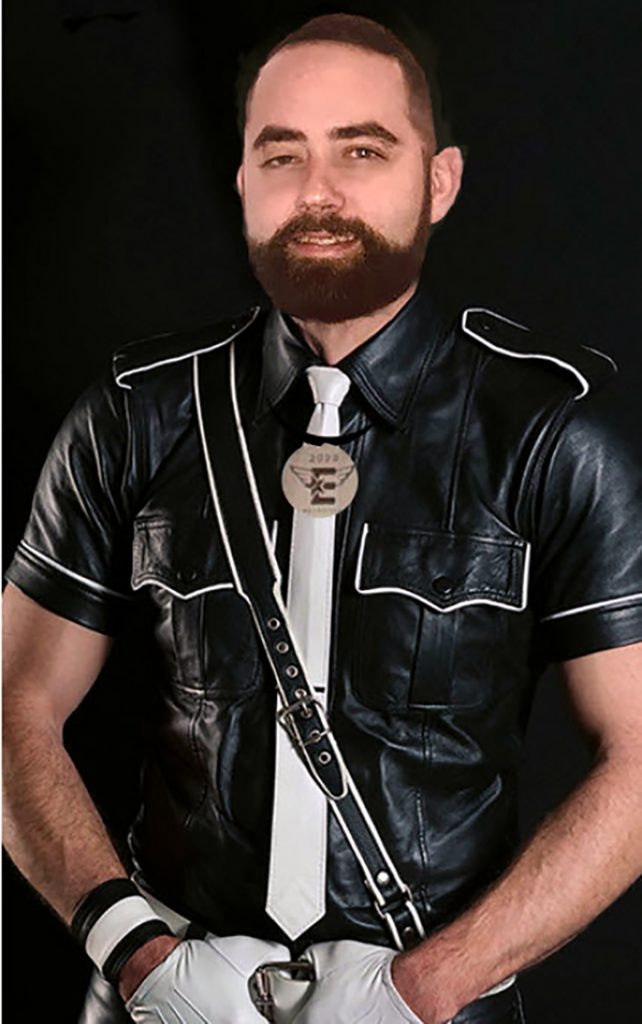 JUSTIN HAUSER
Eagle 501 Mr. Leather 2020
I'm a single guy, born in Chicago, raised in Iowa, although most recently I consider New Orleans home since it is where I grew up the fastest and learned the most rather quickly. My fetish list is quite lengthy, but I'm a top who can enjoy being tied up just as much as I enjoy tying others. In general, I'm a total switch when it comes to BDSM. I love riding and wrenching on motorcycles, I'm a car fanatic, and enjoy boating as well as other watersports. I would like to devote my time and focus to do everything possible to eliminate the stigma of HIV which is still a significant issue, not only in Palm Springs but nationwide as well. I'm excited to partner with Team Friendly a national HIV+ awareness organization and Introduce them to Palm Springs. I look forward to working with my home bar Eagle 501 to bring together many in our ever-growing community with the help of my fellow titleholders and forge amazing bonds to strengthen the leather family for the future.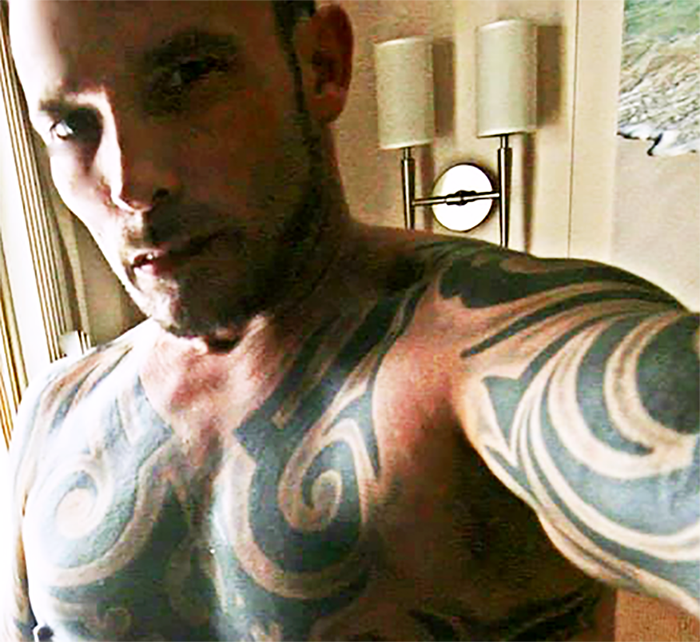 KEVIN LEE
Mr. Chill Bar Leather 2020
Lone Star State born and bred, I'm single and a recently collared Boy who recently moved to Palm Springs. Whether hiking, kayaking or traveling, or else being harnessed, whipped into a lather and ridden hard, as a Sagittarian I love horseplay both in and out of the dungeon – those into fisting, bondage, electroshock and group play, head to the front, please. Over the past decade, the gay community in general, and the leather/fetish community more narrowly have made Olympian strides from hostility to tolerance and from tolerance to acceptance. Yet we still lack equality in the context of the larger society. As PS Mr. Leather 2020 I will champion the fight for equality under the Constitution while working shoulder to shoulder with other members of our community to bring 20/20 vision to what it means to be a leatherman in the year 2020 and beyond through 1) curation and preservation of the history and culture of our leather/fetish community, 2) demolish barriers for those interested in exploring the leather/fetish culture, and 3) celebrate within the larger community of the values, ideals, and creeds that define and bind us as leathermen – not only in the bedroom/dungeon, but in our daily lives and interactions.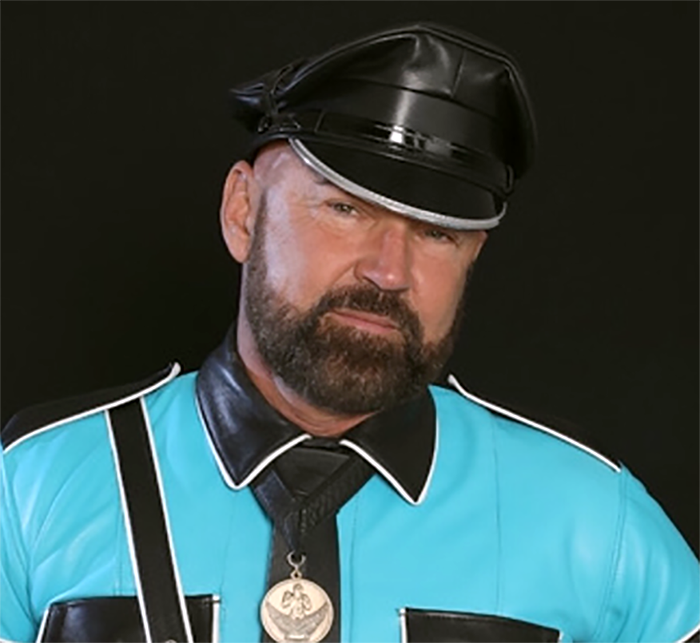 STEVE BUCHANAN
Mr. Roost Leather 2020
I'm the current titleholder for The Roost Bar in Cathedral City, CA. I was a contestant this year in IML 41. My husband and I live in Palm Springs Ca. for 10 yrs. I was born and raised in Arcadia Ca. My background
is in print advertising, a Master Personal Trainer, and now a property manager. My kinks are leather sex, bondage, flogging (on the front), gear play, speedos, role-play, and exhibitionism so far… I love hiking, traveling, and underwear nights at a bar. I need a purpose. This is my drive to bring people together from other communities to make a strong statement for equality and acceptance. Becoming Mr. Palm Springs
will help give me a platform to be heard and to do good in
our world.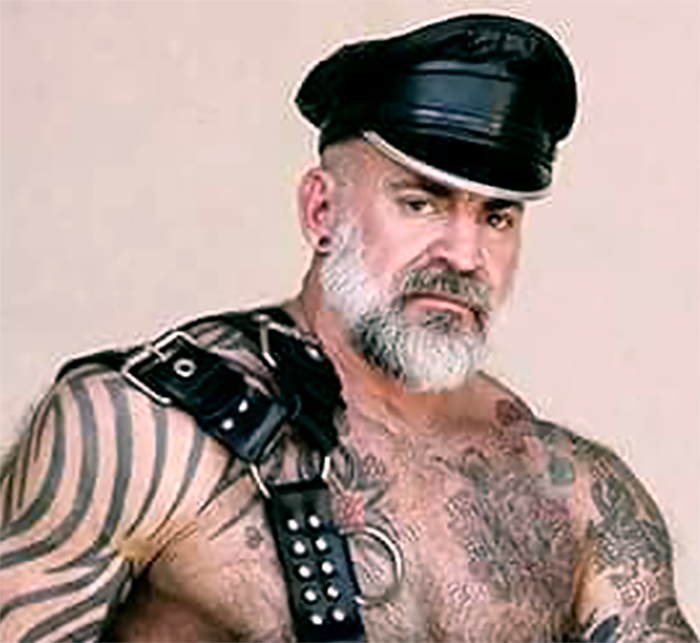 DANIEL AZEVEDO
Mr. Off Ramp Leather 2020
I'm a native Californian born in Santa Barbara, to a Portuguese father and Spanish Italian mother. I'm a single daddy with two rescue pups, together we've made a home in Palm Springs. My fetishes are many, but in particular, I have a penchant for being restrained and CBT, I also love and have accumulated an extensive jock collection. A collector of tattoo ink and piercings, I'm currently planning my next piece for my stomach and would love to hear suggestions or experiences others may have had with body modification. I hope to buy a home soon with a yard and enough space so I can revive my volunteer work placing rescue animals. I joined the leather community in 2001 in Dallas, Texas and was titled a Sir by my master. A Mr. PS leather, I hope to carry on my training from Sirs & Masters, and pass it on to the next generation, instilling in them the passion and joy leather service has given him.

---