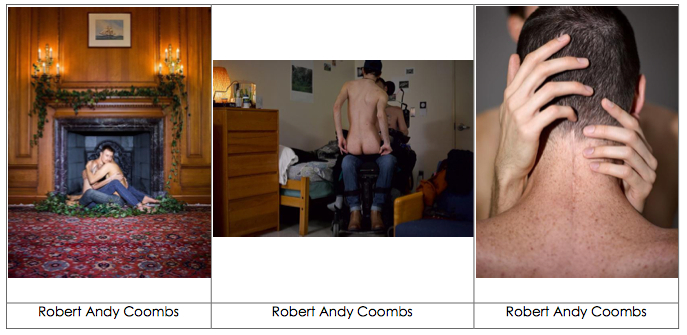 "It is thrilling to discover a new voice, approach or observation on a topic; and we are certainly excited to announce a special guest artist joining the 24th annual Tom of Finland Arts and Culture Festival – OUR Community Standards, October 5th and 6th 2019," stated Tom Of Finland in a press release today.
Robert Andy Coombs, currently pursuing his MFA in Photography at Yale, will be represented with an installation highlighting his work which looks at those with different abilities, and how they express their sexuality. "This work is about having to prove my sexual worth. Sexuality is a huge topic within the gay community, so sexual function is undoubtedly the most frequent topic of my dating life," Coombs said. "I'm greatly inspired by the 'insta-gay' era we live in, beautiful images of beautiful men, and I use that by creating the same look and feel but with the disabled Queer community."
Coombs, a quadriplegic, a result of a trampoline accident as an undergrad, uses his work to confront stereotypes that those with disabilities are sexless, challenging the norm in the gay community that only certain body types get to be seen.
"We are excited to have the opportunity to include Robert Andy Coombs in the 24th Annual Arts and Culture Festival," said S.R. Sharp, Vice President and Currator, Tom of Finland Foundation. "His work is critical in addressing the lack of representation of differently abled individuals and recognizing them as sexual beings."
While Coombs, is not able to make the journey to Los Angeles, his photographs will be present and for sale.
"My experiences with censorship [has] mainly been with social media and their subjective "community guidelines" … over the past year with Instagram I've noticed my photos being either reported or taken down due to nudity/sexual imagery even though they are heavily censored" said Coombs. "My heteronormative able-bodied counterparts, especially women, are free to express their sexuality without any repercussions, unless they show a female nipple, which I think is ridiculous. It also seems that if you have a large following/well-established business … you are free to express nudity/sexuality with no repercussions, as I have tried to report their images due to nudity/sexual imagery only to find that Instagram deemed it okay… social media platforms need to stop discriminating against Queer content creators."
The recent spate of censorship being experienced by artist – especially Queer artists on social media will be the topic of discussion during Saturday's panel How do we communicate on/with Social Media. This discussion will address the state of censorship on social media and the evolving nature of 'Community Standards.' The panel will be moderated by Jennifer Tyburczy, Ph.D., Associate Professor in Feminist Studies at UC Santa Barbara.
"Censorship takes many forms, occurs all the time, and more often than not, happens behind the scenes," said Jennifer Tyburczy, Ph.D. "These stories of censorship live in the memories of the artists whose work was deemed controversial, obscene, offensive or pornographic; affecting how they continue to work, what they create, and how they share it with the world. Their stories and their art could so easily be lost."
The panel will mix artists who have had their work censored and or their accounts deleted from various social media platforms, along with staff from the ACLU, to share how they have experienced censorship, what has been done, can be done, and a look at what the future looks like from a legal perspective.
***
"My transgender body is consistently censored on social media platforms. I have noticed that proudly displaying my mastectomy scarring has produced a series of censorship efforts that are not targeted at cis-normative bodies," said Marvel A. Rex. "My work is provocative and thus censored because it rejects puritanical Christian values."
Joining Rex in representing artists will be Rick Castro, who has had his Facebook account frozen 24 times in the past two years.
"Tom of Finland Foundation, The Advocate, myself, and numerous other artists and institutions are older than Social Media; when they say 'Community Standards,' WE are the community standards," said Castro.
"To provide a legal and advocacy angel, we are happy to announce that both Dakota Belle Witt and Brendan Hamme will be joining us," stated Tom Of Finland in a press release today.
Witt is the LGBTQ Rights Community Engagement and Policy Advocate for the ACLU of Southern California; she is a published author who worked to defeat Proposition 60; her advocacy work began back in 2001, when she cofounded her GSA.
Hamme has been a Staff Attorney with the ACLU since 2012. While a student at Loyola Law School, Hamme founded the Juvenile Rights Project, a program to teach local high school students their civil rights when dealing with the police. He works out of the Orange County office.
The panel discussion will take place Saturday October 5th at 2 p.m., at TOM House 1421 Laveta Terrace, Los Angeles, CA 90026.
Tickets to the Festival are available here.
.