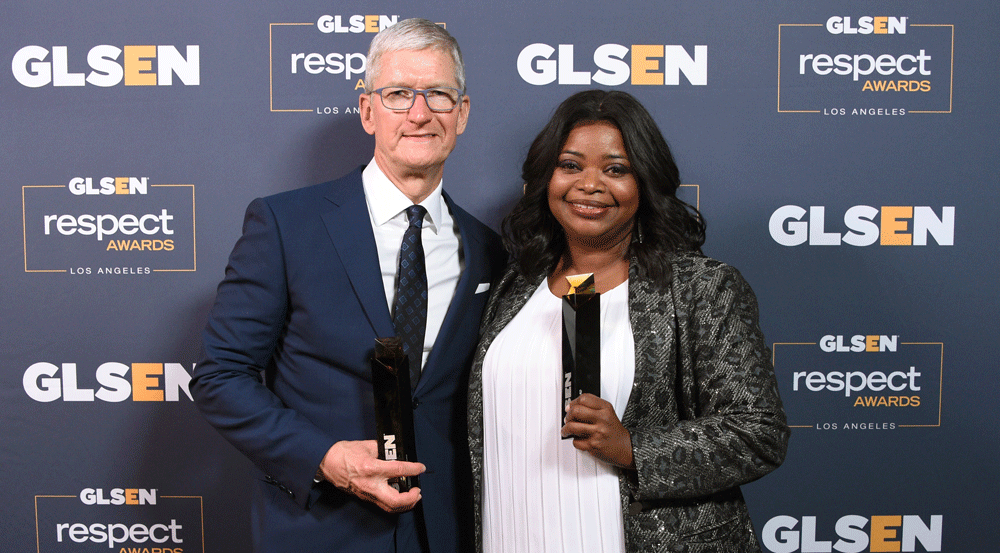 (Photo: Tim Cook, Octavia Spencer. Credit: Getty Images, Courtesy of GLSEN)
Academy Award winner Octavia Spencer, the cast and producers of CW's "Riverdale" and Apple CEO Tim Cook gathered at the Beverly Wilshire Hotel this past Friday evening to be honored as advocates for LGBTQ youth at the 15th annual GLSEN Respect Awards ceremony, reports Variety's Latesha Harris.
Cook, leader of the first company in the world to be worth $1 trillion, dedicated his award to a 62-year-old man who came out to his wife of 26 years after reading the 2014 Bloomberg op-ed where Cook came out publicly. Apple also sponsored the annual event, along with Disney, Wells Fargo, Gucci and Amazon Studios.
"GLSEN knows well and has held as its mission for nearly 30 years, that what we learn and what we're told to value as children can define the course of our lives," Cook said onstage, accepting the Champion Award. "If a teacher, a parent, an authority figure takes time to show kindness, to represent the great diversity of our humanity and to create space for authentic conversations when we're young, it stays in our hearts forever and it builds better people as a result."
READ MORE HERE:
Apple CEO Tim Cook: There's 'Much More' to Do to Help LGBTQ Youth