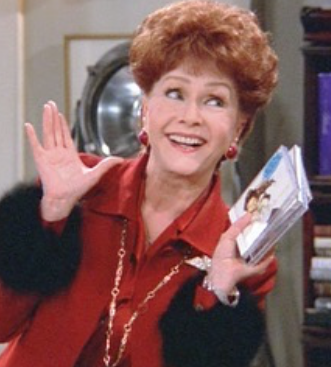 (Photo: Debbie Reynolds)
Billie Lourd (American Horror Story,  Scream Queens) has announced that she will honor her grandmother Debbie Reynolds and play "my real life grandma's onscreen granddaughter" on an upcoming episode of the widely-acclaimed, long-running comedy Will & Grace, reports Gay Times.
"I have watched and loved Will & Grace since I was (probably too) young," Lourd wrote on Instagram. "So getting to watch my Grandma play Grace's mom was one of the coolest things to happen to my young will  and grace obsessed self."
"Next week I get to play my real life grandma's onscreen granddaughter on one of my favorite shows and there are not enough happy adjectives in the world to convey the excitement I feel." 
Reynolds starred in 12 episodes of the series from 1998-2006 as Bobbi Adler, Grace's mother. For her work on the series, she received a Primetime Emmy Award nomination for Outstanding Guest Actress in a Comedy Series.
After she passed away in 2016, the show paid tribute to her in an episode of the revival series.
READ MORE HERE:
https://www.gaytimes.co.uk/culture/127201/billie-lourd-to-pay-tribute-to-grandmother-debbie-reynolds-on-will-grace/