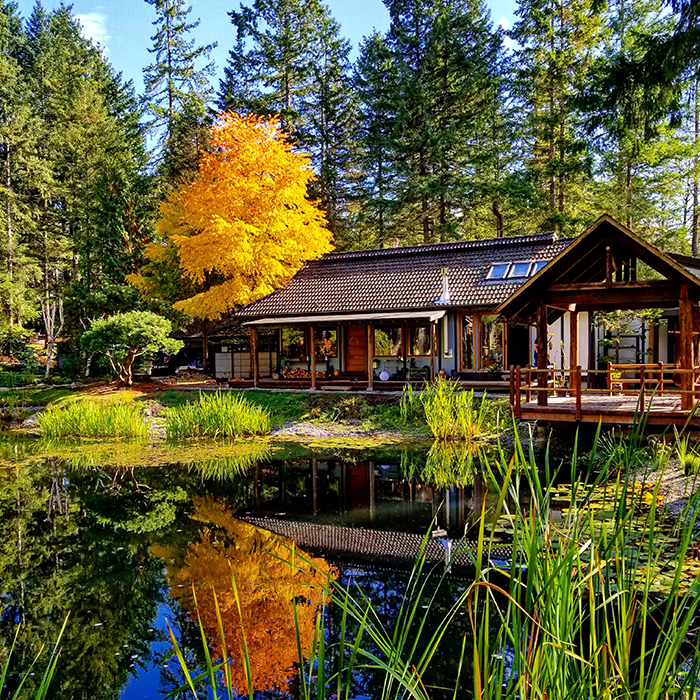 Queer-friendly Glamping in an idyllic protected wetland just outside of Seattle.
BY BRENDEN SHUCART
Fifteen miles as the crows flies from Seattle and across the Puget Sound travelers will find idyllic Meadowhawk Sanctuary, a nature and relaxation retreat nestled in protected seasonal wetlands. It's the perfect getaway for Queers seeking to enjoy the beauty and quiet of the picturesque Pacific North Western woods—without completely sacrificing some basic amenities (electricity, hot breakfast, a gym!).
Meadowhawk is the creation of Joey Falcone and Lucien Nagle, two 20-year-veterans of New York City who had always loved Washington. Lucien was in search of a space where he could explore his interests with plants, animals, gardening, and permaculture; Joey, after 21 years of working in a high pressure job in NYC, was just ready to be over city life and all its associated grind.
They found a property on the Kitsap Peninsula—which is kind of like a thumb off of the Olympic Peninsula. Kitsap county is rural. Though they have nearby neighbors who commute, daily, into Seattle. Lucien says when you are on the land you feel like we're in the woods. "Most of the property cannot be developed, so we have woods, and seasonal wetlands, and streams, two ponds, lots of groves of Cedar and Douglas Fir."
The main house is built in the style of a Japanese inn. According to Lucien, when it was originally built, "There was a lot of thought and detail put into some of the landscaping, and architectural style. But no one had really taken care of it for 20 years. It was kind of falling apart and needed a lot of love." The intrepid couple gleefully snatched it up in 2015 and have been working on it steadily for a little over four years.
Visitors to Meadowhawk's five breathtaking acres will find majestic Fir and Cedar groves, beautiful gardens and ponds as well as a plethora of animals, native plants, and fungi. The area around the house is fairly landscaped, with gardens, fruit trees, berry bushes, a kitchen garden, and chickens. But once you get farther away from the house, it gets progressively more wild, with seasonal wetlands, dense woods, and a large creek-bearing meadow. The sanctuary's name, "Meadowhawk," comes from a type of beautiful crimson dragonfly that dominates the wetlands in the summer months. "It was the only thing that people weren't like, 'Oh, maybe you should try something else.'"
One can reach Meadowhawk in a little over an hour from downtown Seattle (if traffic is kind), with a half an hour of that being via ferry, or drive down around to Tacoma. Those flying into Seatac airport can actually take public transportation to about a mile away. The combination of easy accessibility and verdant natural beauty makes the Sanctuary an ideal location to host yoga retreats, meditation workshops, meetings and other activities.
Lucien and Joey promote Meadowhawk as "Queer friendly," and believe strongly in providing a space where everyone can feel safe and comfortable while camping. And while everyone is welcome (they have bills to pay after all), the boys do their best to host events and activities for, or lead by, members of the LGBTQ community. "We try to keep it more Queer, a Queer space for Queer friends and friends of Queers. Because there's not tons of spaces like ours that are kind of open for use in situations like this. So, that's kind of our dream, and our hope."
---
You can learn more about Meadowhawk Sanctuary at meadowhawksanctuary.wordpress.com.