Dario's new single on toxic relationships, from his new LP, Ascension.
BY ORLY LYONNE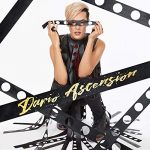 LA based glam rocker Dario makes his return to pop radio with "Don't Let Me Go", an anthemic rock power ballad he wrote about his experience being trapped in a toxic relationship.  
"Our minds often play games with us, convincing us we want to keep a relationship going even though we're not getting what we want or deserve," he reflects.  "We tell ourselves we don't care but deep in our hearts, we really do."  
"I hadn't been in a relationship in ten years so I was excited when I finally let my guard down and gave one a try," Dario continues. "It did not go as I'd hoped… We eventually had to part ways. I never got the opportunity to say my peace, so I'm saying it in this song."
"Don't Let Me Go" is the first single from Dario's new Ascension LP, being distributed independently.   Ascension and "Don't Let Me Go" is available on Apple Music, Spotify and all digital platforms now.