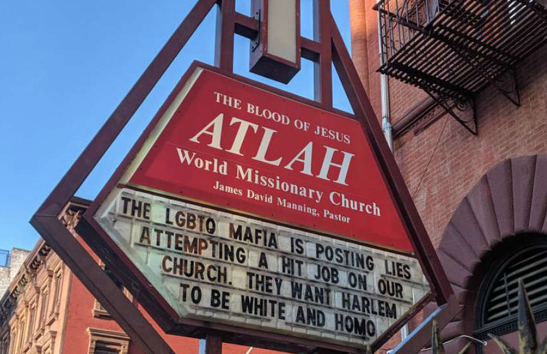 Gay Star News' Rafaella Gunz has written about Harlem's Atlah World Missionary Church in New York City.
The sign outside the church reads: 'The LGBTQ mafia is posting lies, attempting a hit job on our church. They want Harlem to be white and homo."
It turns out, Atlah World Missionary Church and its pastor, James Manning, are notoriously bigoted, reports Gunz.
In the past, Manning has made hateful comments directed at former President Barack Obama, who Manning calls 'long-legged mack daddy' and says was 'born trash'. Manning is also famous for his Daily Show interviews with correspondent Jessica Williams, where he said Obama was the next Hitler and that Starbucks flavors its lattes with semen.
READ MORE HERE: