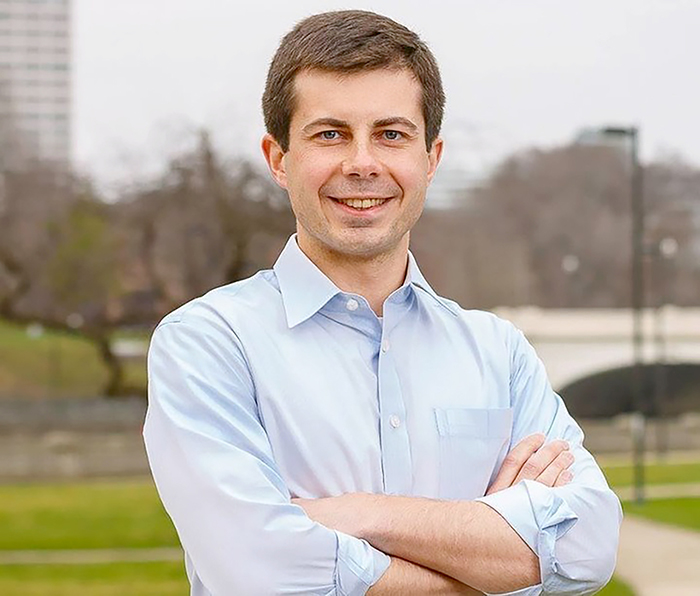 ---
"… we have our gay presidential candidate, South Bend Mayor Pete Buttigieg, who is actually extremely impressive. The guy's brilliant, and makes Beto look like a tongue-tied wanna be."

---
FOR PETE'S SAKE
By the time you read this issue of THE FIGHT, we might have a gay mayor of Chicago to go along with our gay governor of Colorado. Yay. The run off is April 2. (Cue: Rainbow confetti.) And of course, we have our gay presidential candidate, South Bend Mayor Pete Buttigieg, who is actually extremely impressive. The guy's brilliant, and makes Beto look like a tongue-tied wanna be.
Living in Austin, I've been a Beto fan for a long time, but I am less so now. Did you read that Vanity Fair article? He sounds like a dilettante, frankly—a three-term congressman fresh off a close but no cigar run for Senate, who may be falling for his own media accolades. I know that Mayor Pete might lack experience as well, but he has run a city, served in a war zone and won a Rhodes scholarship. Not bad for thirty-something Millennial.
I recently read a short piece about whether or not we should retire the phrase "openly gay." The conclusion was basically yes, with a few exceptions. For example, if elected, Pete Buttigieg would be our first "openly gay" president, because James Buchanan did not advertise his sexual orientation. That said, everyone knew about it. And since Buchanan is generally considered to be the worst president ever, a man who facilitated our descent into civil war, I look forward to the time when we can upgrade our community's subpar presidential reputation by putting an outstanding gay man or woman into the White House.
On the other hand, I suspect Trump will take over Buchanan's spot at the bottom of the presidential barrel once history sorts him out.
---
FRUMPY OLD MEN
For now, I'm rooting for Harris, but of course I will support whoever we nominate to run against Trump. As for collusion, impeachment and scandal, I'm for getting rid of him in the most humiliating manner—at the ballot box. Don't give him a victim card. Make him a one-term president, a loser with nothing to boast about. Overshadow his 2016 electoral college victory with a tall column of blue states. Let him set a record for worst performance by a sitting president in the modern age. And please don't put Pence in power, even for a day. Let him vanish into irrelevancy alongside Dan Quayle.
As for the phalanx of old white men, please guys! Clear out. Some pundits have wondered why younger voters seem less worried about these senescent candidates. It's because you don't realize what aging does to you until you yourself hit a certain age. It's amusing for me to joke about wandering into a room and forgetting why I'm in there, what I'm looking for and what I am about to say. Ha ha ha. But it's my kitchen, not the Oval Office.
Oh. My reading glasses. They were stuck on my head all along. Isn't that silly. And these jokers have a decade or two on me to begin with, so is it any wonder I don't want any one of them running the free world? Also, why can't Bernie be bothered to cut or comb his damned hair? It's a mess. And yes, it matters even though I can't explain why exactly.
---
NO EXCUSES
What's with Jussie Smollett? I know we all learned not to jump to conclusions or base our opinions on ill-informed media commentary, but I don't care. The guy is still posturing even though it's clear that he staged a hate crime in order to get attention. Even the state's attorney in Chicago noted that the man was not exonerated, but had to pay $10,000 and do 16 hours of community service. "Without the completion of these terms," said prosecutor Joe Magats, "the charges would not have been dropped."
So, when Smollett now says he has "been truthful and consistent on every single level since day one," he is lying. Worse, he is playing his gay and Black cards in an effort to re-energize community support instead of apologizing and learning some kind of lesson from the shameful incident.
---
BOY TOYS WILL BE BOY TOYS
Moving on, my notes include word of a Vermont town where the newly elected mayor is a goat. I'll have you know that we've been there and done that somewhere in Texas back in the day, and our goat was an alcoholic to boot. Yes. I just checked and I was right. Clay Henry was a beer-guzzling goat, elected mayor of Lajitas on the border near Big Bend in 1986. Some other local goats were also known for drinking beers, one reportedly could down several dozen a day.
I also have written down "porn star," but forgotten the context. Found it! A gay porn star was charged with attacking a man last September with a frying pan. I'm not sure why I considered this newsworthy. Perhaps this Daily News lead sentence caught my eye: "A harebrained hunk known best for being Calvin Klein's former boy toy is one of two men charged in a ferocious frying pan attack that put their victim in the hospital." Nice word-smithing, Daily Newsers!
And lest you assume that I thoughtlessly waste your time with random items of no import to our community, you should know that I just wrote and deleted several such stories, including commentary on Mostik the cat, Felicity Huffman and Tim Cook. So yes, I left the goat and the porn star. But I wasn't thoughtless about it.
---
TRANS BAN
Trump's transgender military ban is about to go into effect, even as our four legal challenges continue in federal court. For two years, we've been able to forestall the anti-trans policy through legal injunctions. But thanks to the Supreme Court (basically), those injunctions have been lifted while the litigation continues. That means that while some current soldiers will be able to continue serving, any new recruits must renounce transgender status in order to join the military. Transgender men and woman can sign up if they remain in their birth gender and don't transition. (!) What does that even mean?
In other legal news, the Supreme Court declined to interfere with a pro-gay ruling out of Hawaii, where a state court came down in favor of two lesbians who were denied a room at a Christian bed and breakfast.
---
ARE YOU PACKING?
Meanwhile, the justices continue to duck several major GLBT rights petitions, even as the cases are continually listed on the agenda of their weekly or biweekly conferences. We're in a strange limbo as far as big court cases are concerned. And with that in mind, keep an ear open for the discussions in progressive circles on how or whether to change the structure of the Supreme Court.
One group, Pack the Courts, is now being led by Kate Kendell, the long time head of the National Center for Lesbian Rights, who recently stepped down after many successful years there. That group seeks to add four new justices, assuming Democrats gain full power in D.C.. Other ideas include adding two new justices, creating a rotating nine-member panel made up of appellate court judges, or creating a 15-member High Court split between five Democrats, five Republicans and five others selected by those ten.
Let's just say that progressives are fighting back against the raw power grab that created the current Court. Let's also say that the coming fight for the Democratic nomination will be fascinating. If nothing else, Trump has demolished so many institutional norms that he has left the field open for some norm busting of our own. That's an opportunity and a danger. All we have to do is perform the right balancing act.
---