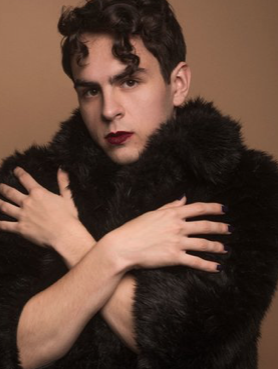 Noga Yechieli Wind and Joshua Rivas sit down with The FIGHT's Grey Crouch to discuss Red and Boiling, a monologue-style theatre piece transcribed, directed and performed by the acting duo.
The production features stories on "life after coming out" through the lens of queer womyn, non-binary folks, and individuals around the world.
The barrier-smashing performance incorporates real-life interviews, drag kings, Jewish matrons, and shadow puppetry—sound unheard of? Because it is. Through a delicate balance of comedy and sobriety, Noga and Josh create a conversational experience that serves to meet a largely silent need.
"We were both struggling because we couldn't find anything that we found represented who we were," explains Rivas, a non-binary yoga instructor, actor and CalArts alum. The pair met in school while studying acting and took up the task of writing a joint monologue. For Wind, director, actor, and queer activist from Jerusalem: "I felt like I couldn't find a story that represents where I am today, which is being out for 10 years and still having things that I deal with and struggle with." I thought, "if this doesn't exist, I guess I have to make it."
What erupted was a project neither could have predicted. Since it's birth, Red and Boiling has collected over 40 interviews and 40 hours of audio footage. Stories range from the Palestinian lesbian activist to the queer pansexual from Kuwait, the Chinese-American lesbian, to the queer individual who is also autistic. The piece has performed at Edinburgh Fringe Festival, workshops through LA, and most recently, Highways Performance Space in Santa Monica. The startling media used to communicate this work were an important part of honoring the narratives themselves.
"[W]hen you take stories that are not in the mainstream, and you want to tell them: stories that are not represented. Alternative ways of being. You can't use the same story-telling structure…if you're really trying to explore that and meet it where it is at, you have to be creative on finding new ways to tell it."
And thus, the gut-busting, mind-opening and often tear-jerking Red and Boiling was conceived—narrated by Wind's drag alter-ego, Hasadick.
The response to Hasadick outside of the communal theatre setting has not always been as celebratory. Walking down the street in full beard and makeup, Wind has noticed a common experience: "What's a drag king? Are you a reverse drag queen? Are you just a woman with a beard?" The general theme: it's as if she is entering a space she is not allowed.
The experience speaks of a larger rift among genders within both society and the queer community alike. One thing Red and Boiling hopes to achieve is that bringing a piece of different worlds to one space—the drag community and queer womyn stories—will allow for a new approach to the conversation. One that allows for humility and curiosity, rather than judgement and division among genders. To ask the question: "I don't know anything about this. Can you tell me more?"
Attending the show, the outcome is apparent as the audience reflects the diversity of the stories themselves. From the straight ally and the cisgender gay man, to the gender fluid person of color and the student who is just figuring themselves out: all are represented. What Wind and Rivas were trying to achieve? "To create a piece that we would crave as an audience member…where it feels like someone knows who I am and gets it. And also be able to look to my left and look to my right and see people who get it."
Ultimately, the piece is about those whose stories are on the stage. They began with one goal. "Wherever these stories take us, they are going to take us. And all we care about is that we do justice to them." The show is for the interviewees. "The rest of the audience are witnesses and participants in that revolution."
Red and Boiling begs the questions: are you willing to do the research to actually understand another's point of view? Are you willing to follow through and do the work? Have the conversation. And find out.
To hear the full interviews, visit redandboiling.com. To follow for upcoming shows or donate to the Patreon, see links below.
Website: https://www.redandboiling.com
Trailer: https://vimeo.com/262643604/27c2a9830e
Patreon: https://patreon.com/redandboiling
IG: @redandboiling
FB: @redandboiling
Twitter: @TheHasadick