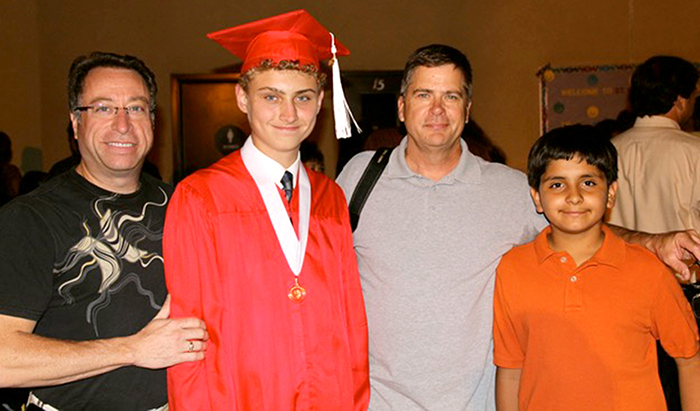 Randal and Scott Martin-Black, a gay couple with two adopted kids, on finding the right agency, entering a lifelong duty and answering silly questions some straight people ask
BY SEAN WOLF GALUSZKA

A while back, gay adoption and "gaybies" seemed all the rage. Baby Gap and Rosie O'Donnell cruises exploded. The gay-centric BBC comedy Absolutely Fabulous featured a hysterical episode about adopting Romanian babies. But kidding aside, as a gay person, adoption seems the most socially and ecologically responsible move. Darwinism tells us we're not here to procreate, but still we experience paternal/maternal instincts and create loving home environments.
The fad has died, but with the staggering volume of children in foster care, it seems a waste of planetary resources to turn away from building a family through adoption. The enormity of taking on a child's well being, however, sounds like a life sentence and frankly scares the parent out of me. I consulted "experts" Randal and Scott Martin-Black who've been raising two adopted boys the last twenty years.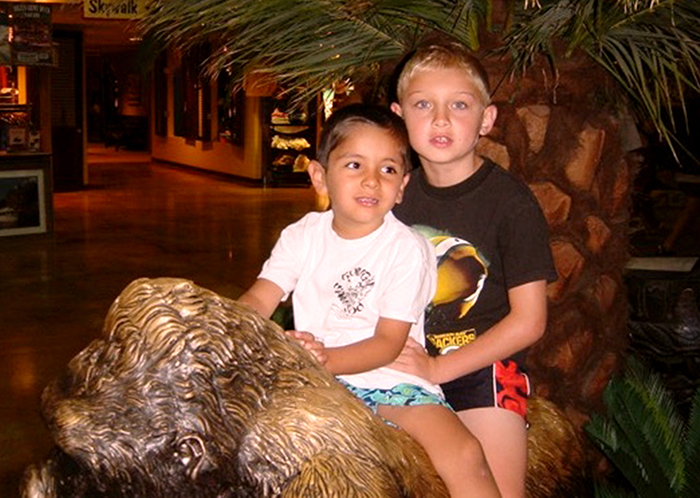 When are you ready?
"Becoming parents, entering a lifelong duty isn't for the light hearted. A couple in their third year thought adoption was their next step. My advice was, 'get a few more years under your belt. Have about a hundred arguments and develop the ability to move past those arguments. Resolve them, hopefully before going to bed.
---
"There are thousands of foster kids
in the county system who all need
love and a permanent home."

---
Also, if you're not truly out, address that. Being parents forced us to be extremely, publicly out. You're visible to everyone, schools, their friends, their friend's parents, etc. Adopting is a further outing experience.
Finally, taking on the responsibility of rescuing a child and bringing them into a loving, safe home doesn't mean one must be rich and have bigger toys, a massive home, or expensive clothes."
 How did you begin?
"We contacted two Foster Family Agencies (FFAs), which ended up disappointing. The first ran into legal issues. The second was religious based and when our file made it to a new director, the process slowed to a crawl. Randy inquired why they weren't finalizing the licensing of our home (required by the 'Foster/Adoption' program). They said the new director didn't want to deal with a gay couple. We were furious having spent several weekends taking their mandatory child rearing classes.
However, that is what led us to the LA County's Department of Children & Family Services (DCFS). The DCFS and our social worker were awesome and had no issue with our being gay."
Do you decide what sex/age/background, etc.?
"We kept our profile fairly general, but reviewed selections including sex, ethnicity, etc. We were required to specify age, so we chose 1 to 3. It's important to note, the more narrow your selection, i.e., newborn baby boy/girl, hair color, eye color, etc…. the longer you will have to wait. We believe it was fate our two-year-old 'cherub' came to us for a parent/child match. Connor. We were blessed!"
And a couple of years later you adopted Chase, just under three years old… Are kids from the system troubled? Don't two mean twice the emotional and financial stress?
"As far as 'troubled', that's generally not true—depending on circumstances and the child's age. Our boys were so little they don't remember anything before Papa Scott and Daddy Randy. I've heard nightmare stories where a child is very challenging and the adoptive parents are going crazy. That's an exception and never discouraged us. There are thousands of foster kids in the county system who all need love and a permanent home.
Adding a second child wasn't a big stretch. It didn't double our responsibilities or finances. When the boys were little, it was just, 'Who's first in the tub?' as one finished up—the next one jumped in. Story time was more fun with two, and dinners… we just cooked a little larger portion."
Do hetero families get uncomfortable when they meet you?
"As gay dads with two sons, we have had many more positive stories of acceptance than negative ones. But people would ask, 'The wives let the boys out for an evening dinner?' We always answered, 'No, there are no wives. It's just us… we are their dads.' It was hilarious to see their puzzled look, and then that… 'Oh… Ohhhhhhh' response.
Surprisingly, several times people asked, 'Are you training your kids to be gay?' Randy usually replied with, 'No, it doesn't work like that. They'll be their own individual persons with their own unique personalities. By all indications, I would bet they are 100% straight.' On the other hand, Scott would acknowledge it as a good question recognizing the person asking might have felt uncomfortable, yet still had courage to speak up. Answers are better received with an open mind, so he'd never make them feel stupid for asking."
How did your family and friends react to you adopting kids?
Both sets of grandparents were excited. Randy's dad, a Wisconsin born and raised Dairy Farmer often said, 'Those are two lucky little boys to have parents as wonderful as you!' I know he was proud. Randy's conservative mother was hesitant to disclose to rural Wisconsinite neighbors her son was gay and even more frightening, married. But once we adopted Connor, she told everyone about her gay son, his husband, and their beautiful child. That first adoption was all it took.
On a field trip our friend Steve was chaperoning, he overheard Connor and other fifth grade boys talking about their moms. When they got to Connor, they snidely said, 'Oh, that's right…. You don't HAVE a mom.' Connor calmly responded, 'Yep, you're right. I don't, but I have two dads and they love me very much.' We were so proud and relieved Connor felt prepared enough to respond in such a mature manner."
Should you tell your adopted children about their past?
"We believed the boys should know as soon as they could and made sure they understood they had loving mothers. However, love alone does not make a parent. It may not have been their time. We hope they grew up or away from what challenged them, and that they have families now. And if the boys feel the desire to track down their biological parents, we will help them."
Can you offer our readers some practical, nuts and bolts advice on raising kids.
"Both parents need to give each other room for meltdowns, recognize each other for successful outcomes, and know when to back off from finger pointing. Shit happens!
Don't allow gaming systems until you have a strong handle on time limits. And install systems that automatically cut off airtime. Wait as long as you can before giving them any handheld device, especially if it's alternative to engaging with them.
Listen to your kids, no matter what their age. Teach them everything you know. Continuously learn from each other. They will certainly broaden your horizons and sometimes just keep you current on popular culture.
Teach them basic manners and to be respectful. Regularly remind yourself and your partner how wonderful you are at handling the life events (big and small) that mold these little people. Remember, as often as possible, everyday if you can, to tell your child(ren) you love them and tell your partner the same. Affirmations and recognition leave beautiful traces."