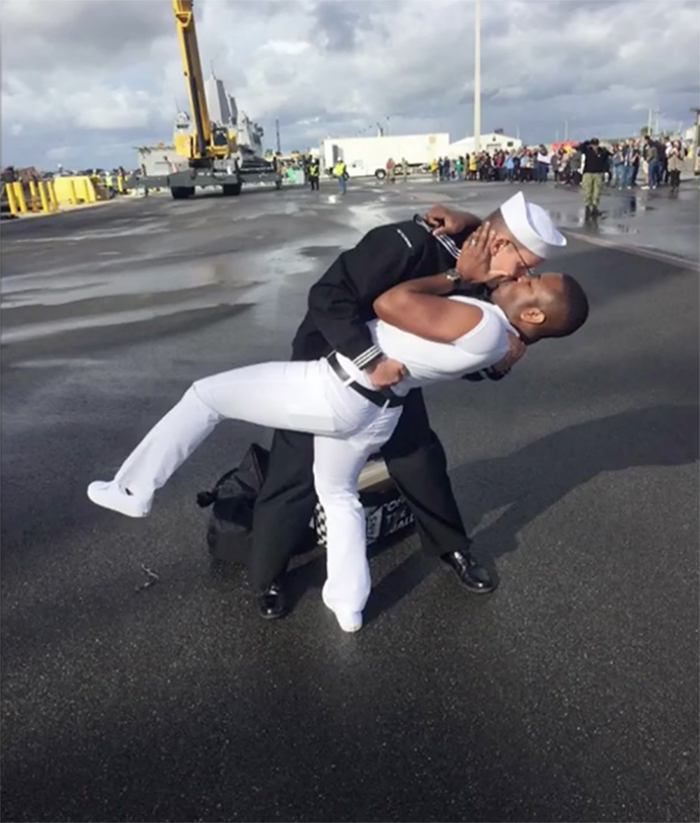 Conservatives in a tizzy over kiss between a gay sailor and his husband. 
BY VICTOR MELAMED

A kiss between a gay sailor and his husband had some conservatives' blood boiling, reports LGBTQ Nation.
Last month, when the U.S.S. The Sullivans returned to the Naval Station Mayport in Jacksonville, Florida, after a seven-month deployment, News 4 Jax aired an innocuous segment about the sailors being reunited with their families.
There was a lottery among the spouses to see who got the first kiss, and Bryan Woodington won.
"I was excited and I could not wait for it to happen. I knew I was going to dip him," Bryan said.
And he did. The newlyweds' first kiss in over half a year was aired on the local news last month.
But in the month since the segment aired, the station has been inundated with negativity.
"How sad that your station has dropped to such a low as to show a gay couple kissing on your news cast. How many people are now trying to explain to their young kids why 2 men were kissing. Very disgusting."
"I'M SITTING HERE WITH MY 9 YR OLD GRANDDAUGHTER AND 4 YEAR AND 3 YEAR OLD GRANDSONS WATCHING YOUR NEWS AT 6:00 AND WHAT COMES ON THE SCREEN???!!! FULL HUGGING/LIP KISSING BETWEEN MEN IN A MAYPORT REUNION!!!??? WTF!!!"
One viewer suggested that airing the kiss was an attempt to be politically correct, even as they were writing an email about how offended they were by a news program's reporting.
"Was this an effort to be 'politically correct?' I thought this was a family friendly news channel."
The Woodingtons are well aware of the negative comments, since a lot of them got posted to social media, reports LGBTQ Nation.
Kenneth, Bryan's husband, said that he "doesn't really care that much about what people say," and Bryan told News 4 Jax that "some people have a different life and this is how they are."
The couple also said that they've gotten plenty of positive feedback as well, and they believe that this can be a "teaching moment."