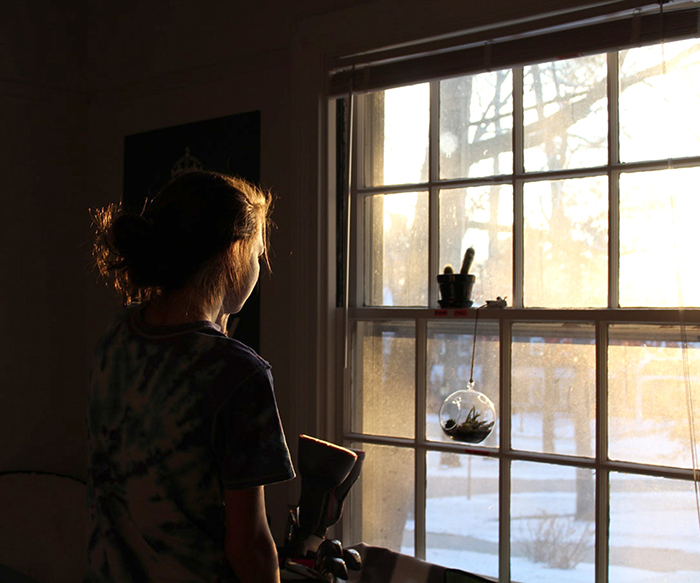 58-year-old Kevin Bickerstaff, who reportedly encouraged classmates to beat up a 12-year-old trans girl so she would leave the school, has been suspended from his job as a pilot for Frontier Airlines pending an investigation into his conduct.
RUSTY ARTIFACTS OF ANOTHER AGE
Good morning FIGHT readers. I write from the open road, the Great Plains. No interstates for us; we drive along the two-lane blacktops, the asphalt ahead seeming to melt in the hot sun. In Kansas, we pass the small creeks, the fields of maize and pasture where the cottonwoods fight the wind, the stunted sunflowers crowd the shoulders of the highway and grain elevators beckon on the horizon.  
In Oklahoma, the land turns red and the oil derricks pop up like rusty artifacts of another age. Then comes Texas, the windmills marching like giants in a bad movie. Here and there a longhorn feeds along the fence line. In the car, the temperature hits three digits and it's time for another drink. Deadline? What deadline? Who cares about LGBT news when the heartland of America is calling its name? Hays, Vernon, White City, Electra, Mineral Wells. 
ACHILLE, OKLAHOMA, POPULATION 492
We were going to take a small detour and drive through Achille, Oklahoma, population 492, where a 12-year-old trans girl named Maddie just entered middle school. Faced with new surroundings, Maddie used the girl's room rather than the staff bathroom she had used at her previous school. At once, Facebook came alive, with parents calling her a "maggot" a "thing," suggesting a beating and threatening to take action against her "with a sharp knife." Authorities closed the school for two days to investigate the cyber outburst, while Maddie's family now says they will move, for the second time in a few years, in search of a safe community.
Achille wasn't on our route. But I think we may have driven through a few Achille-like towns all the same. You can't tell and I shouldn't generalize. One of the people attacking Maddie online was 58-year-old Kevin Bickerstaff, who reportedly encouraged Maddie's classmates to beat her up so she would leave the school. Bickerstaff has been suspended from his job as a pilot for Frontier Airlines pending an investigation into his conduct. 
HARSHER, DARKER: ROCKY MOUNTAIN LOW
It's always been dicey being gay or lesbian, and it's been even dicier being trans. But it seems to be getting harder out there, don't you think? Harsher. Darker. I just saw a story about a nine-year-old Denver boy who summoned up his courage to come out to his mother. Because, yes he's young. But you often know if you're gay by that age. His mother was so accepting that the boy drew courage from that and came out to his classmates on the first day of school. The reaction was so vicious, that after four days the boy killed himself. According to his mother, he told his sister that some of the other boys told him to commit suicide. 
Google Jamel Myles if you have the stomach for it. Nine years old. That means his classmates were presumably the same age. Little kids can be cruel, but since when are they that cruel? I guess it began about the same time that the grandparents of those little kids started telling children to beat up little girls.
Mel and I have a bumper sticker that quotes Michelle Obama's famous line: "when they go low, we go high." I still think it's a nice idea, but it's not going on the car. First, I don't like bumper stickers. We have a round H and another thing, but I don't want the car looking like a college student owns it. Second, it's a little self-righteous. Not coming from Michelle in the campaign context, but on the car it's as if we're lecturing our fellow drivers. 
But I also want to say that "going low" was not a common thing for many years. I'm not talking about racism, or even homophobia. I'm talking about general discourse. People used to hide their ugly side from public view. Today, not so much.
TWO MINUTES WITH STORMY
Mel is telling me that Stormy Daniels was interviewed the other day, and that she said Trump was not great in bed. She called him "Speedy Gonzales." Mel just quoted from the Vogue article: "How many details can you really give after about two minutes," Stormy asked her interviewer? Daniels said it takes longer to microwave a breakfast burrito than to have sex with Trump. (Drumroll/cymbal clash.)
The reason we drove from Austin to Topeka a couple of weeks ago was to attend two family weddings. After my stepson got married in wedding number one, he and his new wife went to Jamaica for their honeymoon, where—wait for it!—Stormy Daniels was also on vacation at the same resort! According to Nathan, she was on the phone most of the time and seemed busy. He also snuck a photograph of her in the pool…from the rear. Really? Are you sure we're related? You have a chance to take a shot of Stormy, and you get the back of her head?
And while we're on the subject of beautiful beach escapes, I'll have you know that a court date has been set for an appeal of the Bermuda high court decision to reinstate marriage equality on the island territory. We've gone back and forth on this subject so I don't blame you for being sick of it. Just know that some visiting judges
will arrive to tackle the appeal on November 7-9, and once they rule, I assume that marriage will remain legal and everyone will live happily ever after.
THE GREAT BOARD GAME OF CIVIL RIGHTS LAW
I have a lot of legal updates. Cases being petitioned to the soon-to-be-hostile Supreme Court. A transgender woman has won her discrimination case against the Florida prison system in lower court. An elderly lesbian, who won a fair housing case against her assisted living facility, has now won a unanimous appellate victory in the Seventh Circuit. A transgender man has settled his discrimination claim against Oswego County, New York. And yet, we have to ask: Whither these victories? Will everything come to a dead stop before the nine justices, who will then turn us around smartly and march us back to square one, or maybe two, on the great board game of civil rights law?
I've been reading about Brett Kavanaugh, as have all of us, I suppose. And it's not clear what he thinks about gay rights or Title VII or fair housing or the Price Waterhouse precedent or marriage equality. I know he's a religious freedom advocate, which these days seems ominous. But on the whole, he looks to me like he might be better than a number of jurists on the Heritage Foundation shortlist.
I've said this before, referencing Sam Alito, and Neil Gorsuch. I was dead wrong on both those men, who now appear to be in competition both for most antigay justice and for worst justice in modern era. Harriet Miers would surely have been preferable to the former, and yet, I bitched when her name was in circulation. Readers, I just don't know anymore. Where's that bartender? n
---