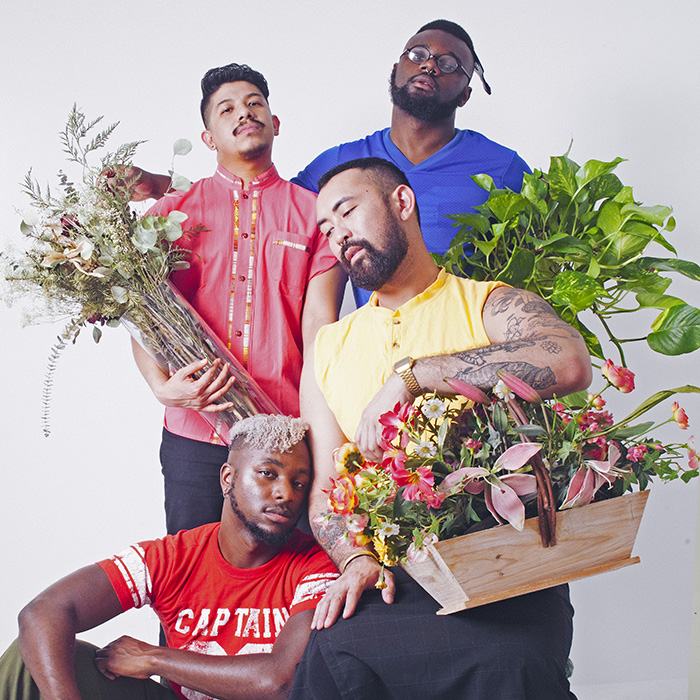 TOP L-R: RENE HERNANDEZ, RAKEEM CUNNINGHAM. BOTTOM L-R: BAIZE WHITE, JOHN ALEXANDER CAGANDAHAN.
Four friends come together to create a weekly podcast "to make sense of the world."
BY MARK ARIEL  |  PHOTO BY RAKEEM CUNNINGHAM
A weekly show about four queer friends of color, from The Bay, LA and NYC, coming together to give their opinions on "pop-culture, social justice, and bullshit," Podcast Of Color (POC) has been receiving rave reviews from listeners and critics alike.
"A lot of the times the mainstream queer voices you hear from people of color tend to be from people who have to censor themselves in order to be successful," says Rakeem Cunningham, 26, from Los Angeles, in an interview with THE FIGHT.
"That's why I love our show and podcasting because we say what we want and we aren't censored."
"When I do see queer folks of color in the media they tend to fit the very specific aesthetic of the 'palatable' POC," states Rene Hernandez, 22, originally from LA but currently  living in the Bay Area. 
"Like a show or film will pride itself on diversity or representation and it turns out they only really represent 'white' Latinx folks."
While the podcast addresses a variety of issues affecting the LGBTQ community, some episodes  stand out more than others.
"Our episode about sexual assault  still comes up a lot," says Baize White, a 26-year-old LA native, who has been a New Yorker for the past year.
"People aren't used to hearing frank discussions about sexual assault in queer spaces. I think sexual assault is seen as par for the course in the gay community especially. So it's not often talked about seriously."
"I opened up about a time where I was almost raped," reveals Rakeem. "It's the first and only time I've spoken about it publicly and the amount of love and support I've received from people that week was overwhelming. I got messages from people I thought didn't even like me to say thank you for sharing your story."
"There is an episode where I came to terms with my non-binary identity and I cried really hard," confides John Alexander Cagandahan, 31, originally from New Jersey, currently living in LA.
"After that episode we got a lot of sweet emails and someone wrote me a poem and I cried again the following episode."
"There was another episode where we talked about anxiety and sexual anxiety," reveals Rakeem. "I think it's things people experience but are embarrassed to talk about … and by shedding a light on it, we hope others feel empowered and not demonized." 
---
For more info visit www.podcastofcolor.com. Twitter: @trashofcolor. IG @podcastofcolor.