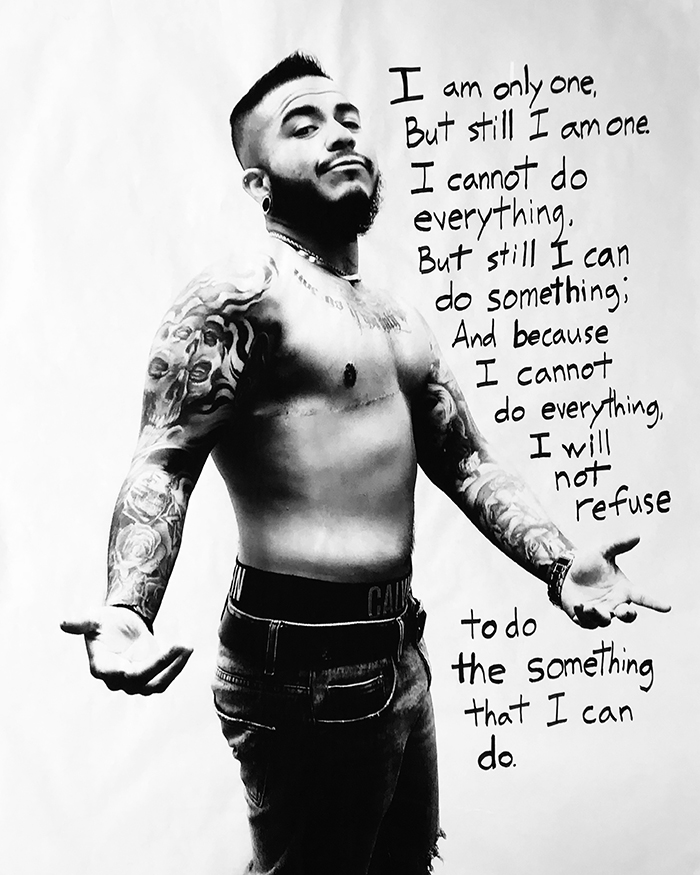 "LET ME SHOW YOU SOMETHING BEAUTIFUL." MODEL: DEVIN GUTIERREZ. PHOTO: KIMBERLEE ACQUARO. SEE #1
10 things happening in LGBTQ California that give me hope.
BY SYD PETERSON
My fellow LGBTQ Californians, I've gotta be honest with you. I'm sad and fearful about what's happening in our nation politically. I've been on edge for a long while, but this Brett Kavenaugh guy and the prospect of a Supreme Court loaded with five conservative judges? It was the straw that broke this gay guy's back. How can I not feel bleak when decades of our work for sexual liberation are gravely threatened?
I felt hopeless. Like it was hard to move forward. Like maybe all our work has been in vain. But then I went to a photo exhibit (described below) and my perspective changed. Hearing about people in our communities doing great work made me feel better. It cut through my despair. It gave me hope. 
Kimberlee Acquaro:

 

"The Trump Administration's discriminatory policies provoked me to take a stand with the transgender community."
I started thinking about hope: what does it mean? What does it look like? Is it important? I reached out to Dr. Becky Reichard, an associate professor at Claremont Graduate University, because she studies the idea of hope and its effect on people. "Hope is important because it provides a positive motivational state that drives performance and action. That's a fancy way of saying that hope helps keep us moving forward," she told me. "Hope is exactly what we need in the LGBTQ community. We need to identify the specific long and short-term goals that we want to achieve and develop multiple pathways to achieve those goals. Imagining barriers and developing contingencies will increase our hope and chance of success toward respect, equality, and representation." 
So, in the spirit of positive motivation, here are 10 examples of things happening in LGBTQ California that give me a lot of hope. Maybe they'll give you some, too!
1. Let Me Show You Something Beautiful is a photo exhibit at the Los Angeles LGBT Center by Kimberlee Acquaro, an Emmy-award winning, Oscar-nominated photojournalist. Acquaro worked with more than 80 transgender, gender-nonconforming, gender neutral and gender fluid people to create portraits that they felt truly represented
their authentic selves. "The Trump Administration's discriminatory policies provoked me to take a stand with the transgender community," said Acquaro. "The empowerment of being authentic, visible and seen comes at a cost. But by seeing and showing our faces and our bodies, by standing together, raising our voices for ourselves and for one another, I believe we are changing the world." Monique Beltrán was one of the exhibit's participants. "As a trans, gender-nonconforming person, it's a rarity to feel safe," Beltrán told me. "Being a part of any project about trans visibility enables me to feel a little safer in the world. Being a part of something that may enable others to feel safe is a deep honor."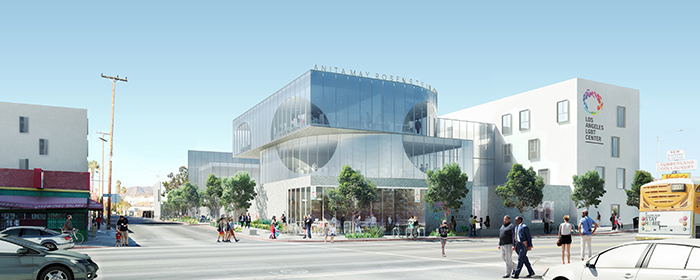 Artist rendering of the under-construction Rosenstein campus. See #2
2. Construction is underway on the Anita May Rosenstein campus at the Los Angeles LGBT Center. The revolutionary space, set to open in early 2019, will include 99 units of affordable housing for seniors, 100 beds for homeless youth (double the number the organization currently has), new senior and youth centers, 25 units of supporting housing for young people, a commercial kitchen to feed homeless youth and seniors, ground floor retail space, and 350 subterranean parking spaces for residents and visitors to The Village. "This new campus is not only going to be a dynamic and vibrant hub and be iconic for our community around the world, it is going to provide much-needed homes to some of the most vulnerable parts of our community," said Los Angeles LGBT Center CEO Lorri L. Jean.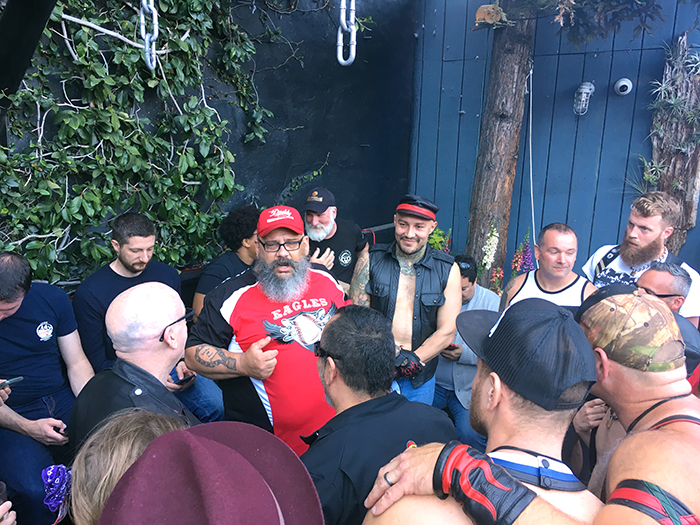 The SF Band of Brothers. See #3
3. In June, the SF Band of Brothers (a fraternal organization of leather titleholders) inducted four new members and two honorary members. Veteran community activist Daddy Ray Tilton and Vice Chair Gerald Borjas ran the ceremony. "Gerald is a beacon of what the future can be," Tilton told me later. "When I was his age, during the AIDS crisis, we didn't know there was going to be a future for gay men. Gerald's energy and commitment to our community is strong. I love to see the fearlessness in these young people's eyes." "The SFBOB gives me hope for the community," said Borjas. "It's a group where we can freely discuss ANYTHING. Wise or rambunctious, we all can come together to encourage and show our individual and collective potential."
California became the first state to ban licensed health care professionals from using conversion therapy on youth in 2012. Since then, 14 other states and DC have enacted similar bans.

"
4. History and social science students in California public schools will now learn about LGBTQ people and their contributions to California and U.S. history. "Curriculum that includes the contributions of LGBTQ people throughout history helps to create safe and supportive learning environments in which all students can thrive," said Equality California Executive Director Rick Zbur. "And when LGBTQ students see themselves reflected in lessons and materials, their experiences are validated and their senses of self-worth are reinforced—while all California students gain a deeper understanding of both the adversity we have faced and our resilience as a community. Equality California is proud to have sponsored the Golden State's first-in-the-nation LGBTQ-inclusive curriculum law."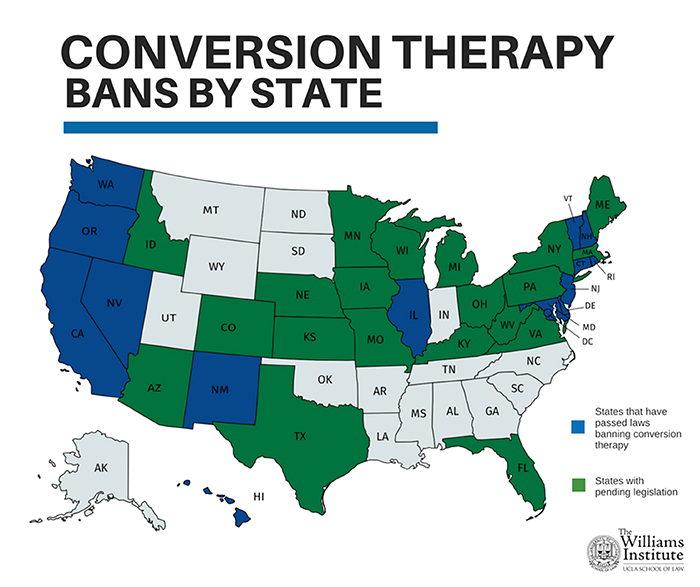 See #5
5. "California is a leader in ending conversion therapy—a practice that attempts to change a person's sexual orientation or gender identity, " said Christy Mallory, the State & Local Policy Director at the Williams Institute, a think tank at UCLA dedicated to research on sexual orientation and gender identity law and public policy. In January, the Williams Institute produced the first-ever estimates of the number of LGBT youth who have undergone conversion therapy in the U.S.: 700,000 LGBT adults, including 350,000 who received the treatment as adolescents. "Many prominent health organizations oppose conversion therapy because it is harmful and ineffective," continued Mallory. "California became the first state to ban licensed health care professionals from using conversion therapy on youth in 2012.  Since then, 14 other states and DC have enacted similar bans. California is now leading the way again, as the legislature considers a broader law that bans the use of conversion therapy on adults in exchange for payment.  If this bill passes, California will have the most comprehensive laws banning conversion therapy in the country."
6. This spring, the state of California became the 5th largest economy in the world with a gross domestic product of over $2.7 trillion. Our state's economic output surpassed by only the total GDP of the United States, China, Japan and Germany. While there are many components to California's success, our support of LGBTQ workers is part of it. "Lots of research shows that positive LGBT work-related policies are good for businesses," said Dr. Lee Badgett, Professor of Economics at the University of Massachusetts at Amherst and and longtime researcher of LGBTQ economic matters. "Good workplaces for LGBT people make them less likely to leave for new jobs and more likely to be creative and productive. So California's economy benefits from having some of the most LGBT-friendly industries, like entertainment and tech."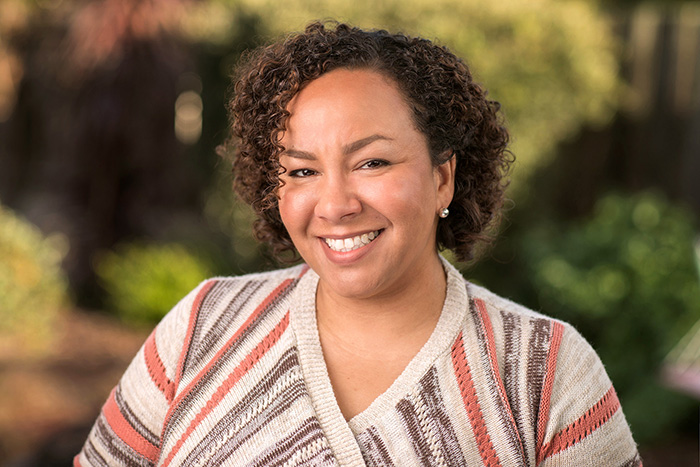 Shay Franco-Clausen. See #7
7. The 2016 election inspired a lot of women to run for office, and Shay Franco-Clausen was one of them. She's the first lesbian to run for office in San Jose and the first Afro-Latina to run for city council there. She says that the recent surge in women candidates for elected positions gives her hope. "I'm a native San Josean and I've served this community in various capacities for 22 years," she said. "Many women have an innate ability to nurture people. We play the long game in politics, just like we do with our families. LGBTQ and POC officials are prepared to make policy that impacts the entire community, not just a select few." Franco-Clausen, who raised more than $90,000 for her unsuccessful run, plans to run for the seat again in three years. 
8. The Los Angeles Leather Coalition is adding an LA Bootblack Contest to Los Angeles Leather Pride Week 2019. "A Bootblack is a person who enjoys serving their community by caring for boots and other leather apparel and accessories. They always make sure those of us in the leather community look our best in all we do." stated Gus Norris, the 2019 LA Leather Pride Executive Producer. "Los Angeles has one of the largest and most diverse leather communities in the world and has had a long and amazing tradition of titleholders," explained Scarlett Sin, Owner and Producer of Ms. LA Leather. "We at Ms LA Leather felt it long overdue to provide pathways for Bootblacks to enter, grow, and be recognized with a title by our communities for the skills and service they tirelessly provide us."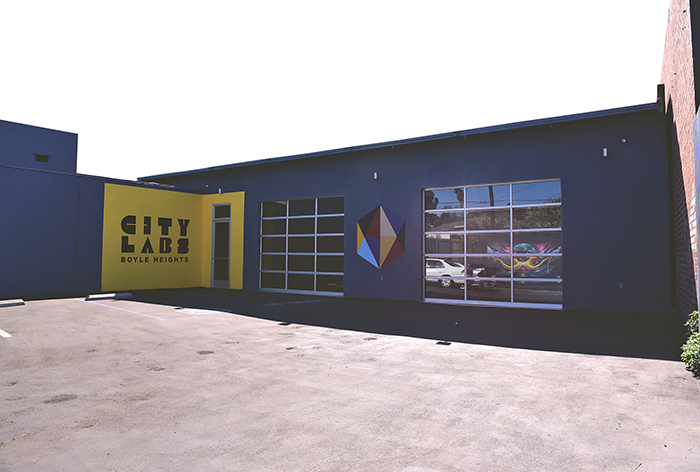 Mi Centro. See #9
9. In the predominantly Latinx neighborhood of Boyle Heights in Los Angeles, a group of parents and their LGBTQ youth have been congregating each month for nearly two years to participate in a peer support group conducted entirely in Spanish. Held at Mi Centro (the Los Angeles LGBT Center's partnership location with Latino Equality Alliance), the group encourages families to discuss sensitive topics affecting LGBTQ youth, such as coming out, bullying, and HIV/AIDS. "What initially began as a safe space solely for LGBTQ youth to socialize has blossomed into a community workshop for all of their families," said the Center's Youth & Family Connection Manager JoAnn Cerda. "Especially in the machismo Latino culture, there is stigma surrounding sexual orientation and gender identity. Our peer support group aims to break down those barriers that prevent families from having meaningful discussions."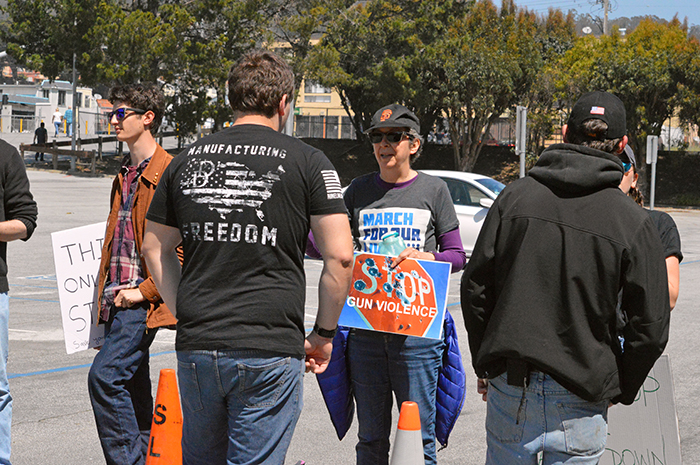 David Gales and Ruth Borenstein Speak With Gun Show Attendees. PHOTO: Karen L. Strauss. See #10
10. "I'm really inspired by the young people who are stepping up in a very inclusive way to oppose gun violence," said Ruth Borenstein, a lesbian and self-described largely retired attorney and increasingly active activist in San Francisco "Although not strictly an LGBTQ issue, our community is disproportionately affected by gun violence and this youth-led movement gives me hope that a new wave of activism will carry the day. These young leaders have great energy (which is contagious), they are media savvy, they seem to be fearless, and they are not locked in to politics as usual."
Being hopeful doesn't mean we get to "forget" that bad stuff happens or that sometimes we face uphill battles. Finding hope in other people's actions doesn't exempt us from taking our own actions. As Dr. Reichard told me, hope is about "positive motivational states," and finding inspirations that propel us forward in action. It's about identifying our goals, whether that's ending gun violence or protecting kids from anti-gay torture. And it's about developing multiple pathways to success, like bringing families together to understand their LGBTQ members or lifting up younger leaders to ensure our future.
So, LGBTQ California, if you're feeling hopeless, look around for some other queers. Chances are, they're doing something that will help you bounce back. And if you're doing something inspiring, tell some other queers about it. We can't afford to be stingy with hope right now.