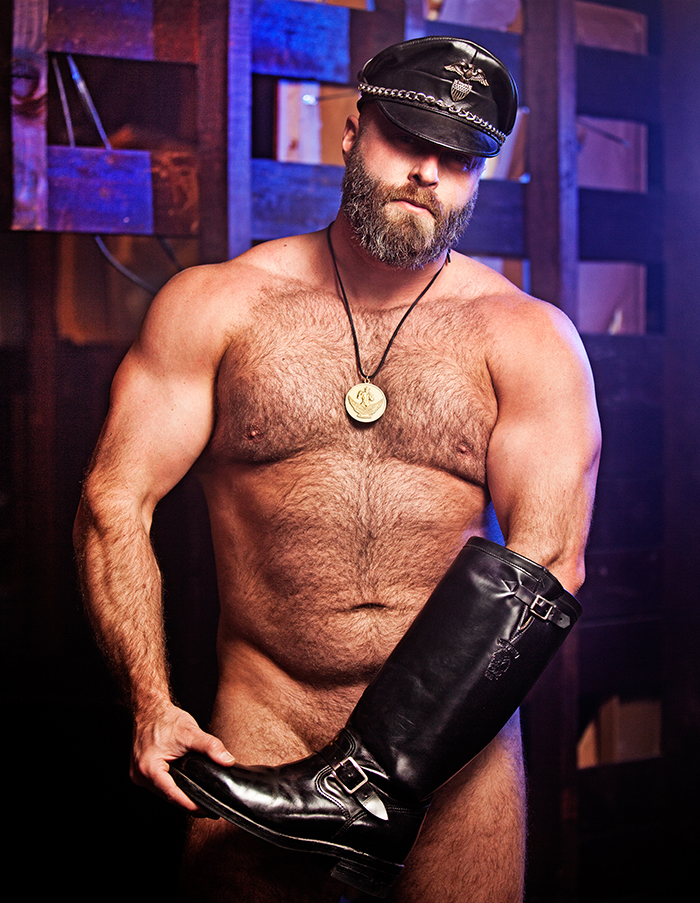 Jeff Wilcox, the outgoing Mr. LA Leather 2017, talks about his past year as a titleholder. 
BY MARK ARIEL  |  PHOTO BY DUSTI CUNNINGHAM
Originally from a small farm town outside of Sacramento, Jeff Wilcox, 37, the outgoing Mr. LA Leather 2017 came to LA to finish school and wound up staying in the city for the past fourteen years. "When I'm not fighting crime," he tells THE FIGHT, "my day job consists of cybersecurity and risk management consulting for large corporations."
How would you describe your past year as Mr. LA Leather?
The past year has been one of the most entertaining, thrilling, emotional, educational, and difficult ones of my life. As a non-spotlight introvert, I'm not used to having any attention on me or being put out in front of everyone to be seen. I used to stand on the sideline and enjoy the community and events from an observer's perspective. I let many opportunities go by without the courage to take them. However, there is something about standing up on a stage, in next to nothing, and trying to entertain a crowd that can help you get over that fear quickly and give you some sort of inner fire that burns fear away. The week after winning Eagle LA Mr. Leather 2017 I got up enough courage to talk to someone I had a massive crush on, which I never would have had the guts to do before…and now, a year later, Eric and I just celebrated our one year anniversary together. I found the love of my life and my soulmate because of the strength and confidence that running for a title gave me.
Has being a title holder changed your outlook on the community.
I was surprised at the vast amount of pressure and requirements that seem to be put on title holders. A lot of people look to current title holders as examples as well as our "community leaders." I think anyone who has a desire to run for a title should most definitely do so because it's an amazing experience that teaches you so much about yourself – who you really are inside, and how much you have to offer. However, you do not need a title to help make our community better, set an example for others, or help lead the community. Anyone with a will and a desire can raise money, plan events, help those in need and be a source of strength for others.
"We are not defined by titles, or affiliations, or even stereotypes. We are ALL part of the same community."
What did you want to accomplish as a title holder—and do you feel you reached the goals you initially set for yourself?
The goal for my title year was to show the leather community, and those outside looking in, that it's okay to be YOU…period. Each person in this community, and even those with the desire to join, all have something about them that is unique and can benefit our community as a whole. There are no requirements or guidelines that tell you what steps you have to take to be considered "leather" or officially a part of this community. As the amazing Ms. Los Angeles Leather 2017 Scarlett Sin says, "We are one leather." We are not defined by titles, or affiliations, or even stereotypes. We are ALL part of the same community. We can get so caught up in the minutiae of little things that sometimes we forget to look at the big picture… that we are a community of misfits, outcasts, and amazing people bound together through our love of leather. And just like any good family, we have our moments of strength and moments of infighting. But it's those good moments that shape us in the right direction to be who we are. It helps us build a camaraderie that can't be found anywhere else.
What advice would you give to the next title holder?
One of the greatest pieces of advice I was offered was given to me early in my title year by the previous Los Angeles Band of Brothers (LABB) President, Nick Oliver. He said, "Now that you're a title holder, you've been thrust into the spotlight and people will adore you, judge you, follow you and slander you. It's a scary mixed bag. The best way you can make it through this time is to be the best you that you can and do as much good as you possibly can. When you're trying your best, there is very little anyone can fault you or judge you for." So my similar advice to everyone, not just title holders, is to be the best you that you can possibly be and always strive for good. Not only is there very little you can be faulted for if you think and act with that mantra, but you'll be benefiting the community and yourself along the way…
I'm so grateful for the opportunity to have represented the Eagle LA as well as Los Angeles throughout this past year. It has been an honor and a privilege that has changed my life in so many wonderful ways. I would not be where I am today, or who I am today, without the help of my love Eric, the Oliver-Ronceros family, Charlie and Hunter [from the Eagle LA], and so many other amazing and wonderful people in this community.