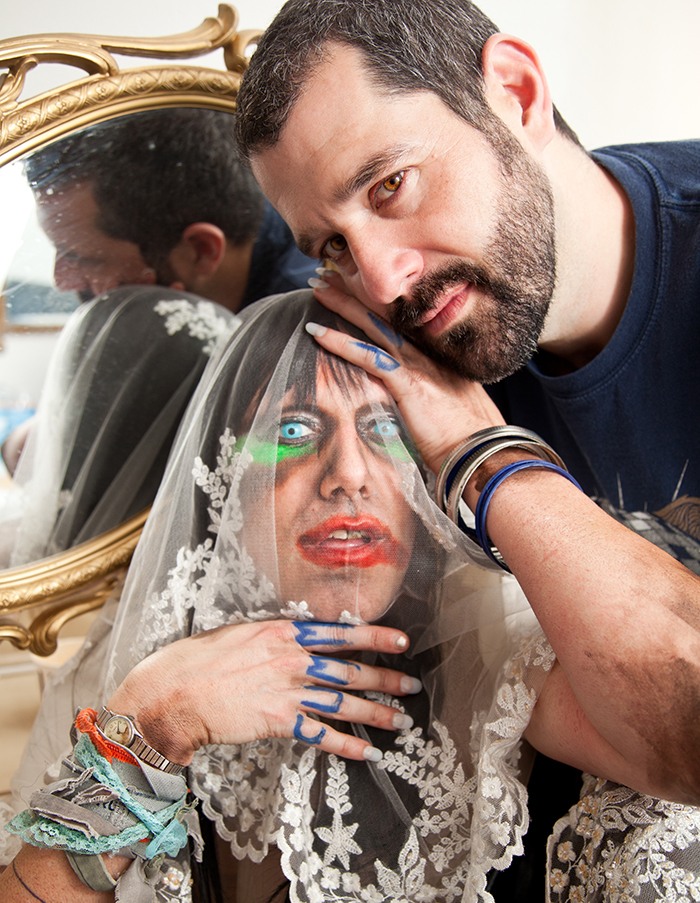 Matt "Bearracuda" Consola and Christeene on promoters, dream tour bookings and what makes a "gay family."
BY PAUL V. VITAGLIANO  |  PHOTO BY DUSTI CUNNINGHAM
Chances are, if you've been out clubbing over the last decade, you've stepped through the doors of a packed Bearracuda party. Created by club promoter Matt Consola in San Francisco in 2006, this beloved party that welcomes "bears, cubs, otters, beefcakes and other wildlife" now happens in 60 cities across the globe.
Matt also handles managing and booking his pal Christeene. How to describe Christeene? She is like the filthy bastard child of Divine, Jayne County, Johnny Rotten and GG Allin, offering audiences an explosion of guerrilla drag genderfuck punk that truly has to be seen to be believed. Her new album drops this spring, and Bearracuda LA hits Precinct DTLA monthly starting on Saturday, March 10th.
Get more info at Bearracuda.com and ChristeeneMusic.com. I got to chat with these BFF's about what makes a "gay family."
What does having a "framily"—or your "gay family" of friends—mean to you?
Matt: My "real" family is pretty much non existent, so my chosen gay family is all I've really known as an adult. I've assembled a group of exceptional friends who love and support me unconditionally.
Christeene: Havin' "framily" iz pure fukkin' trust. Holdin' each other up. Protectin' each other in all da ways necessary to survive diz fukked up wurld, 'n bein' able to lift 'n laugh ur asses off 'n create new wurlds together.
How to describe Christeene? She is like the filthy bastard child of Divine, Jayne County, Johnny Rotten and GG Allin, offering audiences an explosion of guerrilla drag genderfuck punk that truly has to be seen to be believed."
What is your relationship with your blood family like?
M: I just have my mother in Northern California who I see every once in a while.
C: I ate them.
Matt, what is your ultimate goal in doing Bearracuda parties?
M: Our main goal is to create spaces for like minded people to meet and have fun. After 500 parties worldwide, there have been countless friendships and relationships made at Bearracuda, and that is extremely rewarding.
What do you say to promoters when trying to describe Christeene and book a show?
M: Luckily, most promoters come to us these days, so there's not a whole lot of cold calling.
Christeene, how would YOU describe who you are and what your performances are like?
C: I stay da fukk away frum describin' anything to folks. Usually I say to show up with zero expectations and wit ALL u got. I'll take care of da rest, 'n u will not be disappointed.
Matt, has anyone turned you down to book her, because she's too wild?
M: Haha! Not really. They don't know exactly what she's going to do or say, but they're prepared for the unexpected.
Christeene, would you ever alter your performances to be less radical?
C: U gotta bee fukkin' kiddin' me! In dis day 'n age, u gunna git da full buffet 'n u gunna fukkin' eat it all. Fried. Raw. Or baked!
What would be your dream tour booking?
M: We've be insanely lucky to have opened for Faith No More and Peaches on their tours. Those were absolute dream gigs with extremely kind artists and crews. I think opening for Nine Inch Nails would be my far fetched pipe dream for Christeene.
C: Anywhere dat I ain't been iz where I wanna be. As ferr who to perform with, anyone who can keep up wit my azzz. Ferr starters, dey gotta be as up to par 'n powerful as Peaches 'n Faith No More.
Christeene, tell us about opening for Peaches a few years ago.
C: It was da best cocktail I ever sat my azz in! Da rooms were electric. Peaches was da fukkin' TITS 'n laid out da best dream team u could hope for. We burned dat shit down together, and I am forever fukkin' grateful ferr it.
Who did you want to be your Valentine as a kid?
M: I was a super shy queer kid, but I do remember a girl throwing a Valentine's card in my box in elementary school. It had some standard, cutesy message on it. But then she wrote 'NOT TRUE' underneath it. But I like dick, so whatevs.
C: Huh?
If you could have one famous Valentine this year (living or dead), who would it be?
M: Living or dead? Donald Trump. And he'd be dead!
C: I would like to have my Valentine wit uh rescued animal dat is experiencin' luv ferr da furst time from someone. I don't care whut animal dat is. Maybe not a snake, but maybe yes.
How can the LGBTQ community show more love to each other?
M: It's pretty cliché to say, but being more inclusive and understanding to people who aren't exactly like you. Just because I'm "pro-bear" doesn't mean I'm anti-everyone else. I hang with all different types of beautiful souls who teach me many different ways of living a fulfilling life. Having one path and just being around people who echo what you think, is boring.
C: Stop fukkin' policing each other 'n start fukkin' mobilizing!