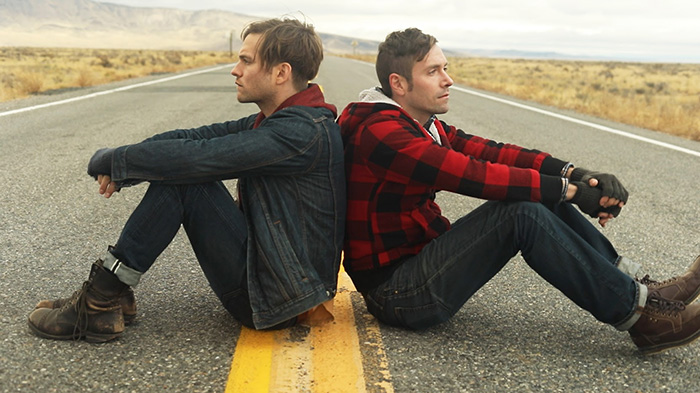 Van Hansis (L), Kit Williamson, EastSiders
EastSiders' Kit Williamson and John Halbach on working together and being in a relationship, spending time on the road and sexual health.
BY MARK ARIEL
Kit Williamson's acclaimed LGBT series EastSiders has returned for a six-episode third season after two Daytime Emmy nominations and overwhelming crowdfunding support, with special guest stars including Constance Wu, Wilson Cruz, Stephen Guarino, Traci Lords, and Willam Belli.
Following the cross-country misadventures of Cal (Williamson) and Thom (Van Hansis), the highly anticipated new season is available worldwide from Wolfe Video on DVD and digital platforms including Amazon Video, Google Play, iTunes, WolfeOnDemand.com and more.
In an interview with THE FIGHT Williamson and his husband, Eastsiders' co-star John Halbach talk about working together and being in a relationship, spending time on the road and sexual health.
Looking back over the past 5 years—since the beginning of "EastSiders"—what moments stand out for you in particular?
Kit Williamson: Getting picked up for DVD distribution by Wolfe Video, raising $153,000 in our second Kickstarter campaign and having season 2 came out on Netflix all definitely stick out as highs. There have been so many times when people took a chance on us and helped the show move to the next level. Conversely, there have been a lot of times when people did not honor their word and endangered the show—on our budget level there's not a large margin of error, and we've had some close call moments with crew members and post-production vendors.
John Halbach: The highest points have definitely been both times the show has come to Netflix, most recently with Season 3 debuting there on January 1st of this year. It's such a huge platform and people are willing to try watching something new there. Netflix doesn't release viewership numbers, but based upon social media engagement we can tell that they have increased our audience immensely. There have been many lows, we've worked so hard on this thing and a lot of people have invested their trust in us, and there have been countless moments it seemed it might all crash and burn. We're very vulnerable in this process and other people are often in the position of being able to damage or end the series. We've had some close calls, but thankfully all three seasons have made it out into the world.
John Halbach: "We do perhaps, occasionally, get on each other's nerves along the way, but at the end of it all we have the privilege of having made something really special together."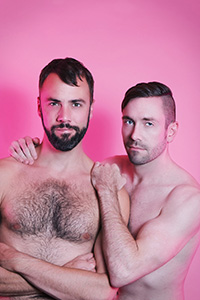 As artists—do you find it difficult to deal with the business aspect of "EastSiders?"
Halbach: It has certainly been difficult and there has definitely been a learning curve. It would of course be easier if we could show up on set and I could just act and Kit could just write, direct, and act but then the show probably wouldn't get done. We don't have the budget to pay someone to work as hard as we work, so if we want the show to stay at this level and/or advance, we've got to do it ourselves. That said, I think we'd both be thrilled to get to a place where we could take at least some tasks off of our plates.
Williamson: It would definitely be an easier process, but that's assuming people actually do the things they say they're going to do, which has not been my experience. I sound super cynical, but I've learned to be cautious! Also, no one is going to care as much as we do. Probably, no one should care as much as we do.
What are the pros and cons of working with your husband—24/7?
Williamson: We definitely bring work home with us, especially considering we literally shoot the show at our home! We both lose it a little bit during production, because our whole life gets engulfed in a sea of film equipment and garbage bags, and we have to be really careful not to take our frustrations out on each other. The cat fucking hates it, I can tell you that. But it's so rewarding when it's done and out there and people are responding to it—the highs are worth the lows.
Halbach: Relationships are hard work and so is filmmaking, so combining those two things you are potentially doubling the amount of stress, anxiety, and conflict in your home. We do perhaps, occasionally, get on each other's nerves along the way, but at the end of it all we have the privilege of having made something really special together. There's something very satisfying, and unique, about moving heaven and earth to make this show with my husband and I'm so grateful we get to do it.
This past season you drove across the country with your crew. If you had to do this road trip again—what would you do differently—based on this experience?
Halbach: Going on a road trip for fun with people you love for a couple of days can be a challenge, so going on a road trip for work for almost a month was really difficult. There was one crew member I would definitely trade out if given the chance to do it over again. It would've been nice to have more time, it would've been nice to have more money, it would've been nice to go a bit earlier and have warmer weather. All that said, I love the show that the shoot produced, so if those circumstances were necessary, so be it.
Williamson: I wish we more time on the road, and I wish we had the luxury of scouting locations in advance—but that just wasn't possible with our budget. We showed up at every shooting location on our itinerary and had to immediately spring into action and hope we found inspiration quickly, because we were on a strict schedule and couldn't afford not to make our day.
Is there anything else you would like to share with our readers?
Williamson: Although the characters on EastSiders play pretty fast and loose in terms of sex, drinking and drug use, I think it's important that stories reflect the kinds of conversations about sexual health and responsibility we should all be having. We worked with Impulse Group and AHF to develop safer sex messaging in season 3, while simultaneously preserving the irreverent spirit of the series.
Halbach: People ask us all the time how to get their projects on Netflix, and I would say the first step would be to get your project out there and build an audience. We started on YouTube six years ago and then went to Logo, Hulu, Amazon, DVD, Fullscreen, and Vimeo before finally getting to Netflix. If you can skip all those steps, I celebrate you, but I think it's potentially a mistake to sit on a project when it could be out there in the world making fans and going on its own journey.
---
Photo (pink background) by Derek Wanker