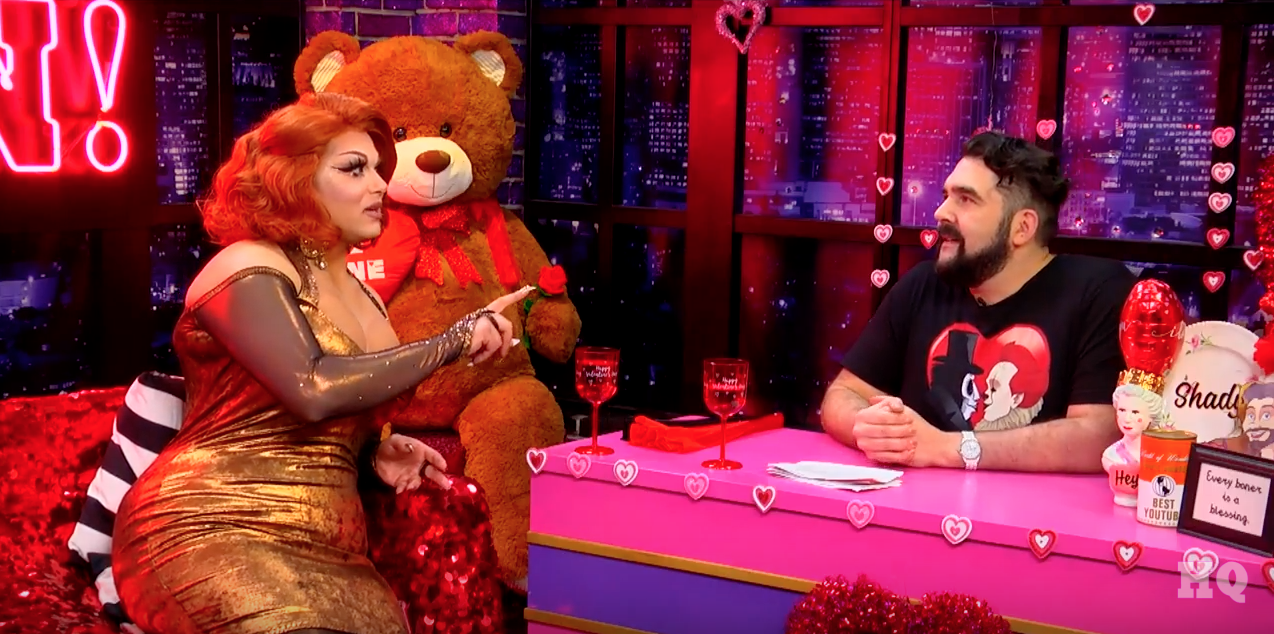 Alexis Michelle offers insight into love and sex, and shares her own experience from Rupaul's Drag Race in this hilarious exclusive with legendary comic Jonny McGovern and his scarlet co-hostess the fabulous Lady Red Couture (wearing not one but two heart-shaped glasses—Lolita eat your little heart out!)
Vibrant red and pink flowers, hearts and what appears to be a miniature Queen of England (insert shrug emoji here) deck the upgraded Hey Qween set (thanks, Jonny is sure to mention, to their new international partnership with OUTtv) and frame an appropriately intimate conversation with the Season Nine favorite, Alexis Michelle. Alexis looks stunning in a ginger do and gold dress, which was a good choice since any hue on the Valentine's spectrum would have rendered her virtually invisible. We watch Hey Qween partially for the spectacle promised by Johnny's eye for queer visual overload, and he always delivers. This time, it's hearts on hearts on hearts (in and around hearts), MAWMA.
As for the conversation, Johnny has a unique talent for probing new and more intimate details out of the often picked over Drag Race Queens. Out of all the interviews, Johnny's seem to bring us a treasure trove of juicy details. We hear of Alexis' sexual adventures, get that Liza impersonation we all came for (I mean, come on, give the people what they want!)—this time into one of Johnny's seemingly thousands of shade fans refashioned by the ever resourceful Alexis into a makeshift telephone. The video is truly delightful, and if you are feeling at all lonely or in need of V-Day cheer, consider spending a moment or two (or 18 minutes, at least) with the talented Alexis Michelle and always brilliant Johnny McGovern and Lady Red Couture. I know I'm better for it.
You can watch the video here: https://youtu.be/gBKUNtmnp5Y
Follow Hey Qween on Instagram, Twitter and Facebook at @heyqweentv