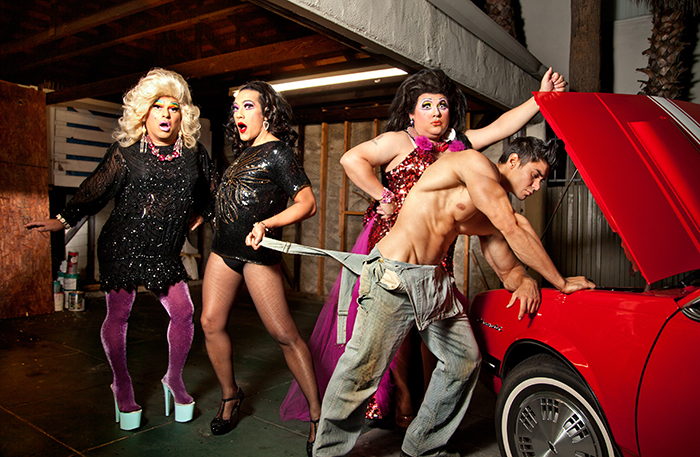 L-R: Frieda Laye, Chita Parol, Kay Sedia, Duke Shoman.
Chico's Angels poke fun at racial and gender stereotypes.
BY VICTOR MELAMED  |  PHOTO BY DUSTI CUNNINGHAM
With their hilarious trademark spanglish banter Chico's Angels have become Los Angeles' best known comedy drag troupe.
Featuring Oscar Quintero as Kay Sedia, Danny Casillas as Frieda Laye and Ray Garcia as Chita Parol, Chico's Angels is currently in its 14th year—running strong!
The angels define their brand of comedy as "The Three Stooges in Dresses."
"We have a great time with physical comedy and we love to mix it with humor drawn from ethnic backgrounds, racial stereotypes, gender stereotypes and never-ending references to the pop culture we love. We love to laugh at ourselves and we find, in turn, that makes us more relatable to the audience," says Quintero in an interview with THE FIGHT.
For the past few years Chico's Angels have been working with Los Angeles County Department of Public Health's Division of HIV and STD Programs on the L.A. Condom Campaign in addition to performing at various AIDS related charities.
---
Check out upcoming performance dates at Chicosangels.com.