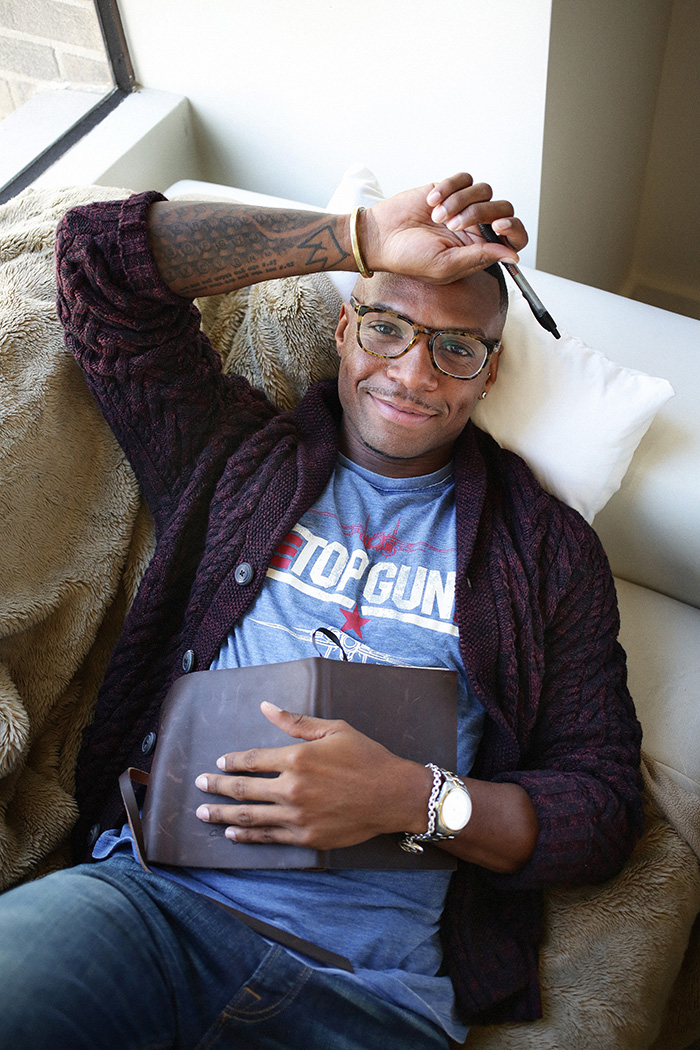 Producer, writer Ben Cory Jones (HBO's Insecure) on being black and gay in Hollywood, the Harvey Weinstein scandal and finding your passion.
BY TIMOTHY RAY | PHOTO BY LUKE AUSTIN
Ben Cory Jones is hot. Don't take my word for it. Check out his Instagram (@Benthewriter) and search his exclusive hashtag #writersaresexytoo.
With smoldering good looks deserving of some onscreen attention, it is behind the camera where Jones' swagger and talents shine. And if his name doesn't ring a bell, his work will. Jones, 34, is a producer and writer on the hit HBO series Insecure.
The LA-based dramedy, starring his close friend, cowriter, creator, executive producer and actress Issa Rae, is gearing up for its third season. Jones and his fellow writers explore the series through Rae and an eclectic ensemble of Black millennials in their 20s and 30s. Viewers see them navigate the ups and downs of life, love, friendships and their careers.
Before this wildly popular show, Jones was a writer for ABC's Castle and WGN's Underground. Jones is making successful strides as one of the few black gay producers and writers in Hollywood. But what makes this Memphis, Tennessee-raised, go-getter so unique is his back story. In an interview with THE FIGHT Jones talks about being black and gay in Hollywood, the Harvey Weinstein scandal, and the series of events that led the Morehouse College-grad to give up his corporate communications job on Wall Street for a shot at Tinseltown.
Between 2005 and 2006 you had an epiphany about your career path. Describe the moment you knew working as a communications manager for Bank of America on Wall Street was no longer for you
I enjoyed my job. It was a great experience for me to be right out of undergrad and making a lot of money. I would get up, go to work, go to the gym and spend countless hours in front of the television. This is when Grey's Anatomy, The Sopranos, Desperate Housewives and Lost were on. In all honesty, I was in a relationship with my ex-boyfriend and we broke up. So I had a lot of time on my hands. So I thought let me try to find a hobby like tennis or golf. I was walking in New York City near NYU's continuing education building. I literally walked in the door, and I picked up the course catalogue. Call it serendipity or call it the universe, but as I was flipping through my hand landed on a television writing class. I paid $700 for the class. The first day of class we watched and discussed TV shows. About one hour into the class I was like "Oh shit. This is it." I remember saying that to myself and I probably said it out loud. I'm sure people wandered is he crazy? I literally had that moment where I felt like I was sitting in the exact right place I was supposed to be.
I would work on classroom assignments in a bathroom stall at work. I literally sat there on the toilet, pun intended, and I said to myself If I'm willing to do this in a suit and tie, this is what I'm supposed to be doing with my life. Everything later became the question of "what do I need to do to launch a career in television?"
Hollywood is still trying to understand its relationship with people of color. It's less about sexual advances and inappropriate behavior. It's more about educating people about the stereotypes they have about gay people or black people.
The experience at NYU helped prepare you for a prestigious production apprenticeship with ABC TV Studios in LA, which eventually led to TV writing and producing opportunities. What advice do you have for people who are contemplating pursuing a second career in their dream job?
Yes. Go find your passion. But also chase and seek out dope experiences that will stretch your mind and imagination, and make you smart and more social. It's okay to go work in a completely different career for a year or two. I was working with extremely smart individuals. I learned so much as a person. Whether I am pitching a new show or talking with a network I talk often about what it was like to be 22-years-old working as a black gay man on Wall Street. That's part of my story that makes me interesting.
What is your reaction to the Harvey Weinstein sexual assault and rape allegations sending shockwaves through Hollywood?
It's tragic. It's sickening and it's sad. I'm just happy that we are in a space in time—in the culture in the world—where people who feel they've been discriminated against or harassed or sexually assaulted or raped, they feel they can come out publicly and say that. I think we're going to see a lot of the structures in Hollywood shift and that's a good thing. Hopefully, it will bring about change.
Do these types of sexual allegations happen within the gay community in show business?
I don't see it personally. But I will say I'm more aware and present of being a black writer, producer and actor in this industry. I think this town—Hollywood is still having issues when it comes to people of color. I find that I end up having to navigate sticky terrain about being a black person than being a gay person. Hollywood is still trying to understand its relationship with people of color. It's less about sexual advances and inappropriate behavior. It's more about educating people about the stereotypes they have about gay people or black people.
How would you describe the LGBT community presence in Hollywood? And how black LGBT people are portrayed in the mainstream?
We have a very, very long way to go, but I also say in the same breath I am hopeful. We are in a world now where the nuances and specificity of what it means to be black and gay is ripe to be shown right now. There's just so many layers of who we are. And I feel the world is just now understanding that "oh, all black gay people are not the same."
A personal mission of mine is to explore the interiors and emotional lives of black gay men. The shift in making our stories visible comes from us. People like my friend Lena Waithe who won an Emmy for writing an episode of Master of None about her coming out as a lesbian. It takes people like my friend Justin Simien who created this TV show Dear White People, where there's a gay character on the show. It takes people like us who are in the culture who have these experiences, who are these people, to write and tell our stories. It also requires more black gay people to be out. To be public. To be advocates.
Let's switch gears and talk about the success of your show Insecure. Your reaction to its popularity and what can we expect in season three?
It's amazing. We are back around the writers table for season three. I can't give away too many spoilers. With season three, we are trying to open up our world more. We're trying to introduce new characters. And give the existing characters we have more and more to do. There's obviously going to be some residuals between Issa and Lawrence. We're just so glad that people have responded to the show. And we're really glad that people get in their feelings about it [laughter]. I really like that people are taking the time to connect with these characters. People are either Team Issa, Team Lawrence or Team Daniel."
Whose team are you on?
I'm part of the Lawrence Hive [laughter]. I say that because we have a majority female writing staff. We have four men in the room. Our show is for black women, specifically. However, that's not to say that our show is not for black men. The men writers in the room take great care and pride in making sure there is a male perspective in the show that is interesting and relevant just as the female perspective.
Is Issa's brother Ahmal, who is played by actor Jean Elie, gay on the show? And will we see his character develop?
Yes, and yes. Ahmal is gay and we will see more of him next season. We're really excited about expanding that character for the third season, specifically. This is a very sensitive topic for me because Issa Rae to her credit wanted to have a gay character in the show. She is very interested in exploring LGBTQ issues in our show.  So when we first meet Ahmal in the second season, he gives dap to his homeys and then he gives his little home girl a little moment [laughter]. And so people were wondering if he is gay. But you know when I walk into a room I don't say "Hi, my name is Ben and I'm gay." I just exist. And if we have a conversation and it comes up that I'm gay, then it comes up. To me, since Ahmal has not come out and said he is gay that is the whole point. The word gay is not going to come out of his month every two sentences. He is living his life and he doesn't need to explain who he is. He is a dude that if you want to know who he is then you have to get to know him. His outer appearance doesn't indicate sexual preference."
You have a project in development called Bros about three brothers, the youngest is gay. The show delves into how they navigate dating, divorce and family dynamics. What's the status of that project and what can we see next from you?
I'm fighting the good fight. Bros is a passion project for me and I'm fighting tooth and nail every day to get that show on the air. The success of Insecure definitely will help me get my shows going. I won't have to do as much explaining as to why a black gay story is important, in the way that Issa Rae had to explain why the black female story is important. I'm in awe of what she's been able to do to move us all forward. I'm not going to rest until I get a black gay story that is reflective of the times right now. We need more gay storytellers. More trans storytellers. More bisexual storytellers. That's how the world is going to change. The world is a more interesting place because we're in it. And we need to tell our stories.
Jones says his long term goal is to collaborate with Tyler Perry on a project, and produce a film based on the life and legacy of James Baldwin. His first choice to play the lead character: Don Cheadle.  You read it here first.
For now, be on the lookout for Jones' work on season three of Insecure. He also has a new show in development on Bravo titled Candy, a fictional drama based in Memphis, Tennessee about the youngest and first African-American woman mayor. The series pilot explores how Candy navigates politics while balancing her own personal scandal.
Sounds like Olivia Pope reincarnated. We'll all have to watch and see.