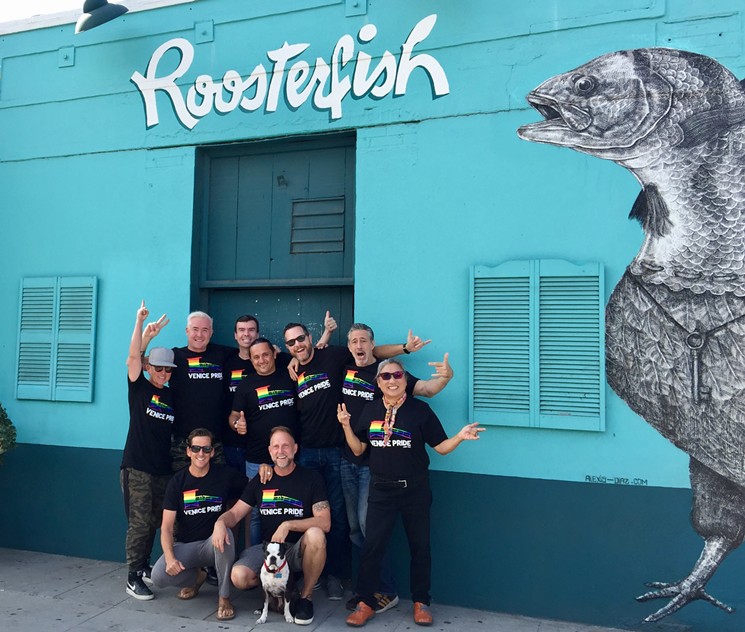 (Photo: Members of Venice Pride's board of directors gathered with new leaseholder Mario Vollera in front of the Roosterfish. Back, left to right: Kayce Brown, Sean James, Grant Turck, Mario Vollera, Heith Rogers, George Francisco, Sunny Bak. Front: Michael Brunt (left), Patrick Marston and Tonka the dog.)
Roosterfish, the beloved LGBTQ Venice bar, will be reopening this year – thanks to the efforts of the founder and president of Venice Pride – Grant Turck.
Turck, reports the LA Weekly laweekly.com, originally tried to save the bar last year by arguing that it should be preserved as a historic landmark. When that didn't pan out, he decided to trademark the name Roosterfish after discovering that it never had been trademarked before. "[I did it] as a way to try and protect an asset that should be protected by the community," Turck says. "Venice Pride was very much born out of the closing of the Roosterfish. Had the Roosterfish not closed, that probably would never have come to be."
The LA Weekly reports:
The first Venice Pride took place on June 3, 2016, shortly after the Roosterfish's closing. After Venice Pride's successful return in 2017, Turck says he learned that two men had taken out a new lease on the Roosterfish's space and were planning to open a bar there under a different name. "I said that's the silliest thing in the world," Turck says. "You definitely should call it the Roosterfish because there's so much built-in brand awareness around that name — not to mention a thousand raging queens would be at your door if you called it something else." The new leaseholders, Mario Vollera and Patrick Brunet, agreed, and formed a licensing agreement with Venice Pride and kept the old name.
The Roosterfish will first reappear as a pop-up party called "Roosterfish Revived" on Saturday, Sept. 23, the day before the Abbot Kinney Festival, with plans to reopen permanently before the end of the year.